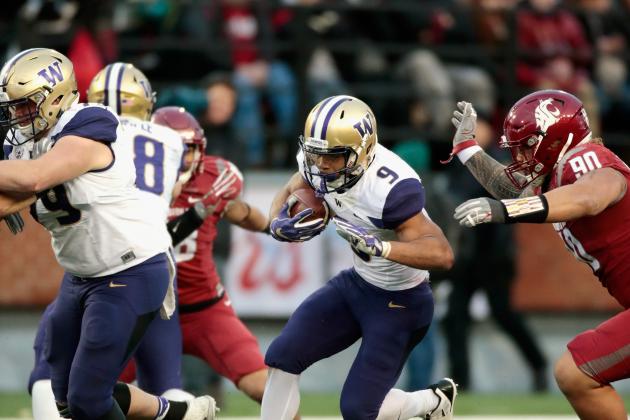 William Mancebo/Getty Images
Myles Gaskin and Washington are back in the College Football Playoff picture.
Thanksgiving week is always one of the best weeks of the college football season. Rivalry games dot the landscape from coast to coast. Meaningful games stretch from Thursday night through Black Friday and into Saturday evening, shaping the Top 25 in the final week before conference championship games.
It's always important. Always fun. And 2016's Rivalry Week did not disappoint. We had one of the best games in the storied Michigan-Ohio State series that will have a major impact on the College Football Playoff and other upsets that will shuffle the rankings this week. Ten ranked teams lost, meaning the new College Football Playoff Top 25 will look a lot different when it is unveiled Tuesday night.
Who stood out? Who took a step back? Here's a look at the teams moving up and down in the rankings and our best guess at the committee's new Top 25 rankings.
Predicted Week 14 College Football Playoff Top 25

| | | | | |
| --- | --- | --- | --- | --- |
| Rank | Team | Previous | Record | Week 13 Result |
| 1. | Alabama | 1 | 12-0 | Won vs. Auburn 30-12 |
| 2. | Ohio State | 2 | 11-1 | Won vs. Michigan 30-27 (2 OT) |
| 3. | Clemson | 4 | 11-1 | Won vs. South Carolina 56-7 |
| 4. | Washington | 5 | 11-1 | Won vs. Washington State 45-17 |
| 5. | Wisconsin | 6 | 10-2 | Won vs. Minnesota 31-17 |
| 6. | Michigan | 3 | 10-2 | Lost vs. Ohio State 30-27 (2 OT) |
| 7. | Penn State | 7 | 10-2 | Won vs. Michigan State 45-12 |
| 8. | Oklahoma | 8 | 9-2 | Open Date |
| 9. | Colorado | 9 | 10-2 | Won vs. Utah 27-22 |
| 10. | Oklahoma State | 10 | 9-2 | Open Date |
| 11. | Southern California | 12 | 9-3 | Won vs. Notre Dame 45-27 |
| 12. | Florida State | 14 | 9-3 | Won vs. Florida 31-13 |
| 13. | West Virginia | 18 | 9-2 | Won vs. Iowa State 49-19 |
| 14. | Western Michigan | 21 | 12–0 | Won vs. Toledo 55-35 |
| 15. | Louisville | 11 | 9-3 | Lost vs. Kentucky 41-38 |
| 16. | Auburn | 13 | 8-4 | Lost vs. Alabama 30-12 |
| 17. | Florida | 15 | 8-3 | Lost vs. Florida State 31-13 |
| 18. | Stanford | 24 | 9-3 | Won vs. Rice 41-17 |
| 19. | Navy | 25 | 9-2 | Won vs. SMU 75-31 |
| 20. | Nebraska | 16 | 9-3 | Lost vs. Iowa 40-10 |
| 21. | LSU | NR | 7-4 | Won vs. Texas A&M 54-39 |
| 22. | Boise State | 19 | 10-2 | Lost vs. Air Force 27-20 |
| 23. | Virginia Tech | NR | 9-3 | Won vs. Virginia 52-10 |
| 24. | Houston | 20 | 9-3 | Lost vs. Memphis 48-44 |
| 25. | Utah | 22 | 8-4 | Lost vs. Colorado 27-22 |
Greg Wallace
Moving Up
Washington
Even after a dismal 26-13 loss to Southern California, all was not lost for Washington's College Football Playoff hopes. The Huskies simply had to keep winning and hope everything else would fall into place. And it has. No. 5 Washington dominated Arizona State 44-18 and followed that with a 45-17 pasting of rival Washington State in the Apple Cup. Coupled with No. 3 Michigan's loss to No. 2 Ohio State, Washington should be in position to make the playoff with a Pac-12 title game win over Colorado.
Bottom line: If Huskies win P12 title, can't see CFP committee leaving them out. But a Penn State loss would make things cleaner for UW. https://t.co/z2TBCngbYq

— Adam Jude (@A_Jude) November 26, 2016
Chris Petersen's team had complete control Friday, outgaining Washington State 510-334. They intercepted quarterback Luke Falk three times, and Washington's Jake Browning was very efficient, completing 21 of 29 passes for 292 yards and three touchdowns. It'd be a big surprise if the Huskies weren't in the top four and in excellent shape to make the College Football Playoff entering the season's final week.
LSU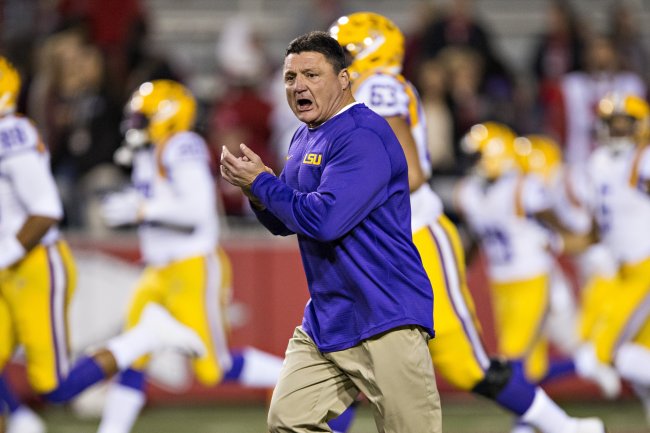 Wesley Hitt/Getty Images
It was a good week for Ed Orgeron. A very, very good week. Orgeron gave LSU a spark when he took over after Les Miles' firing, leading the Tigers to a 5-2 record, the only losses coming to No. 1 Alabama and No. 15 Florida. Thursday night, he gave his final argument for becoming the full-time head coach, ripping past Texas A&M 54-39.
Star tailback Leonard Fournette didn't play with an ankle injury, but that didn't matter. Derrius Guice torched the Aggie defense for 285 yards and four touchdowns on 37 carries, and quarterback Danny Etling threw for 324 yards and two touchdowns. All that happened while rumors flew about LSU's pursuit of Houston coach Tom Herman, forcing administrators to release a pair of statements during the game.
Herman became Texas' head coach Saturday following Charlie Strong's firing, and LSU quickly announced Orgeron as its new full-time leader. That's a huge deal for the Louisiana native, and it should be fascinating to see what he can do with a little job security in the tough SEC West. Expect the Tigers to start his first week on the job back in the Top 25.
Wisconsin
Friday afternoon, Wisconsin clinched the Big Ten West title following Iowa's 40-10 shellacking of Nebraska. That allowed the Badgers to turn their attention to important matters like keeping Paul Bunyan's Axe in Madison for another year.
Mission accomplished. Minnesota led the No. 6 Badgers 17-10 in the fourth quarter, but Wisconsin finished the game on a 21-0 run and kept the axe for the 13th consecutive season with a 31-17 win. Corey Clement led the way with 100 yards and two touchdowns on 26 carries.
Paul Chryst's team remains in contention for the College Football Playoff and should be in the Top 5 this week. That's pretty darn good for a group that was barely picked in the Top 5 of the Big Ten West to start the season.
Florida State
2016 didn't unfold the way Florida State had hoped. The Seminoles began the season as a strong College Football Playoff candidate, but losses to Louisville, Clemson and North Carolina consigned them to also-ran status in the ACC Atlantic Division. Still, FSU finished the season strong with a four-game win streak and could be a Top 10 team again by season's end.
Saturday night, they frustrated rival Florida in a 31-13 win. The Seminoles beat Florida for the fourth consecutive season and for the sixth time in seven years, although the Gators did score their first touchdown in three years against FSU.
Dalvin Cook rushed for 153 yards and a touchdown, propping up an uneven effort from quarterback Deandre Francois. Meanwhile, the FSU defense consistently kept Florida quarterback Austin Appleby off his game, holding him to 149 yards passing. It isn't what fans wanted, but another 10-win season is well within reach for the Seminoles.
Southern California
Clay Helton's first full season as Southern California head coach began in ugly fashion. The Trojans were 1-3 with losses to Alabama, Stanford and Utah, and there was reason to question why school officials chose to elevate him rather than hire from the outside.
No longer. While Colorado's win over Utah clinched the Pac-12 South for the Buffs, there's an argument that no team has improved as much over the course of the season than USC. Saturday's 45-27 ripping of Notre Dame was their eighth consecutive victory. Cornerback Adoree' Jackson scored on a 52-yard receiving touchdown, a 55-yard punt return and a 97-yard kickoff return.
The Trojans won't make the College Football Playoff, but no team in America wants to play them in a bowl game.
Moving Down
Michigan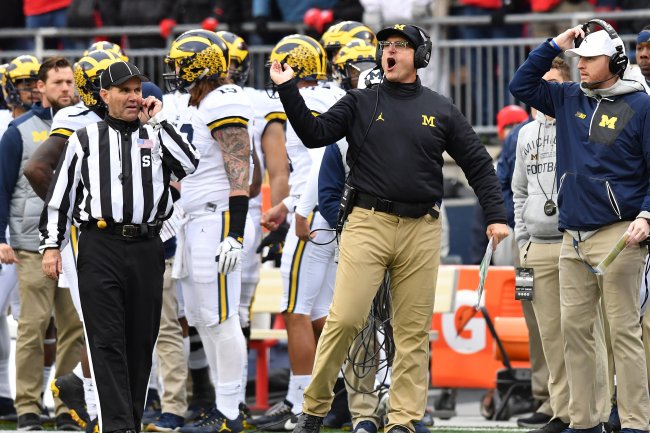 Jamie Sabau/Getty Images
Michigan entered Saturday with full control of its destiny in the Big Ten East and College Football Playoff race. The No. 3 Wolverines left Columbus angry and dejected following a wild 30-27 double-overtime loss to No. 2 Ohio State. Michigan held a 27-24 lead in the second overtime with Ohio State facing a 4th-and-1 at its own 16. J.T. Barrett's quarterback sneak barely converted the try, which held up under review. One play later, Curtis Samuel sprinted 15 yards for the game-winning touchdown.
Michigan coach Jim Harbaugh said, per ESPN.com's Adam Rittenberg, it "wasn't a first down" and that he was "bitterly disappointed in the officiating." That might earn him a fine from the Big Ten, but it won't change the outcome, which will keep the Wolverines out of the playoff.
Harbaugh: I thought there were some outrageous calls, including the one that (should have) ended the game

— Mark Snyder (@Mark__Snyder) November 26, 2016
With Ohio State and Penn State ahead of them in the pecking order, Michigan will go to a New Year's Six game, but not the one they wanted to. The Wolverines couldn't put Ohio State away up 17-7, and they'll have another year to think about a bitter ending in one of this rivalry's best games ever.
Louisville
Andy Lyons/Getty Images
Two weeks ago, we were discussing Louisville's merit as a College Football Playoff candidate, even with one loss, and Lamar Jackson was a stone-cold lock to win the Heisman Trophy. That's why they play the games, right? Following a desultory 36-10 loss at Houston, the Cardinals were a heavy favorite to defeat rival Kentucky and clinch a 10-win season.
Instead, Jackson was intercepted three times and made a crucial mistake when he fumbled on 1st-and-goal at the Kentucky 9 with 1:45 left and the game tied at 38. The Wildcats marched down the field and stunned the Cards with Austin MacGinnis' 47-yard field goal with 12 seconds left, lifting them to a shocking 41-38 win.
The last player to lose his final 2 games before the ceremony and still win the Heisman was Notre Dame's Tim Brown in 1987. @ESPNStatsInfo

— Andrea Adelson (@aadelsonESPN) November 27, 2016
Jackson threw for 281 yards and ran for 171 more and two touchdowns, setting an ACC single-season record for total touchdowns. He's still the Heisman Trophy favorite, but this will be a bitter pill to swallow as Louisville prepares for a bowl, given his errors.
Auburn
After starting 2016 with a 1-2 record with losses to Clemson and Texas A&M, one would think that Auburn fans would be pretty pleased if you told them they'd finish the regular season 8-4. And after winning six consecutive games, Gus Malzahn went from the hot seat to a secure job.
But the way the season ended surely eats at Tiger fans more than a little bit. Auburn lost to its two biggest rivals and will finish the regular season somewhere near the bottom of the Top 20. Two weeks after losing 13-7 to Georgia, the Tigers managed only four field goals in a 30-12 loss at No. 1 Alabama.
6 of Jeremy Johnson's 14 attempts came on 3rd & 7+. He completed 1 for 3 yards. Doomed to fail.

— James Crepea (@JamesCrepea) November 27, 2016
That means Malzahn's hurry-up, no-huddle offense scored only one touchdown in its last eight quarters against SEC foes. Sean White sat out with an injury, and three Auburn quarterbacks (Chandler Cox, Jeremy Johnson and John Franklin III) combined for 116 yards and an interception while completing seven of 19 attempts. Ouch.
In other words, Auburn better hope White can get healthy in time for a likely warm-weather bowl game.
Houston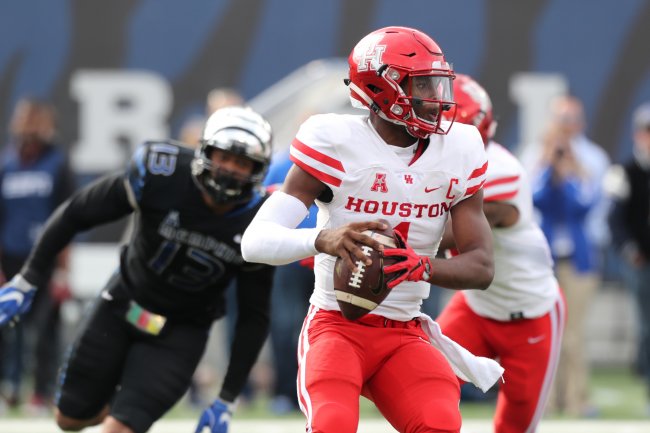 Joe Murphy/Getty Images
Suffice it to say it wasn't the best weekend for Houston's program. The Cougars began 2016 with hopes of crashing the College Football Playoff party as a Group of Five program and enhanced their chances with an opening-week upset of then-No. 5 Oklahoma. But losses to Navy and SMU meant that they wouldn't even win their American Athletic Conference division, much less make a New Year's Six bowl game.
Friday was a frustrating way to end the regular season for the No. 20 Cougars. Amid rumors about coach Tom Herman's future, Houston built a 17-point deficit at Memphis, erased it but fell when Riley Ferguson threw a 10-yard touchdown pass to Anthony Bonner with 19 seconds left to seal a 48-44 defeat.
Quarterback Greg Ward Jr. threw for 487 yards and four touchdowns, but Houston couldn't keep Ferguson down. He completed 30 of 45 passes for 409 yards and four scores, even though Houston outgained Memphis 624-555.
Making matters worse, Herman left the Cougars Saturday, taking the job at Texas following Charlie Strong's firing, per Brian Davis of the Austin American-Statesman. "I want to thank the University of Houston, the administration, the fans and especially the players for an unbelievable two years," Herman said. "My family and I will be forever grateful."
. @UHouston BOR chair @TilmanJFertitta on Tom Herman to @Longhorn_FB: 'It truly was nothing we could do.'

— Joseph Duarte (@Joseph_Duarte) November 26, 2016
At 9-3, Houston will have a mid-level bowl game but will likely do so with an interim coach.
Nebraska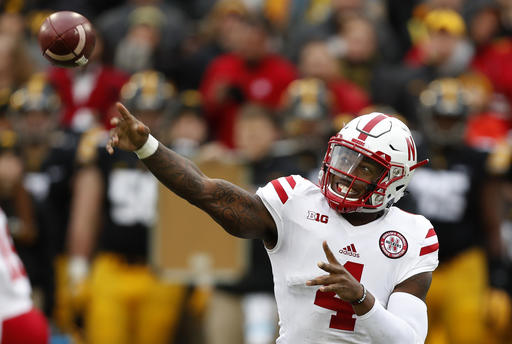 Charlie Neibergall/Associated Press
Nebraska entered a Black Friday visit to Iowa with plenty to play for. The Cornhuskers had a chance to finish the regular season with 10 wins and still had an outside shot at winning the Big Ten West with a victory and a Wisconsin loss to Minnesota. They sure didn't look like it, though. Nebraska started slow and finished worse in a 40-10 demolition at the Hawkeyes' hands that should leave them wondering about their standing in the Big Ten pecking order.
Dirk Chatelain of the Omaha World-Herald said the loss left a stain on Nebraska's season.
Iowa jumped all over the Huskers with a 75-yard touchdown run by Akrum Wadley and a 77-yard catch-and-run Riley McCarron touchdown and never let up. Nebraska never got closer than 16 points after halftime, and Iowa outrushed the Huskers 264-90, with both Wadley and LeShun Daniels topping 100 yards on the ground.
Nebraska coach Mike Riley admitted Tommy Armstrong Jr. wasn't fully healthy with a balky hamstring, and he looked it, completing 13 of 35 passes for 125 yards and a touchdown and rushing six times for 13 yards. The Huskers finished with four more wins than 2015, but this sure feels hollow.
Tennessee
This was supposed to be the year that Tennessee put it all together under Butch Jones. Three years of steady improvement were expected to culminate in an SEC East championship and perhaps much more. Who saw this coming?
An embarrassing 45-34 loss to in-state foe Vanderbilt dropped the Volunteers to 8-4, and they've allowed at least 600 yards of offense in each of their last three games (618 to the Commodores). Quarterback Kyle Shurmur threw for 416 yards with two touchdowns.
And all this came days after Jones told local reporters that his team had won "the championship of life." They'll always have that, even if they don't have Tennessee's state championship.
Boise State
On the surface, Boise State churned out yet another 10-win regular season under Bryan Harsin's watch. But the Broncos surely will spend the winter wondering what might have been. Friday's 27-20 loss to Air Force was a perfect example. Air Force built a two-touchdown lead that the Broncs could never quite erase.
Trailing by a touchdown in the fourth quarter, Boise put together a six-play, 89-yard drive that ended at the Falcons 1-yard line. On 4th-and-goal, quarterback Brett Rypien ran for no gain and fumbled the ball, with Air Force recovering.
The Broncos finished the regular season 10-2, but thanks to their loss to Wyoming, they'll finish behind the Cowboys in the Mountain West Mountain Division and go to a mid-level bowl game.
Washington State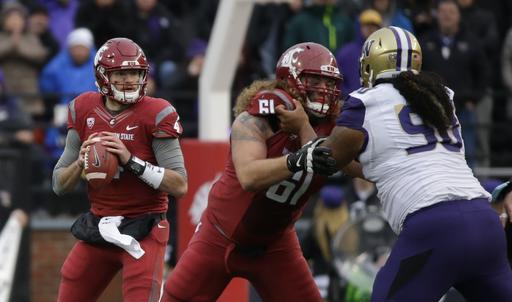 Ted S. Warren/Associated Press
Washington State had an up-and-down 2016 season. The Cougars began with losses to FCS foe Eastern Washington and Boise State, but reeled off eight consecutive wins to get themselves back in the Pac-12 title picture.
But Mike Leach's team couldn't close the deal. Even after a 38-24 loss to Colorado, the Cougars could win the Pac-12 North with an upset of No. 5 Washington in the Apple Cup. However, they came out flat as Washington built a 28-3 first-quarter lead and rolled to a 45-17 victory.
Quarterback Luke Falk threw for 269 yards and a touchdown but was intercepted three times by the Washington defense. The Cougars can feel proud about an eight-win season, but they know it could have been much better.