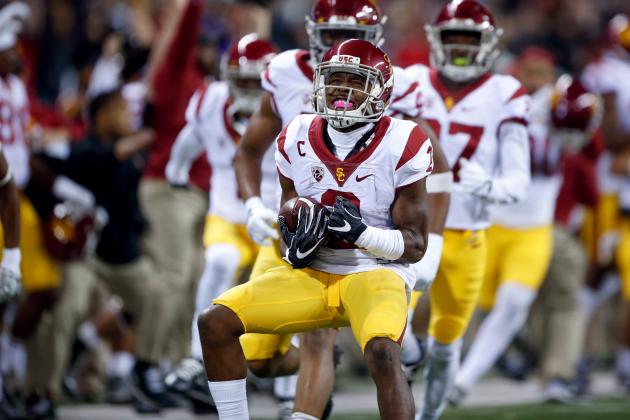 Joe Nicholson-USA TODAY Sports
Southern California provided just one piece of a wild Saturday night in the college football world.
Week 11 of the college football season looked like an potential snoozer on paper. All 25 teams in the latest College Football Playoff rankings were in action, but there were only two matchups of ranked teams, and one featured No. 24 and No. 25. Barring upsets, there was little room for movement.
So, of course one of the more chaotic weeks of the 2016 season unfolded. Seven ranked teams and four Top 10 teams lost, including a trio who were in position for the College Football Playoff when the week began. It marked the first time that the No. 2, No. 3 and No. 4 teams lost on the same day since October 19, 1985. An apparently smooth end to the season has been thrown into uncertainty, which is just the way fans like it, of course.
Who were the biggest movers and shakers from a wild week? Here's a look at the teams that will be moving up and moving down when the playoff selection committee reveals its new rankings Tuesday night.
Predicted Week 12 College Football Playoff Top 25

| | | | | |
| --- | --- | --- | --- | --- |
| Rank | Team | Previous | Record | Week 11 Result1 |
| 1. | Alabama | 1 | 10-0 | Won vs. Mississippi State 51-3 |
| 2. | Ohio State | 5 | 9-1 | Won vs. Maryland 62-3 |
| 3. | Clemson | 2 | 9-1 | Lost vs. Pitt 43-42 |
| 4. | Michigan | 3 | 9-1 | Lost vs. Iowa 14-13 |
| 5. | Louisville | 6 | 9-1 | Won vs. Wake Forest 44-12 |
| 6. | Washington | 4 | 9-1 | Lost vs. Southern California 26-13 |
| 7. | Wisconsin | 7 | 8-2 | Won vs. Illinois 48-3 |
| 8. | Penn State | 10 | 8-2 | Won vs. Indiana 45-31 |
| 9. | Oklahoma | 11 | 8-2 | Won vs. Baylor 45-24 |
| 10. | Colorado | 12 | 8-2 | Won vs. Arizona 49-24 |
| 11. | Oklahoma State | 13 | 8-2 | Won vs. Texas Tech 45-44 |
| 12. | Utah | 15 | 8-2 | Won vs. Arizona State 49-26 |
| 13. | West Virginia | 16 | 8-1 | Won vs. Texas 24-20 |
| 14. | Texas A&M | 8 | 7-3 | Lost vs. Ole Miss 29-28 |
| 15. | Southern California | 20 | 7-3 | Won vs. Washington 26-13 |
| 16. | Florida State | 18 | 7-3 | Won vs. Boston College 45-7 |
| 17. | Nebraska | 19 | 8-2 | Won vs. Minnesota 24-17 |
| 18. | Auburn | 9 | 7-3 | Lost vs. Georgia 13-7 |
| 19. | Western Michigan | 21 | 10-0 | Won vs. Kent State 37-21 |
| 20. | Virginia Tech | 14 | 7-3 | Lost vs. Georgia Tech 30-20 |
| 21. | Boise State | 22 | 9-1 | Won vs. Hawaii 52-16 |
| 22. | Washington State | 23 | 8-2 | Won vs. Cal 56-21 |
| 23. | LSU | 23 | 6-3 | Won vs. Arkansas 38-10 |
| 24. | North Carolina | 17 | 7-3 | Lost vs. Duke 28-27 |
| 25. | Florida | NR | 7-2 | Won vs. South Carolina 20-7 |
Greg Wallace
Moving Up
Ohio State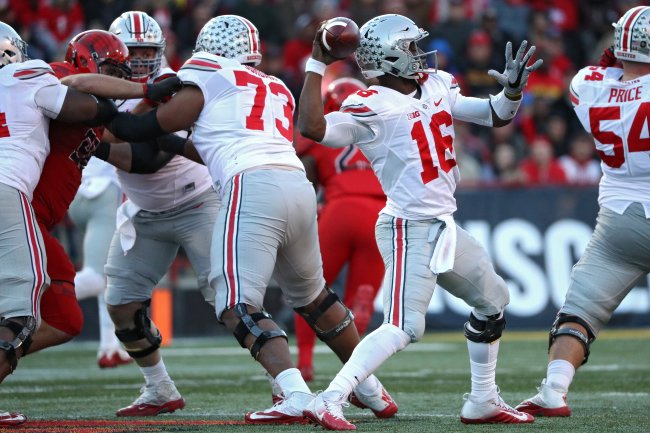 Patrick Smith/Getty Images
In the College Football Playoff era, one loss, depending on who it comes against, is hardly a barrier for entry. In its first two seasons, two ACC teams (Clemson and Florida State) are the only teams to enter undefeated. Despite a 24-21 loss to Penn State, Ohio State was far from out of the picture, and that notion was solidified Saturday.
While the Buckeyes played in former ACC country Saturday at Maryland, the biggest news for their chances came in current ACC country in Clemson, South Carolina, where Pitt stunned No. 2 Clemson 43-42. That, coupled with No. 5 Ohio State's 62-3 demolition of Maryland and losses by No. 3 Michigan and No. 4 Washington, should push the Bucks back into the top four nationally when the new CFP Top 25 is released Tuesday evening.
On the field, Ohio State had no trouble with the Terps, jumping to a 21-3 first-quarter lead and never letting up while piling on style points. Quarterback J.T. Barrett continued his solid season, throwing for 253 yards and two touchdowns. The Buckeyes also outrushed Maryland 253-43. Nov. 26's date with Michigan looms as the biggest game left on the regular-season calendar.
However, the loss to the Nittany Lions could come back to haunt the Buckeyes, as they would lose a head-to-head tiebreaker with Penn State for the Big Ten East title.
Southern California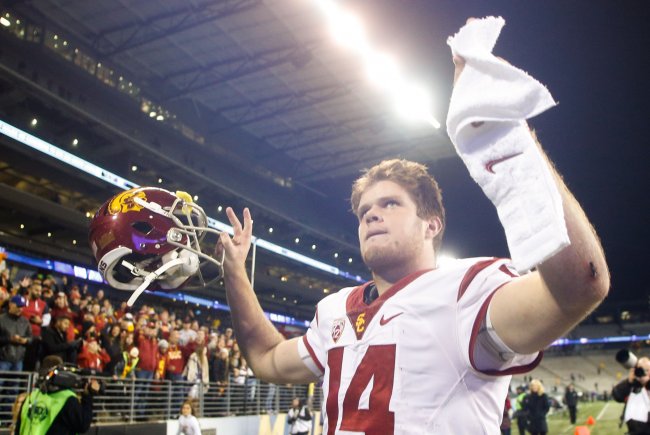 Joe Nicholson-USA TODAY Sports
At the end of September, Southern California's decision to hire Clay Helton full-time looked ill-advised, at best. The Trojans were 1-3 and struggling to compete, although it must be noted that the losses came to Alabama, Stanford and Utah.
Sam Darnold's elevation to the starting quarterback role has led to a Trojan renaissance, and that's no coincidence. USC rode a five-game winning streak into a meeting with No. 4 Washington Saturday night, and all the pieces came together on a national stage. The No. 20 Trojans held the Huskies in check in a 26-13 victory that further shook up the College Football Playoff race.
Southern Cal's defense was excellent, holding Washington 35 points below its 48.3-point average and intercepting quarterback Jake Browning twice. Meanwhile, Darnold threw for 287 yards with two touchdowns and two interceptions. The Trojans look like the best team in the Pac-12 South right now.
Florida State
This hasn't been the season that Florida State expected. With three losses in mid-November, the Seminoles are already out of the ACC title hunt and the College Football Playoff chase. Friday's home game against Boston College felt a bit out of character, but Jimbo Fisher had his team ready to play regardless.
Asked Jimbo what it was like to coach in a game like that, to have a big lead. "It felt weird. … we used to do that a lot."

— Corey Clark/TDO.com (@Corey_Clark) November 12, 2016
The Seminoles completely dominated the Eagles en route to an easy 45-7 victory. FSU outgained BC 416-146 and gained 24 first downs to BC's eight. BC quarterbacks Patrick Towles and Darius Wade managed just 50 passing yards between them. And FSU freshman Deondre Francois was quietly efficient, completing 16 of 24 passes for 183 yards with three touchdowns.
Coupled with North Carolina's loss to Duke, Florida State will make a positive move in this week's rankings.
LSU
Since Ed Oregeron took over as LSU's inteirim head coach following Les Miles' firing, the Tigers have looked like a different team. They've played with more energy. More spirit. More intensity. And it has shown with results. Entering Saturday's Battle For the Boot with neighbor Arkansas, LSU was 3-1, with the only defeat a hard-fought 10-0 loss to No. 1 Alabama, which is hardly a shameful feat.
Coming off a physical defeat, the Tigers took the pain to the No. 25 Razorbacks in a 38-10 win. LSU pounded Arkansas on the ground, outgaining the Razorbacks 390-81. While Leonard Fournette rushed for 98 yards and two touchdowns, backfield mate Derrius Guice was the real star, rolling for 252 yards and two scores on 21 carries.
Orgeron is making a real case to remain as LSU's full-time head coach, and he'll have two more big opportunities to make his argument with Florida and Texas A&M remaining on the schedule.
Florida
Florida's 20-7 win over South Carolina felt familiar. But in a good way. The Gators welcomed Will Muschamp back to Gainesville Saturday afternoon, but this time, his offensive gameplan was on the opposite sideline instead of hampering Florida's program.
Florida held the Gamecocks to 256 yards and generally harassed freshman quarterback Jake Bentley all day, grinding out a win that kept them in first place in the SEC East race. Backup QB Austin Appleby was efficient, completing 17 of 21 passes for 201 yards with two touchdowns and an interception. Nothing fancy, but it got the job done.
Arkansas' loss to LSU should open a lane for Florida to move back into the Top 25 this week.
Moving Down
Clemson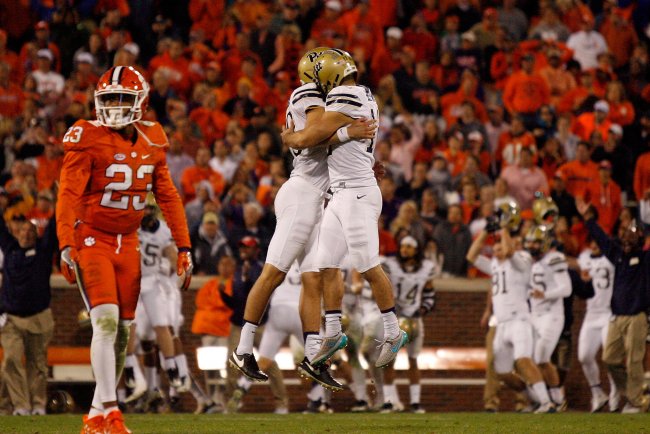 Tyler Smith/Getty Images
No. 2 Clemson has lived on the edge all season. The Tigers have been cardiac cats, with five wins by six points or less. That includes an overtime win over NC State which saw the Wolfpack miss a makeable field goal on the final play of regulation, a 37-34 comeback win at Florida State and a 42-36 win over Louisville that finished with a defensive stop inside the Clemson 5.
So the law of averages said that the Tigers' luck would eventually run out. And it did Saturday vs. Pitt. Questionable playcalling, penalties and ill-timed turnovers caught up with Dabo Swinney and Co. in a stunning 43-42 loss to the Panthers. Clemson couldn't convert a fourth and 1 from the Pitt 35 with 58 seconds left, and Pitt put kicker Chris Blewitt in position to nail a 48-yard field goal with six seconds left. It was true, and Clemson's 46-game win streak over unranked foes (dating back to November 2011) was finished.
Swinney: "Every goal that we have is still right there in front of us. Every. Single. Goal."

— Brad Senkiw (@BradSenkiw_AIM) November 13, 2016
Deshaun Watson threw for an ACC single-game record 580 yards and three touchdowns on 72 attempts, but he'll remember the three interceptions, including a goal-line interception up 42-34 with 5:42 to go. Saleem Brightwell picked off a pop pass intended for Jordan Leggett and returned it 70 yards, kickstarting the Panthers' comeback.
Clemson is still in position to make the College Football Playoff, assuming it beats Wake Forest, South Carolina and the Coastal rep in the ACC title game. Its resume (with wins over Louisville, Auburn, Florida State and a one-loss Troy team) is solid, and an ACC title should trump the loser of Michigan-Ohio State. However, it's no longer the slam dunk it was earlier Saturday afternoon.
Michigan
The last time Jim Harbaugh visited Iowa City for a regular-season game, it was October 19, 1985. Harbaugh left with a sour feeling that day, as kicker Rob Houghtlin nailed a final-play 29-yard field goal to lift No. 2 Iowa over No. 1 Michigan, 12-10. Saturday night, Harbaugh left Kinnick Stadium with some déjà vu after Iowa's Keith Duncan nailed a 33-yard field goal for a stunning 14-13 upset of the No. 3 Wolverines.
The Hawkeyes looked awful in a 41-14 rout at Penn State's hands last week. But they played inspired defense and got just enough offense against the Wolverines, who entered averaging 47.8 points per game, No. 3 nationally. Michigan had scored fewer than 32 points in a game just once this season (a 14-7 win over Wisconsin).
But Iowa held the ball for 32 minutes and outgained Michigan 230-201, limiting Wilton Speight to 103 yards on 11-of-26 passing. The Wolverines still control their playoff destiny. But they'll take a slight dip in the rankings following a major wake-up call.
Washington
Washington entered the final quarter of the regular season in perfect position to make the College Football Playoff. The No. 4 Huskies were 9-0 and had the nation's No. 2 scoring offense, averaging 48.3 points per game. They were dominating teams, winning by an average of over 36 points per game. However, there were questions about their schedule (their only win against a currently ranked team was a tight 31-24 win over Utah.
Turns out, those who had questions looked pretty smart. No. 20 Southern California dominated the Huskies en route to a surprisingly easy 26-13 victory. Quarterback Jake Browning entered the game with 34 touchdowns against three interceptions but never looked comfortable, throwing for 259 yards with a touchdown and two interceptions.
Washington's playoff hopes are far from over, but they did take a big hit at home. And the Trojans might be standing in U-Dub's way again in the Pac-12 title game.
Auburn
Over the course of this season, Auburn has emerged as one of the nation's most improved teams. The Tigers shook off a 1-2 start (albeit with competitive losses to Clemson and Texas A&M) and found themselves as the nation's No. 9 team entering Saturday's rivalry clash with Georgia. That won't be the case this week.
Unreal stats of the night: Auburn had 20 yards in the second half. Auburn had zero first downs in the second half.

— Jason Butt (@JasonHButt) November 12, 2016
Auburn struggled mightily offensively in a surprising 13-7 defeat that will send the Tigers tumbling from the Top 10 nationally. Gus Malzahn's offense simply couldn't move the ball against Georgia's defense. Quarterback Sean White completed just six of 20 passes for 27 yards, and Auburn was outgained 343-164.
The 7-3 Tigers will rebound next week against FCS foe Alabama A&M, but any hopes of winning the SEC West vanished. No. 1 Alabama will enter Nov. 26's Iron Bowl as the West champions.
Texas A&M
The College Football Playoff selection committee raised eyebrows when it ranked Texas A&M at No. 4 overall in its first ranking. The Aggies responded by immediately losing Mississippi State, and it appears that the Magnolia State wasn't done dishing out misery.
This Shea Patterson feller is pretty good. I'm willing to bet he has the advantage at the QB spot in Oxford next year

— Edward Aschoff (@AschoffESPN) November 13, 2016
A 4-5 Ole Miss team rallied from a 21-6 deficit to deal the Aggies a 29-28 defeat, ensuring that Kevin Sumlin's team will drop from the Top 10 and probably a good bit further in the next rankings. Quarterback Shea Patterson, making his college debut after having his redshirt pulled due to Chad Kelly's season-ending knee injury, was more than up to the task, throwing for 338 yards with two touchdowns and an interception.
UT-San Antonio is next, but A&M needs to beat LSU in the season finale to avoid a truly disappointing end to a once-promising season.
Virginia Tech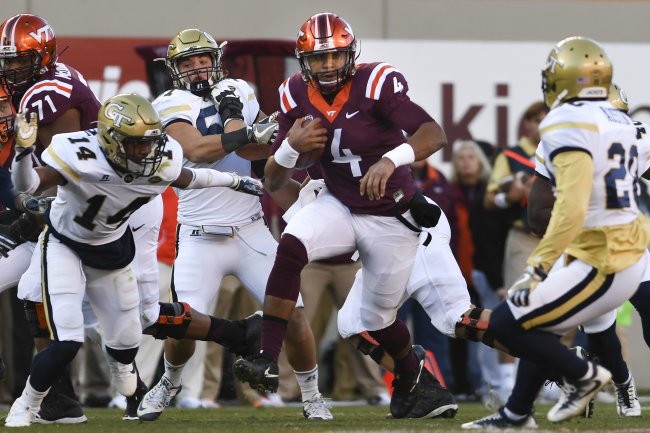 Michael Shroyer/Getty Images
Justin Fuente's debut season at Virginia Tech has mostly been a revelation. The Hokies appear energized by Fuente's hurry-up scheme, and quarterback Jerod Evans has been an excellent fit in the offense. Virginia Tech entered Saturday's home game vs. Georgia Tech with a chance to clinch the ACC Coastal Division with two weeks remaining in the regular season. So it's hard to explain how Fuente's team put forth such a dud against an average Yellow Jacket outfit.
#Hokies can still clinch division by beating UVa in 2 weeks. But this team has an amazing aversion to success once it's ranked in the teens.

— Andy Bitter (@AndyBitterVT) November 12, 2016
Georgia Tech built a 20-0 halftime lead and held on for an 30-20 win over the No. 14 Hokies. Evans was inconsistent despite throwing for 316 yards with a touchdown and two interceptions. Meanwhile, backup quarterback Matthew Jordan, playing in place of injured senior starter Justin Thomas, did enough to win, given Tech's defensive dominance, rushing for 121 yards and two scores on the ground despite completing just two passes.
Virginia Tech can still clinch the division with a win over rival Virginia in two weeks, but this was certainly a missed opportunity and a disheartening step back that will cost them poll position.