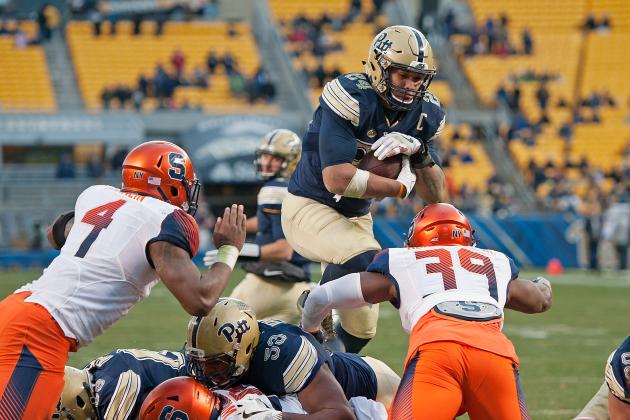 Justin Berl/Getty Images
Pittsburgh, which beat Syracuse 76-61 on Saturday, is ranked for the first time this season.
The final full week of the 2016 college football regular season provided a bit of clarity for the playoff selection committee, removing a few teams from the equation and strengthening the positions of others. We'll see how that affects the next standings when they're released on Tuesday, but for now, we can look to the Associated Press Top 25 poll and Amway Coaches Poll for an idea of how things will look.
Well, sort of.
While the playoff committee does vote when putting together its ranking, the final order is agreed on by the group after it's clear a consensus believes that's how it should look. That's not the same with the AP and Amway polls, which are just the products of how 61 media members and 64 FBS coaches felt teams should be ranked.
And with so many voters, we can get some results that stand out for good and bad reasons. We've picked out some of the most notable developments from the latest polls.
Rey Del Rio/Getty Images
Alabama is the defending national champion and has won 24 consecutive games, and much has been made about the fact that the Crimson Tide haven't allowed a touchdown since late October. But there is another unbeaten team in the FBS, but because Western Michigan hails from the Mid-American Conference, it's flown under the radar for most of the season.
But it's hard to ignore the Broncos anymore. Their 55-35 win over Toledo impressed voting coaches enough to bump them up four spots to 14th in the latest Amway poll. They also moved up one place to 13th in the Associated Press rankings.
Though Boise State and Houston were ranked higher this past week by the playoff committee, each lost over the weekend, and now Western Michigan is the clear leader for the "Group of Five" spot in a New Year's Six bowl game. That should be finalized if it beats Ohio on Friday in the MAC title game in Detroit.
Andy Lyons/Getty Images
Less than two weeks ago, Louisville was in good shape to sneak into the playoff, even without winning its own division. The Cardinals had benefited from chaos among teams ranked ahead of them, and assuming they could win out and get a little more help, they'd be legitimate contenders to get a bid.
Then Louisville went out and created its own chaos—but not in a good way. First, it lost 36-10 at Houston—a loss that looks even worse after Houston lost at Memphis. It then followed that up by falling to in-state rival Kentucky. Lamar Jackson and the mistake-prone Cardinals turned it over four times, giving them 31 giveaways for the season.
Voters in both polls had previously shown strong contempt for teams that had lost a second straight game, sending teams like Nebraska and Texas A&M plummeting down the rankings. But Louisville's drop—five spots to 16th in the AP poll and four places to 15th in the Amway rankings—wasn't nearly as severe.
Could this be a subconscious by-product of voters wanting Louisville to stay ranked relatively high to justify Jackson's expected Heisman Trophy victory next month?
Jason Behnken/Getty Images
There were mass casualties among the Top 25 this past weekend, which isn't surprising for a rivalry weekend that featured quite a few matchups between two ranked opponents. And with so many of the losing teams coming from the lower halves of those polls, it opened the door for other schools to jump in.
Combined, the polls feature seven new teams, each having six additions from the week before. Some have been ranked at other times this season, and a few are making their first appearances in 2016.
South Florida, enjoying its first 10-win season in school history, is tied for 24th in the Associated Press poll and 23rd in the Amway rankings. It's the Bulls' first time in the AP poll since October 2011.
Pittsburgh, which was on the winning side of the highest-scoring game in FBS history (76-61 over Syracuse) on Saturday, is tied for 24th in the AP poll but just missed out on getting into the Amway rankings. The Panthers last appeared in the Top 25 in October 2015.
Iowa, which has been on a steady rise since upsetting Michigan earlier this month, enters the AP rankings at 22nd and is 25th in the Amway poll. The Hawkeyes began this season ranked and were as high as 13th before losing to FCS power North Dakota State in September.
Previously ranked teams Navy, Stanford, Virginia Tech and LSU, which was in the Amway rankings a week ago but now has a spot on each list, also jumped into the polls.
Matthew Holst/Getty Images
After Nebraska lost 62-3 at Ohio State on Nov. 5, it took a nosedive in the polls—and rightfully so. That second straight loss showed the Cornhuskers weren't on the same tier as the Big Ten's other top teams.
Their 40-10 setback at newly ranked Iowa furthers that assessment, but Nebraska is still ranked. It fell six spots to 23rd in the Associated Press rankings and seven places to 22nd in the Amway poll, which is a softer drop than the one it received after the OSU blowout.
Head coach Mike Riley has made great progress in Lincoln after going 6-7 in his first season on the job. But after getting humbled once again on the road, Nebraska was more deserving of being part of the "others receiving votes" group than the Top 25. Maybe with all of the other ranked teams that voters knocked out, the Cornhuskers benefited from poll-turnover fatigue.
Scott Halleran/Getty Images
Need more evidence that the SEC is having a down year, one that Bleacher Report's Barrett Sallee called "mediocre"? Two teams that were in the Top 10 in mid-October, including the favorite to win the East Division, are no longer in either the Associated Press or Amway polls after each fell to 8-4.
Tennessee's defense allowed 600-plus yards and 45 points to offensively anemic Vanderbilt, resulting in a 4-4 finish in league play after being picked to win its division. And Texas A&M, which once again came out swinging during the first half of the season with a 6-0 start, dropped its fourth game in the last six by getting thumped at home by LSU.
The Volunteers were nonstop entertainment during the first half of the fall, making numerous stunning comebacks to open 5-0 before losing in overtime at A&M. That started their slide of three straight losses, and the Vandy loss was the cherry on top.
For the Aggies, crashing and burning in the second half has become commonplace under head coach Kevin Sumlin. Their only two wins since Oct. 8 were against New Mexico State and UTSA.
Thearon W. Henderson/Getty Images
The major poll shakeup brought in a bunch of new teams to the rankings, and amid all that chaos, someone was bound to get ranked too high. The "winner" of that scenario is Stanford, which sits at 17th in both polls after being outside the Top 25 last week.
Yes, the Cardinal won their fifth straight game on Saturday to finish at 9-3, a nice turnaround from being 4-3 and scoring 44 combined points in a four-game stretch. But that win streak came against teams that are a combined 19-41, with California's 5-7 mark the best of the lot. Stanford jumped into the rankings after thumping 3-9 Rice in an oddly placed nonconference game that even people in Pac-12 territory weren't watching since it was on at the same time as the Colorado-Utah clash.
Head coach David Shaw should be praised for keeping his team focused after its midseason slide, which saw Stanford go from seventh to unranked in a short span. A ranking is warranted, but it maybe should be something in the 20s—at least for now.
All recruiting information courtesy of Scout.com, unless otherwise noted. All statistics provided by CFBStats, unless otherwise noted.
Follow Brian J. Pedersen on Twitter @realBJP.