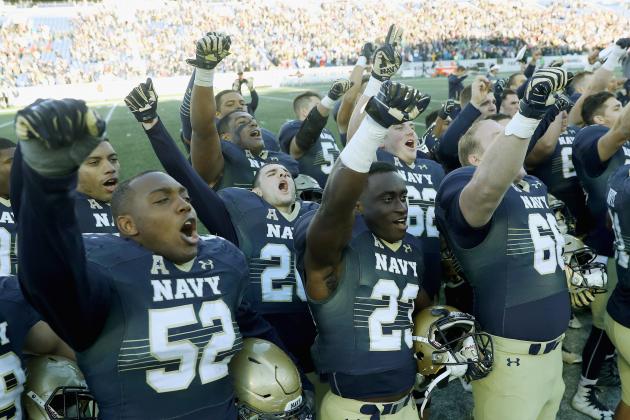 Rob Carr/Getty Images
Bowl officials around the country are reportedly concerned a Navy victory over Temple in the American Athletic Conference Championship Game combined with a win in its annual rivalry clash with Army on Dec. 10 could "paralyze" the selection process.
Brett McMurphy of ESPN.com reported Wednesday that Navy is still in contention for a New Year's Six bowl bid, with Western Michigan as its main Group of Five competition. If the Midshipmen are still in the running after the conference title game, officials may be forced to wait until after the Army matchup to make choices.
"I don't want to be un-American, but nearly everyone in the bowl industry, quite frankly, is rooting against Navy," one bowl official told ESPN.com.
The latest College Football Playoff rankings released Tuesday night show Western Michigan at No. 17 and Navy at No. 19. They entered championship week as the top contenders for the Group of Five berth, which includes the eventual conference champions from the AAC, Conference USA, Mid-American, Mountain West and Sun Belt.
Western Michigan, the only unbeaten team in the country besides top-ranked Alabama, is a heavy favorite over Ohio in the MAC title game Friday night. Navy plays Temple for the AAC title Saturday afternoon, with the Midshipmen serving as a small favorite.
The ideal scenario for bowl officials would be victories by the Broncos and Owls, which would likely lock Western Michigan into that Group of Five bid.
If both favorites win, however, then the situation becomes complicated. CFP executive director Bill Hancock tried to calm fears by explaining to ESPN.com that only games directly involving the possible selection of the two military schools would be late.
"If the committee believes the result of the Army-Navy game could affect Navy's ranking and therefore its place in the playoff or its selection as the Group of Five representative, only the pairings that affect Army and Navy would be delayed until after the Army-Navy game," he said.
Bowl season kicks off Saturday, Dec. 17, with five games, all of which are expected to include teams from those Group of Five conferences. It would leave a short turnaround for preparation and travel if no final decisions can be made before Dec. 10.
"The bottom line is if the rankings are delayed, it would be a disaster to the bowl system," a bowl official told ESPN.com.
Ultimately, the number of variables when trying to fill 41 bowl games is through the roof. Everything from conference affiliations and travel to factors such as 5-7 teams that are wondering whether their season will even continue are all in play.
Giving Navy a fair shot to earn a place in one of the year's biggest bowls is important, but waiting a full week to play one game that could impact so many teams would be excruciating for bowl officials.
Odds provided by OddsShark.