Aug 30, 2017 at 8:15p ET
Hear from Chad Knaus and Ryan Blaney on what makes Throwback Weekend at Darlington is such a special and important event for the sport.
Show Transcript
Hide Transcript
NARRATOR: Ah, the Lady in Black, legendary track hailed too tough to tame. Harold Brasington dreamed of a superspeedway in the south. Brasington's Folly, locals called his unique egg-shaped oval. But from the inaugural Southern 500, won by Johnny Mantz in the field's slowest car, to Petty, Yarborough, Pearson, and Craven versus Busch, every intense 500-mile battle makes one promise. To truly earn this stripe, you'll have the scars to prove it.
ANNOUNCER: Let's break down the tradition that is the Southern 500 for everyone. Go back to 1950, from '50 through 2003, we were always on Labor Day weekend with the Southern 500. 2004 it was the Southern 500, but it was actually run in November. Then '05 to '08, we had a race at Darlington, but it wasn't called the Southern 500. The Southern 500 came back in 2009 and through 2014, we ran the race in the springtime. And in 2015, it once again became the Southern 500 on the traditional Labor Day weekend.
– Cool throwback weekend, and it's interesting. We were talking earlier, and I thought for sure that you would be the type of guy that would say, this is– I don't care what's on the car. I don't care what's on the fire suit. But this is something you really embrace and really enjoy.
– I do. I'm a bit of an old school racer guy. You know, I've been around for a long time. So to see the participation from everybody. It's like everybody loves a costume party, right? I mean, that's just the way that it is. And everybody embraces it so much, you don't feel out of place with whatever it is that you do. To see the vintage clothing, to see the hair on Kyle Petty there, it's awesome to have that going on. And I think it's good for the sport. It's racing. We're there to do what we're supposed to do. We're supposed to go and try to win the race, but man, go have a little bit of fun, fun with the sponsors, fun with the fans. The whole thing is really enjoyable.
– Fun with facial hair.
– Yeah, I mean, you embrace it is as much as anybody. How long you been working on that?
– This has about, been 2 and 1/2 weeks. So this is all I can do. This is the extent of my facial hair You know, try, but it's just so neat. I think when Darlington did this three years ago, it was the coolest thing ever. Everyone loved it. And it's almost gotten bigger, I feel like, for each year. You know, things usually die down, but this hasn't.
I feel like last year was one of the coolest. We had the Pearson scheme from when he did the Triple Crown. And it's really neat to have Kyle Petty's scheme for this year with the Wood Brothers again. So I think they've done a great job, and it's nice that they've only kept it for one race each year, because if you overuse it, it doesn't become as special. And I couldn't think of a better place to do it than Darlington.
– It's great that you went the route of the mustache, and we really thought it would be a good idea if maybe, Chad, for you, to take the next step. So what do you think back here? Are you feeling that at all?
– Man, I wish you would have told me that before I shaved on Monday. I could have pulled that off.
– Twist those? Twist those at the end?
– That's right. I had that. Unfortunately though, it's a little bit grayer than that.
– No truth to the rumor that NASCAR scheduled the off weekend last week so that you could grow out the 'stache There were some rumors out there. We want to make sure that everyone knows that's not true.
– No, that was true.
– Oh, that was true. OK. I had bad information.
More Race Hub Videos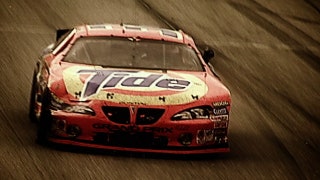 NASCAR prepares for Throwback Weekend at Darlington Raceway
4 hours ago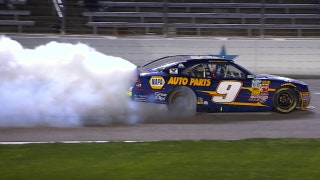 Chase Elliott will pilot the No. 9 in 2018 while William Byron takes over the No. 24
6 hours ago
Here's how NASCAR drivers filter out their haters on social media
12 hours ago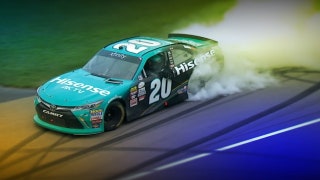 Should Cup drivers be allowed to race in the Xfinity & Truck Series?
1 day ago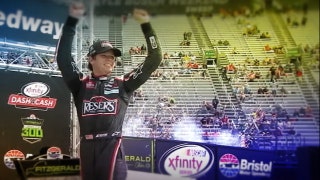 Here's why a growing number of race teams are signing younger drivers
2 days ago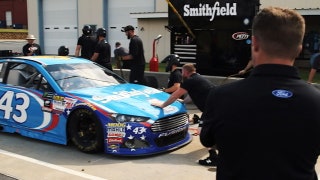 A day in the life of a NASCAR crew chief: Drew Blickensderfer
5 days ago
More Race Hub Videos
»