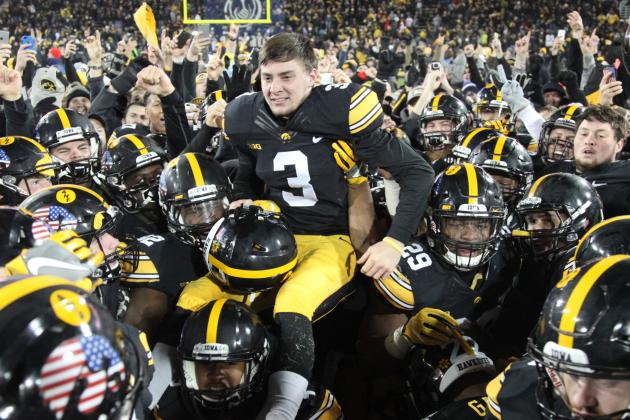 Matthew Holst/Getty Images
Iowa upset No. 3 Michigan 14-13 on Saturday.
Perfectly imperfect.
The College Football Playoff selection committee didn't have a lot of work to do when it came to last week's Top Four, but you knew it wouldn't last. Little did we know, it would only take four days.
It was a simpler time back then, with undefeated Alabama, undefeated Clemson, undefeated Michigan and undefeated Washington. Simple. Clean. The four remaining undefeated Power Five teams from four different conferences provided an easy solution to the sometimes complicated playoff puzzle.
Then Saturday happened.
Team Chaos appeared in Death Valley, as Pittsburgh topped second-ranked Clemson 43-42 on a late field goal.
Team Chaos then flew across the country to the Pacific Northwest to bite fourth-ranked Washington in its 26-13 loss to USC.
Still showing it had plenty of madness left, it then made its way to Iowa City, where Iowa kicked a walk-off field goal to top third-ranked Michigan, 14-13, in the week's biggest upset.
As ESPN pointed out after the game, it was a weekend not seen in a generation:
The ONLY time the #2, #3 and #4 ranked teams lost on the SAME day in the regular season was in 1985. ?

— ESPN CollegeFootball (@ESPNCFB) November 13, 2016
When you add in No. 8 Texas A&M's loss to Ole Miss and ninth-ranked Auburn's loss at Georgia, five Top 10 teams fell.
Carnage all over the map will create nationwide debate, with all arguments being flawed, subjective and easily rebuffed by a fan or analyst touting another team that can't help but have flaws of its own.
You might hate it. You might demand the playoffs expand. You might spend hours online arguing with people you don't know. You do that because, even if you complain publicly, you love the upheaval. You need the debate. You love that Team Chaos wreaked havoc from coast to coast.
So where do we go from here?
Pandemonium, uncertainty, pressure and the ever-changing definition of "elite" have stepped front and center.
It's everything that makes the sport great.
Outside of Alabama, are any of these teams elite?
No, and we shouldn't we expect them to be.
We're talking about 18- to 22-year-old young men who sometimes take their opponents lightly, worry about midterms, get a little too concerned with their social lives and generally act like, you know, college kids.
Good for them for giving the selection committee a headache. And make no mistake: They created a big one Saturday.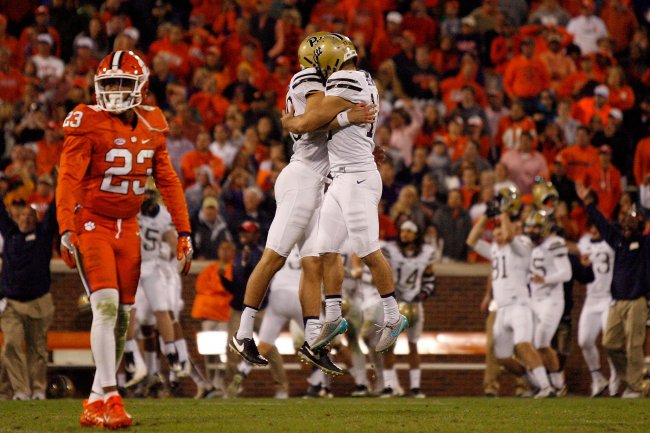 Tyler Smith/Getty Images
What do we make of a Clemson Tigers squad whose Heisman Trophy quarterback candidate, Deshaun Watson, set an ACC single-game record with 580 passing yards but threw three picks and lost to an unranked Pitt team?
The Tigers shouldn't be ranked below another one-loss division foe, No. 6 Louisville, which they beat earlier in the year. The committee already set that precedent last week when then-two-loss Texas A&M lost to unranked Mississippi State but stayed in front of Auburn, a team it beat.
"This team has the heart of a champion, and that will be revealed," Clemson head coach DaboSwinney said after the game, according to the school. "I believe that adversity builds character and reveals it. I know what this team is made of, and we'll fight back, respond and move on to the next one."
Yeah, Clemson still controls its destiny in the ACC Atlantic and, most likely, the CFP. But can you count on its winning out—which likely would include an ACC Championship Game against Virginia Tech…which lost to Georgia Tech on Saturday?
Of course not.
What do we make of a Washington team that just got trounced at home by USC but still controls its future in the Pac-12 North? It's still the conference's best (and perhaps only) hope for a playoff berth, but after facing Arizona State, Washington has to play at Washington State in two weeks and then would run into another solid team in the Pac-12 Championship Game.
Any guarantee the Huskies can run that gauntlet?
Nope.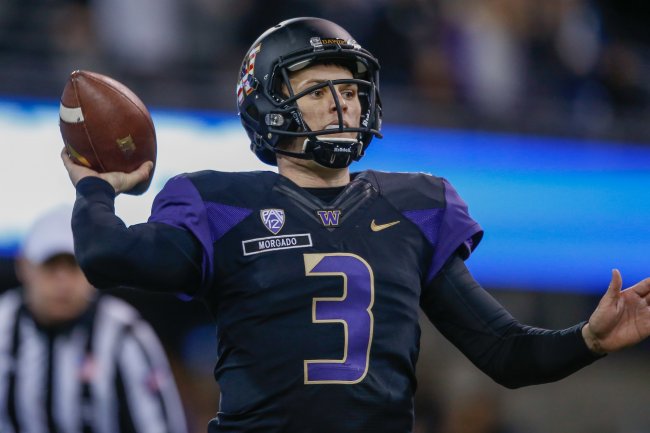 Otto Greule Jr/Getty Images
The even bigger question rests in the Big Ten, where Penn State can win out and take the East Division if Ohio State beats Michigan on the final weekend of the season. Penn State can't have a shot at the national title after losing to Michigan and Pitt this year, can it?
Um, yeah, why not?
This season is a beautiful disaster with three more weekends to play, and getting weird is pretty much the only option. This weekend provided despair, frustration, hope, intrigue and uncertainty to not only the entire sport, but even specific fanbases—all at once—in one glorious day of hysteria.
Teams that seemed like they were on the outside looking in last week like Oklahoma, Colorado, Utah, Oklahoma State and West Virginia, are looking around thinking, "Why not us?"
There's no answer to that question. At least, not based on how this season is shaping up.
Why would you assume anything about the college football world now? This sport provides enough twists and turns throughout the regular season to make you dizzy, and Saturday was like driving on ice on a mountain road.
So let's embrace it.
We're moving full steam ahead toward the first real controversy of the CFP era. Last season's Top Four was no contest by the end of the campaign, and while Baylor and TCU bickered over the final spot in 2014, that was Ohio State's from the moment it began its Big Ten Championship Game shellacking of Wisconsin.
This was supposed to be the tame weekend, with USC at Washington the only game of note. Instead, things turned upside down.
Forget what you thought you knew.
Buckle up. The next month is gonna be wild.
Barrett Sallee is the lead SEC college football writer and national college football video analyst for Bleacher Report, as well as a host on Bleacher Report Radio on SiriusXM 83. Follow him on Twitter @BarrettSallee.