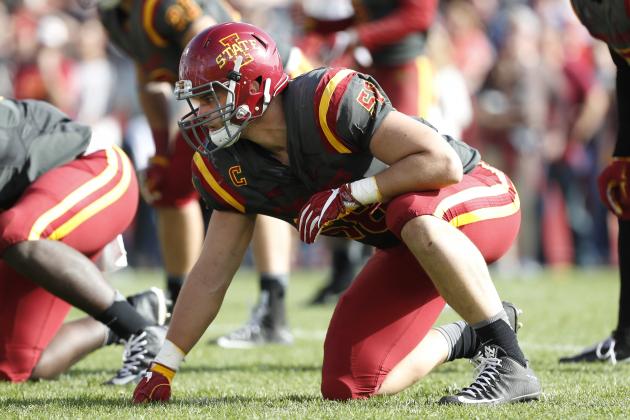 Charlie Neibergall/AP
Nine times out of 10, Hodgkin lymphoma takes your hair, it takes you out for a while and it's a real grind, but you get through it. You get chemo every other week for six months, then some radiation, then they scan you and, nine times out of 10, you get the acronym every patient wants to see: N-E-D. No Evidence of Disease.
So during fall camp in August 2015, when the nurse from MD Anderson in Houston called Iowa State defensive end Mitchell Meyers and said the results of the needle biopsy showed there was no cancer left in Meyers' body, a Skype call was quickly arranged with then-Cyclones coach Paul Rhoads and the rest of the team.
Meyers had never wanted his teammates to worry about him, but he knew they had, and this was the moment they had all been waiting for. He didn't want to spoil the surprise for everyone, but he couldn't help texting his best friend and roommate—linebacker Luke Knott.
"Can't wait to hear the announcement," Knott said.
With the whole team on Skype, Meyers announced the cancer that had taken him down and away from the team just six months prior had succumbed to a combination of poisons and the stiff upper lip of a 22-year-old Texan.
There was hooting and hollering and celebrating.
"I kid you not, an hour later, I get another text from him," Knott says.
The nurse had spoken too soon. Turns out they'd put the needles in the wrong spot. Turns out, not only did Meyers still have cancer, this meant he wasn't among the nine. He was the one for whom chemo and radiation didn't work.
"That," Meyers says, "is when I really thought 'Holy crap, I might die.'"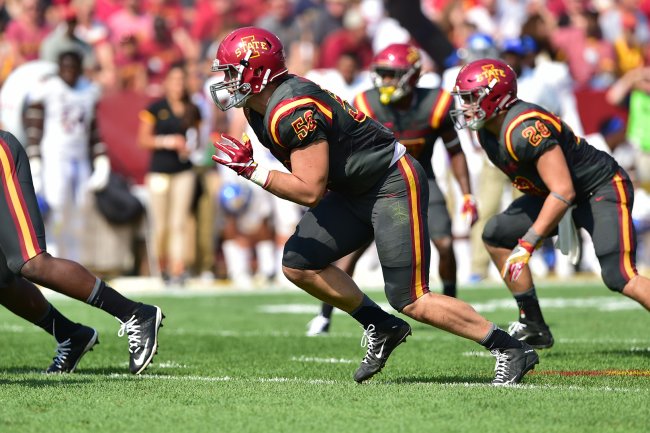 Credit: Iowa State Athletics
The thing they all say about Mitchell Meyers is: The guy really knows how to keep you in suspense. If he's having a hard time, you're not going to know about it unless you ask, and even then it's going to be you he's worried about.
After his diagnosis in February 2015, Meyers had his first six months of chemo at a hospital in Ames, Iowa, before heading to Houston for radiation treatment. Sometimes his chemo conflicted with his course schedule.
"Talking with teachers when he first got diagnosed, he was like 'Oh, I have chemo treatment in the morning, I'm going to have to miss class, but I don't want to use having chemo as an excuse to miss class,'" Knott says. "I was like 'Mitchell, that is not an excuse. That's a pretty valid reason to not have to go to class. Your class starts at 9 and your chemo treatment starts at 9. I think your professor's gonna understand that you can't make it.'"
That was in the early days, before the mix-up with the nurse. Once it came out that the chemo and the radiation in Ames hadn't killed the cancer, Meyers moved back home to The Woodlands, Texas, a suburb of Houston, where his father, Scott, works for Shell Oil Co. The new prognosis meant Meyers was going to need chemo of different kinds and in larger amounts, and it meant he was going to need a stem cell transplant.
Back in Ames, his teammates were trying to figure out how to proceed. He had told them to just focus on the season, but it was not that easy. Beyond being a friend and a teammate, he was a starting defensive lineman. His presence was missed everywhere it could be.
Knott and their other roommate, quarterback Grant Rohach, didn't know what to say. They knew not to ask too many questions, but they wanted their friend to know they were there.
"It was real scary when he fell in that 10 percent that the initial rounds of chemo didn't work," Knott says. "You never want to think that could happen, especially to one of your close friends. Me and Grant had discussions about it, like we just gotta be there for him at all times.
"It gives you a whole new perspective on life and on sports, on work, on friendship, when your buddy's going through something severe like this and you're all the way in Ames, Iowa, and he's all the way in Houston, and the only person who can control it is God."
Fifteen hours south, Meyers' mom, Laura, sprung into a hundred actions at once … the way moms can. A math teacher at Lone Star College, she immediately outsourced her classes.
One of her other sons, Kyle, was living on campus at the University of Houston, so she moved him back to the nest with Mitchell. She rented an apartment near the hospital. She knew Mitchell had always wanted a dog, so she adopted a black Labrador mix. They named him Blue.
"He's big and he's black and he's very sweet," she says. "He's a good dog."
One day, Meyers was in the front yard with Blue when a neighbor walked over to say hello. He asked if Meyers was on spring break or something.
"No," he said. "I'm taking the semester off."
Then, of course, the guy asked why.
Credit: Iowa State Athletics
"In the back of my head I'm like, 'Do I make this really awkward and tell him I have cancer?'" Meyers says. "So I just…told him I had cancer."
There were a hundred conversations like that. After a while, the awkwardness was all on the other side.
"That was a strange thing," he says. "Like, some people didn't know. So I would see people and they'd say, 'Hey man, how you doing?' To a normal person, it's like 'Oh, pretty good, how are you?' But to people who know I have cancer, it's like 'Are you asking about my cancer or…?'"
Among those who did know, Meyers says everyone acted differently.
"Some people were really awkward about it and didn't want to talk about it," he says. "Some people wanted to know every detail. So that was kind of a learning thing for me. I started to understand everybody's different, and I can't blame anybody for how they responded to it."
During the first six months of treatment in Iowa, Meyers had been able to continue going to class and even working out with the team. But in Houston, the second, more aggressive round of treatment was pulverizing his body from the inside. He was initially encouraged that he maintained his playing weight of 255 pounds. But by the time the treatment was through with him, Meyers, a major-conference defensive lineman, couldn't do a pushup.
"I did 10 body-weight squats and was sore for the whole next week," he says. "I just felt I had nothing. Everything I worked for was gone."
Everybody knew he was going through hell, but only because everybody knows cancer treatment is hell. The depth of the physical and mental agony was knowable only by reading between the lines.
"I know when he was going through his last few chemo treatments, it really took it out of him," Knott says. "He would never tell me that it took it out of him, but I knew just from the way he was responding to text messages, the way his voice sounded on the phone, Snapchats he was sending me, I knew this was some pretty severe stuff he was going through."
It was the same story with Laura in Houston. Between treatments, Meyers wanted to keep it moving, so he and his mom would leave the hospital to go get some better food, play tennis, sit and talk. He focused his mind on controlling what he could control.
"He made it so much easier on all of us because of his positive attitude," Laura says.
The gravity and stress of it all would only leak out in tiny drops. One day after treatment, Laura and Mitchell were on the way home when they passed a homeless man on the street. Mitchell said, "He's probably healthier than I am."
"It kind of resonated with me that, you know, he knew," Laura says.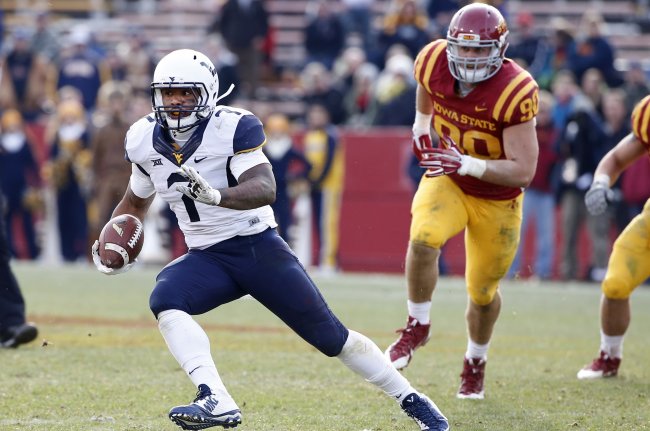 David K Purdy/Getty Images
The purpose of the more aggressive chemo was to make sure his body was free of cancer when doctors did the stem cell transplant. Better odds that way. He had trained himself to take it one day at a time, but it's more accurate to say he was living from one test result to the next.
There came a day when Meyers was expecting some tests to be completed. Laura called the hospital to see if they were ready, but by then, her son's optimism had finally been beaten down. He'd had a bunch of scans, but never a clean one.
"Before we got the results, I even told my mom, 'Mom I don't think these results are going to be good,'" he says. "I don't feel any different. It didn't work the first time. I don't know why it would work this time. Don't get your hopes up on these results."
Well, they showed up anyway, and eventually a nurse came in.
"Good news," she said. "It says N-E-D."
This time there was no mistake. Turns out the cancer was gone.
"My mom was like 'Did you hear that?'" Meyers says. "I just sat there like…I was in shock."
Mitchell's friends all knew he was expecting results, so the text messages were pinging in. He fired off a simple group text: "Hey, my PET scan was all clear."
"They were all up-to-date with PET scans and all that, and I could never give them good news," he says. "This time I had good news. I didn't want to overplay it, like 'Oh, it's a miracle!'… That's basically all I said. I didn't put any exclamations or anything like that.
"Luke texted back like 'That's good news, isn't it?'" Meyers says. "I was like 'Yeah, it's really good news.' I don't know. I just didn't want to get too excited."
Inside, he was. There was another doctor's appointment he and Laura had to get to, and mother and son were bouncing off in triumph together when Mitchell took a pause.
"We were in the car, and he was like 'I just need to sit here a minute,'" she says. "And he got so emotional. It makes you realize how much he's been holding in. As a parent, you think you can protect your kid, but you really can't."
There was still a stem cell transplant and radiation to go, but this was the moment. N-E-D. And it was only then, after the worst was over, that Mitchell let anyone know how rough it had been.
"He wouldn't lead me on until after the fact," Knott says. "It was after he got through it all that he told me, 'You know, when I was down in Houston going through my treatments, that was the worst thing ever right?' I was like, 'I know, but you wouldn't tell me. You would never tell me that.' He said, 'I didn't want you guys up in Ames worrying about me.' I was like 'Dude, come on.'"
Diagnosis to all-clear took exactly 13 months. In that time, the team Meyers played on changed drastically. Rhoads was fired, Rohach transferred to Buffalo and Knott retired after a series of hip injuries.
"It was a different team," Meyers says.
Iowa State went 3-9 in 2015 and then started over under new coach Matt Campbell. Meyers was back in Houston when Campbell was hired and wasn't sure what that meant for his future.
"Does he even know who I am?" Meyers wondered.
But Campbell did. Meyers was the first person he called. He wanted Meyers to know he was still part of the team. Besides, the Cyclones were going to need him. He had started every game as a junior in 2014, recording 30 tackles.
Meyers says he isn't quite the same player he was. He still knows how to play, and he's still 6'4″ and 255 pounds, but cancer and the treatment took away some of his explosion.
"I wouldn't say I'm back to where I was before the stem cell treatment," he says. "But I think I'm back enough to help contribute to the team."
This year, Meyers has 25 tackles, including 4.5 for loss. The Cyclones are 3-8 heading into their final game Saturday, at home against No. 19 West Virginia.
#Cyclones HC Matt Campbell on Mitchell Meyers, who beat cancer to return to the field. Says it's the best story in college football." pic.twitter.com/imXdzXwJSK

— Joseph Hoyt (@JoeJHoyt) November 21, 2016
Meyers is 23 now, with a unique life experience to draw from, but he doesn't want to be an inspirational figure. To the extent sharing his experience can help someone going through the same thing, he's happy to do it, but otherwise, he just wants to move on with his life. He's thinking about moving back to Texas and joining the business world like his dad.
"During the whole situation, I had people come up to me saying, 'Man, I could never do what you were doing,'" he says. "I said, 'Yes, you could. If you had to, you would. You don't have a choice.' I think some people would say that I'm an inspiration, I'm going to inspire people, and I'm going to spread my word, which is awesome. But for me, I feel like a normal person."
After Meyers' last radiation treatment in March, he and Laura drove home and packed his truck for Ames. Blue got in, too—Mitchell's new roommate for the summer.
"Sometimes you say you wish you had a crystal ball," Laura says. "I do not ever wish I had a crystal ball. If you're young and you think of all these episodes you're going to see in your life, you really don't want to know all that. You need to just take it a day at a time and live the moment."
And with that, Laura sent her youngest boy off into the world once more.
"It wasn't horrific," she says. "It was actually bittersweet having Mitchell home. I was in the car with him as we drove down to MD Anderson every day and we listened to Roula and Ryan on the radio. I had more time with him as a 21-year-old than any mother probably has with their 21-year-old kid. He likes to eat, so having dinners here was fun. He likes to grill. He started playing tennis. His brother was here. We had this big dog we could take out or whatever.
"It was bittersweet. You're given lemons, you make lemonade."