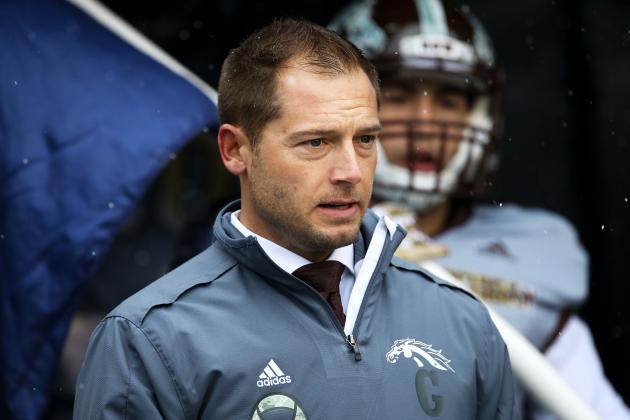 Dylan Buell/Getty Images
The man who can save your college football program walked into his first head coaching job determined to create expectations and pressure where neither had existed in decades.
Then he won one lousy game in his first season.
"You couldn't put a band-aid on it," he said he realized that year. "It needed open-heart surgery."
Three years later, the man who can save your college football program began this season with expectations and pressure now staring him in the face.
He didn't lose a single regular-season game.
What P.J. Fleck has created over his four seasons at Western Michigan is a monster, with only one thing left to devour: perfection. His team is one win away from a 13-0 season and securing a spot in the Cotton Bowl.
How did he do it? How did 36-year-old Phillip John Fleck create a football powerhouse and become the hottest name among coaching candidates this side of Tom Herman?
If you really want to know, here's what may be the defining moment—a moment with an irrefutable correlation to the building, winning and sustaining at the heart of Fleck's mission.
Less than a week before the season opener this year, two freshmen from his heralded recruiting class were arrested on armed-robbery charges.
Fleck blamed himself.
He didn't blame young adults for making dumb mistakes. Didn't use the dreaded and tired "individual decision" crutch like most everyone associated with collegiate sports.
He got rid of the kids and took full responsibility for having had them there in the first place:
"I recruited them," Fleck told Bleacher Report recently. "It's my fault for bringing them to our university."
Guess how many other FBS coaches would respond like that? Your answer begins with a Z and ends in ilch.
Don't think that defining moment wasn't heard around the college football world. One Power Five athletic director—at a school generally considered one of the top 20 programs in the nation—said he immediately began researching Fleck.
"It didn't take long to realize he's unique," the Power Five AD said. "He's way ahead of the norm."
This, Fleck said, is what happens when you embrace failure. You don't put a band-aid on it. You don't hide from it or avoid it; you soak it in and get better. You feed off it.
The key to Fleck's rise as one of the game's brightest coaches is that he's not afraid to fail. Not afraid to make decisions that fly in the face of everything in the Coaching 101 manual, and stand by them with unwavering conviction.
How else can you explain Fleck's reaction to his first big break in the business? Five years ago, Northern Illinois coach Dave Doeren hired Fleck as offensive coordinator of Fleck's alma mater, the place where he became a folk hero for his tough, passionate play as an overachieving wideout.
They still talk about the ridiculous 4th-and-long catch he made against Ohio to keep hope of an unbeaten season alive in 2003, the same year he returned from a horrific hamstring injury (it pulled away from the bone) that cost him all of the 2002 season. He had 77 catches on that 10-win team that beat Alabama in Tuscaloosa, and he was the unquestioned leader of a group that had BCS-buster hopes in mid-October before finishing with two losses.
So what did Fleck do nearly a decade later when he arrived at NIU as offensive coordinator? He left a day later to accept a job coaching wide receivers with the Tampa Bay Buccaneers. A year after that, he returned to the MAC for his first head coaching job at WMU, NIU's division rival.
When he arrived in Kalamazoo, he promptly walked into the joint and rescinded every scholarship offer from the previous staff. He recruited his own class that year, one that included star wideout Corey Davis and 17 other players who would start in their first years. Every single recruit from the class, all 18, played in that godawful 1-11 season.
They were the backbone of 16 wins over the next two seasons, and they're the reason the Broncos are one win away from making more history. Last month, they set the school record for single-season wins (WMU has never had a double-digit win season). With a victory Friday in the MAC Championship Game against Ohio, they will win the school's first conference championship since 1988.
"We went through some tough times," Davis said. "But we were always headed in the right direction, always seeing the same thing, always getting better."
They were always rowing the boat, the corny cliche Fleck had emblazoned all over the football facility and everywhere you could imagine to keep a program he gutted to the foundation aware of its singular goal. It's on the backs of jerseys and in the team meeting rooms, on the walls in the bathrooms and on the playbooks.
Don't be afraid to fail. Keep rowing the boat.
It's overwhelming in its simplicity.
"Everybody focused on the same goal can't lose," quarterback Zach Terrell said.
Before you get carried away with the feel-good story, understand this: It takes players. Good players. The kind of players WMU didn't have nearly enough of when Fleck arrived.
That, as much as anything, is the reason for the turnaround. Ask any coach at any level, and they all say it's about players. Nick Saban wasn't exactly tearing it up at Michigan State before he took two jobs (LSU, Alabama) in the middle of the best recruiting footprint in the game.
So Fleck, the guy former Rutgers coach and current Ohio State defensive coordinator Greg Schiano called "the best recruiter I've ever been around," got to work building a roster. His first class was the best at WMU in more than a decade; his next three were progressively better, finishing with a class last February that was ranked 48th in the nation by Scout.com—ahead of a group of FBS programs that included a team (Colorado) playing in the Pac-12 Conference Championship Game this weekend.
P.J. Fleck record at WMU

| | | |
| --- | --- | --- |
| Year | W-L | Bowl |
| 2013 | 1-11 | |
| 2014 | 8-5 | Famous Idaho Potato Bowl-L |
| 2015 | 8-5 | Popeyes Bahamas Bowl-W |
| 2016 | 12-0 | TBD |
sports-reference.com
It's no different than building a business, Fleck said. The CEO hires vice presidents and managers (coordinators and position coaches) and a sales force of 105 people. Only in this business, the sales force is 18- to 22-year-olds, and there's 20 to 25 percent turnover every year.
Most of the time, they hit on recruits. Sometimes, they don't.
"I can't recruit a badminton champion to play football for us," Fleck said. "So it starts with the talent of the person. Is every area of their life important to them? Do they work the same in class as they do on the field? Do they serve with their family and friends? It's all connected. We want guys who want to be the greatest people they can be, and then football takes care of itself."
The coach who can save your college football program knows what's coming into view at the end of this week. He knows FBS schools will come after him, just like they did at the end of last season.
He also knows success is fleeting and humbling and never what you think it is. He knows this because he has failed.
And will fail again.
"The less you fail, the harder life is going to be," Fleck said. "In every part of your life—professional, private, social, spiritual—failing is growth."
As long as you keep rowing the boat.
Follow Matt Hayes on Twitter: @MattHayesCFB.