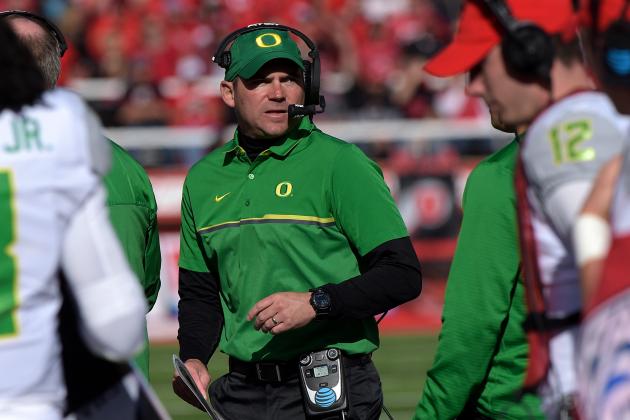 Gene Sweeney Jr./Getty Images
The Oregon Ducks ended a disappointing season on Saturday with a 34-24 loss against in-state rival Oregon State in what could be head coach Mark Helfrich's final game with the program.
Continue for updates.
---
Oregon Expected To Fire Helfrich
Sunday, Nov. 27
According to Dan Wolken and George Schroeder of USA Today, Oregon is expected to fire Helfrich, as it "has made preparations for a coaching search."
They added that Helfrich has an $11.6 million buyout if he is relieved of his duties, which initially created reservations among Oregon brass in terms of firing him.
In fact, they were hoping that the Ducks' 30-28 win over then-No. 11 Utah in Week 12 would have been enough to ensure that he would come back for a fifth season.
The loss on Saturday, though, dropped Oregon's record to 4-8 in 2016, which is by far the worst mark during Helfrich's tenure with the team.
This came after his first three years in which the program had gone 33-8, including a Rose Bowl win and national championship appearance in 2014.
But Oregon's defensive woes made it impossible for the program to succeed. With an average of 42.1 points allowed per game, the Ducks defense is ranked 126th in the nation. That's an inexcusable number for a team that entered the season ranked in the Top 25 and had hopes of winning the Pac-12.
Wolken and Schroeder mentioned Western Michigan's P.J. Fleck and Boise State's Bryan Harsin as possible successors for Helfrich but reckoned that there will likely be other names involved in the mix.
Stats courtesy of ESPN.com.