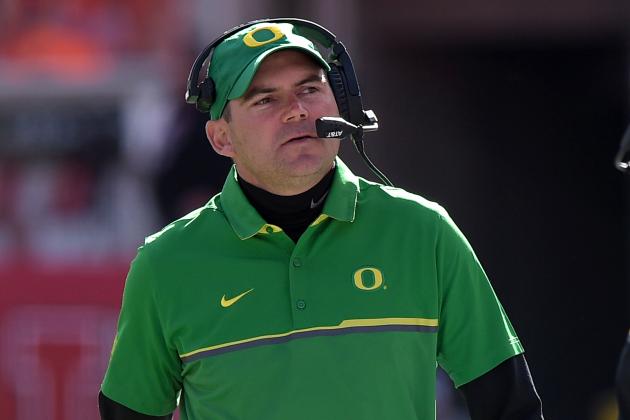 Gene Sweeney Jr./Getty Images
The Oregon Ducks fired head coach Mark Helfrich on Tuesday following a 4-8 season littered with losses to Pac-12 competition, and the internet was abuzz once the decision became public.
Not only did the announcement itself warrant an outpouring of reaction, but a press release—which seemingly took shots at Helfrich and the Ducks' down season—also caught the attention of fans and writers across Twitter.
Fox Sports' Stewart Mandel was among the first to point out the press release was not exactly kind to Helfrich:
Jeez, this Oregon press release just throws Helfrich under the bus over the last 4 paragraphs. Don't let the door .. https://t.co/Dyb9BvKa3Xpic.twitter.com/sIzi0d9z9j

— Stewart Mandel (@slmandel) November 30, 2016
ESPN The Magazine's Ryan McGee and Bleacher Report's Adam Kramer provided their takes on the statement:
The Oregon press release on Helfrich's dismissal doesn't used the words "we sucked so he's gone" but it comes pretty close.

— Ryan McGee (@ESPNMcGee) November 30, 2016
Helfrich should counter: I'd like to thank Oregon for the support over the years and this amazing speed boat and early retirement bye." https://t.co/k8B8VrtOfh

— Adam Kramer (@KegsnEggs) November 30, 2016
After the story went viral, GoDucks.com editor Rob Moseley came out with an apologetic message:
Edited my story on GoDucks FYI. Wasn't the time and place for more than a simple acknowledgement of the decision, with quotes. My apologies.

— Rob Moseley (@DuckFootball) November 30, 2016
And now that the Oregon job is open, the focus quickly turned to a potential reunion between Chip Kelly and the program the current San Francisco 49ers boss helped build into a Pac-12 power:
— nick (@nick_pants) November 30, 2016
Hey Chip; we have Phil Knight on line 1 for you pic.twitter.com/HDHXKaLhyu

— Todd Fuhrman (@ToddFuhrman) November 30, 2016
Phil Knight: Chip?
Chip Kelly: Phil?
Knight: Come on home, buddy.
Kelly: But I have the #49ers.
*pause*
Both: LOL.
(Just a guess.) #Oregonpic.twitter.com/M0SbrzGSNJ

— RealClearSports (@RealClearSports) November 30, 2016
Here's a look at the best of the rest reactions:
I kinda think NFL OC (or QB coach) would be a good next spot for Helfrich. Before Chip, Helfrich was a friend/protege of TB HC Dirk Koetter

— Chris B. Brown (@smartfootball) November 30, 2016
FBS head coaches fired so far this yr are owed nearly $45 million in buyouts, subject to offset from future pay. Assts make it nearly $57M

— Steve Berkowitz (@ByBerkowitz) November 30, 2016
The craziest thing about the Helfrich firing is that Oregon hasn't fired a football coach in *40 years*

— Michele Steele (@ESPNMichele) November 30, 2016
Though Helfrich's four-year tenure in Eugene ended with a whimper, he went 37-16 and led the Ducks to the national title game during the 2014 season.
Based on that track record and his pedigree of four years as offensive coordinator under Kelly, Helfrich should be an attractive coaching commodity for teams in need of fresh starts.