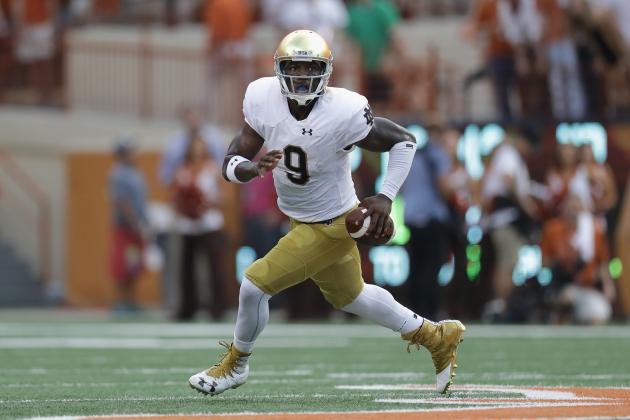 Ronald Martinez/Getty Images
Notre Dame quarterback Malik Zaire will reportedly meet with head coach Brian Kelly on Wednesday to receive a formal release from the school so he can seek a graduate transfer, per Pete Sampson of Scout's Irish Illustrated.
Continue for updates.
---
Four Power-Conference Teams Are Reportedly Contenders
Tuesday, Nov. 29
Sampson said Florida, Pittsburgh, Michigan State and Wisconsin are "the primary contenders" for the signal-caller when he essentially hits college football's version of the open market.
Sampson noted Zaire will have one season of eligibility left after he graduates in December. The quarterback also doesn't need to worry about bowl practices at Notre Dame after it finished an abysmal 4-8 as one of the most disappointing teams in the country this year.
Zaire appeared well on his way to stardom when he won the MVP of the 2014 Music City Bowl with a 31-28 victory over LSU. He threw for a touchdown and added 96 rushing yards and another score on the ground.
He continued his momentum as the starting quarterback in 2015 with wins over the Texas Longhorns and Virginia Cavaliers. He threw for 428 yards and four touchdowns to go along with 103 rushing yards in those contests but broke his ankle against the Cavaliers.
That opened the way for DeShone Kizer, who never relinquished the starting spot.
There was a quarterback battle before the 2016 campaign, but in the season opener against the Longhorns, it was clear Kizer was the better option. Zaire went just 2-of-5 for 23 yards, while Kizer finished 15-of-24 for 215 yards and five passing touchdowns to keep the Fighting Irish within striking distance during the double-overtime loss.
Zaire played sparingly the rest of the 2016 campaign, including some at receiver, and finished with 122 passing yards, 34 rushing yards and a touchdown.
Despite the lack of head-turning numbers after his injury, the potential has always been there for the left-handed thrower since he arrived at Notre Dame as a 4-star recruit, per Scout.
Florida, Michigan State and Wisconsin are all typically strong on the defensive side, and adding a dual-threat quarterback like Zaire would add an element of explosiveness to the offense that has been missing at times in recent seasons.
The Badgers in particular are familiar with the formula considering Russell Wilson once led them to the Rose Bowl as a graduate transfer after playing for North Carolina State.
Injuries are a concern with Zaire, but there is somewhat of a track record of success in marquee games against the likes of LSU and Texas. He could be the missing piece for an established team looking for more offense in 2017.