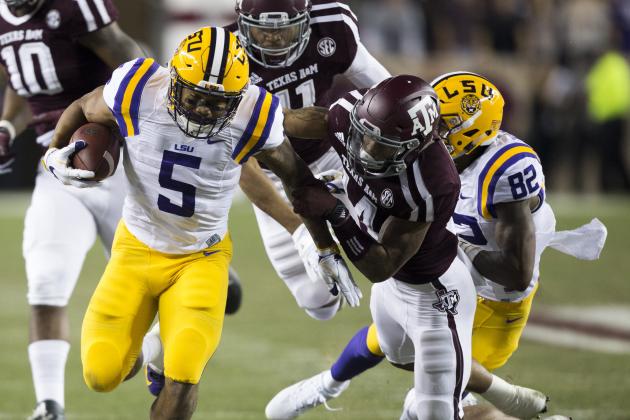 Bob Levey/Getty Images
No Leonard Fournette, no problem. Behind the rushing attack of Derrius Guice and the arm of Danny Etling, LSU thumped Texas A&M, 54-39, Thursday night at Kyle Field.
Guice set an LSU single-game rushing record with 285 yards and scored four touchdowns on the ground, as ESPN CollegeFootball noted:
Derrius Guice just passed Leonard Fournette to set the record for most rush yards in a single game in LSU history with 285 yards. pic.twitter.com/NGYnO9pUA7

— ESPN CollegeFootball (@ESPNCFB) November 25, 2016
Etling added 324 yards passing with two touchdowns as the two made history, per ESPN Stats & Info:
This is the first time in LSU history that the Tigers have had a 300-yard passer and 200-yard rusher in the same game.

— ESPN Stats & Info (@ESPNStatsInfo) November 25, 2016
Without Fournette, its star running back—who didn't travel with the team due to an ankle injury—LSU entered the game facing an uphill battle on the road.
But Guice was quick to show he could carry the backfield, rumbling through the Texas A&M defense for a 45-yard touchdown on the Tigers' first drive.
It was a perfect jolt for Yahoo Sports' Dr. Saturday after a Thanksgiving feast:
That didn't take long for LSU… Derrius Guice with a 45-yard TD run.

WAKE UP FROM YOUR FOOD COMA AND WATCH FOOTBALL

— Dr. Saturday (@YahooDrSaturday) November 25, 2016
ESPN's Carley McCord was buying the early hype:
Guice Guice baby. #LSU

— Carley McCord (@CarleyMcCord) November 25, 2016
Guice had been doing this all season, though, as Billy Embody of Scout.com broke down how valuable he's been:
Derrius Guice is now the 12th player in #LSU history to rush for 1,000 yards in a season.

Does so averaging nearly 8.4 yards per carry.

— Billy Embody (@BillyEmbody) November 25, 2016
Texas A&M answered through the air with 6:05 left in the first when quarterback Trevor Knight hit Christian Kirk with a 36-yard touchdown to help tie things up.
Battling a shoulder injury, Knight looked fine to CBSSports.com's Brad Crawford:
One of the best throws I've seen in the SEC this season right there from Trevor Knight. Dropped it in there to Christian Kirk.

— Brad Crawford (@BCrawford247) November 25, 2016
Knight threw for three touchdowns and 211 yards before injuring his knee in the fourth quarter and leaving the game. Jake Hubenak attempted seven passes in Knight's absence, completing three for 73 yards.
That touchdown to Kirk was all the success the Aggies saw the first half, though, as LSU dominated the second quarter.
After a pair of Colby Delahoussaye field goals put the Tigers up 13-7, LSU linebacker Devin White stripped Trayveon Williams at A&M's 20-yard line to give the Tigers a short field with 43 seconds left.
Just 11 seconds later, Etling hit Malachi Dupre to help put LSU up 20-7 at the half. Just like Knight, Etling impressed with his touchdown throw. This time, Shea Dixon of 247Sports doled out the praise:
That might be the best throw of Danny Etling's career. Dropped it in the bucket to Malachi Dupre in the corner of the end zone. #LSU

— Shea Dixon (@Sheadixon) November 25, 2016
During the second quarter, Knight had just nine yards and completed one of eight passes.
Thanks to a 66-yard kick return from Kirk to open the second half, the Aggies started with a field goal, but Guice punched right back with a 45-yard touchdown run to pad LSU's lead.
ESPN's Ryan Clark was ready to put him in an elite category:
Guice has to be All SEC this year as the "back up"!

— Ryan Clark (@Realrclark25) November 25, 2016
With 7:45 left in the third, Guice scored his third touchdown of the game with a six-yard scamper to help the Tigers go up 34-10.
It prompted Xfinity Sports to bring up the College Football Playoff rankings from a few weeks ago, when Texas A&M was in the Top Four:
LSU 34
Texas A&M 10

Remember when this was a thing… pic.twitter.com/ViMKMy8qA6

— XFINITY Sports (@XFINITYSports) November 25, 2016
Guice's third score was the first of a streak of seven consecutive touchdown drives between both teams.
Fox8 NOLA's Chris Hagan forgot what conference he was watching due to the scoring outburst:
All of a sudden, LSU and Texas A&M are playing a Big 12 game. Tigers lead 47-31 in the 4th.

— Chris Hagan (@ChrisHaganTV) November 25, 2016
But LSU's ability to answer each of Texas A&M's scores ensured that the Tigers maintained a healthy advantage.
The seventh consecutive scoring drive contained Guice's fourth TD, this one coming from two yards out to help put LSU up 54-33 with 4:59 remaining.
While there weren't dire postseason implications for LSU on Thursday night, a strong performance might have presented another case why interim head coach Ed Orgeron should get the permanent gig next season.
However, during the game, ESPN.com's Chris Low and Brett McMurphy reported that LSU and Tom Herman, Houston's head coach, were close to a deal.
Still, it should not be lost just how good of a job Orgeron did, going 5-2 after the school fired Les Miles, which got some such as Avi Zaleon of the Dallas Morning News thinking:
LSU: Coach O is a good coach and your team is playing well.

Also LSU: Give Tom Herman all your money. pic.twitter.com/F20aesHv6R

— Avi Zaleon (@avi_zaleon) November 25, 2016
Texas A&M (8-4) lost out on its first 10-win season since 2012, which included a Cotton Bowl win and a Heisman Trophy for Johnny Manziel. It also would have been the first time the Aggies would have finished SEC play with a winning record since that same year.
With that kind of mediocre stretch, there is a possibility that head coach Kevin Sumlin could lose his job.
Postgame Reaction
Orgeron didn't get much of an opportunity to talk about the win, per Ross Dellenger of the Advocate:
Orgeron: "Great night. Great win for our team." #LSU

— Ross Dellenger (@RossDellenger) November 25, 2016
Instead, he was asked about the Herman rumors. He didn't pay much attention, though, per Steve Fullhart of KBTX:
Ed Orgeron says he turned off his phone and didn't read media reports or social media. Helped cut down on distractions. @kbtxsportspic.twitter.com/uZ0XeQXpZY

— Steve Fullhart (@stevefullhart) November 25, 2016
Much like LSU fans, Orgeron is unsure of his next step, per Sam Khan Jr. of ESPN.com:
Asked about his future, Ed Orgeron said "I don't know what's gonna happen." https://t.co/zu9eIVtG1zpic.twitter.com/yxV0rwHVvD

— Sam Khan Jr. (@skhanjr) November 25, 2016
But he doesn't seem worried, per Jim Kleinpeter of NOLA.com:
#LSU coach Ed Orgeron: I'm going to take it one day at a time. We did all we could. I am happy for them.

— Jim Kleinpeter (@JimKleinpeter) November 25, 2016
In the other locker room, Sumlin was not pleased, per Ben Baby of the Dallas Morning News:
Kevin Sumlin: "I think everyone's frustrated…. It's not a good feeling."

— Ben Baby (@Ben_Baby) November 25, 2016
For a coach who is 15-17 in SEC games over the past four years and 3-9 in November conference tilts since 2013, Sumlin has a lot of work to do should he keep his job.
Stats courtesy of ESPN.com.