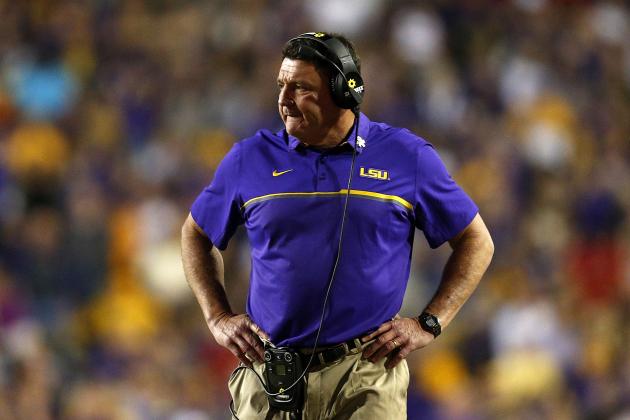 Jonathan Bachman/Getty Images
The No. 25 LSU Tigers will travel to face the 22nd-ranked Texas A&M Aggies for a Thanksgiving clash at Kyle Field.
For the fifth straight week, LSU (6-4, 4-3) will meet a Top 25 opponent. The Tigers split the four previous matchups, most recently losing to the then-No. 23 Florida Gators.
Texas A&M (8-3, 4-3) has struggled since falling to Alabama, dropping two more SEC contests while only defeating a pair of non-power-conference programs.
ESPN will televise the conference showdown at 7:30 p.m. ET. According to Odds Shark, LSU opened as a four-point favorite.
Jonathan Bachman/Getty Images
Adjust and Finish Strong
LSU's brief stretch under head coach Ed Orgeron has typically included two evenly played quarters before a decisive second half.
In four wins, the Tigers have outscored their opponents 90-10 after the break. During their two losses, however, Alabama and Florida combined for a 23-3 advantage.
Barring an unexpected sizzling start, this contest won't be a blowout at halftime. We can't know right now what adjustments will be necessary, but LSU needs to replicate a performance akin to the showing against Arkansas instead of the flop vs. Florida.
Shut Down the Running Game
Under head coach Kevin Sumlin, Texas A&M is 29-0 when tallying at least 200 rushing yards. Otherwise, the Aggies are 15-19.
So far in 2016, the team is 7-0 when reaching the mark but only managed victory in the four games below 200. The lone win came last week against University of Texas at San Antonio, and it wasn't an impressive showing.
Though Jake Hubenak is a decent quarterback with a loaded receiving corps, Texas A&M's success is dependent on the run. LSU needs its 14th-ranked run defense to dominate the trenches.
Bob Levey/Getty Images
Red-Zone Touchdowns
Hubenak and Co. moved the ball against UTSA, averaging a respectable 6.2 yard per play while totaling 431. But once the Aggies reached the red zone, they stalled.
Excluding the clock-burning drive to end the game, Texas A&M kicked three field goals in four opportunities. What saved Sumlin's team was an outmatched Roadrunners offense.
This time around, the problem may be LSU. Coordinator Dave Aranda's defense has surrendered just seven touchdowns in 29 red-zone possessions, and the 24.1 touchdown rate is No. 1 nationally. The Aggies cannot afford to waste chances, but that's easier said than done.
Make Danny Etling Win
When the Tigers run the ball effectively, they're an absolute burden to stop. Containing that rushing attack makes things interesting.
Danny Etling is a fine distributor, but he hasn't proved to be anything more. In five wins as a starter, Etling has completed 63.9 percent of his passes with five touchdowns. In three losses, though, he's mustered a 52.6 mark with just one score.
If LSU needs Etling to be a playmaker, that favors Texas A&M.
Wesley Hitt/Getty Images
Derrius Guice, Running Back
No matter if Leonard Fournette is healthy, Derrius Guice will be asked to shoulder the largest offensive load.
Excluding a two-carry day against Alabama, he's averaged 17.8 rushing attempts since Oct. 1. That volume has been met with varying degrees of success, surpassing 160 yards three times while finishing below five yards per carry twice.
The Tigers don't need an enormous game from Guice, but the sophomore must provide a couple of explosive gains to ease the potential burden on Etling.
Donnie Alexander, Linebacker
LSU lost to Florida for numerous reasons, but Kendell Beckwith's absence didn't help. He exited the game and missed the second half because of a knee injury.
According to Jim Kleinpeter of NOLA.com, Orgeron said the senior will not play against Texas A&M either. Beckwith's replacement is Donnie Alexander, who has 36 tackles this season.
Missed tackles doomed the defense late against Florida, and the Tigers will be missing their rock in the middle. Alexander needs to be a reliable contributor in the middle.
Bob Levey/Getty Images
Trayveon Williams, Running Back
Without the running threat of Trevor Knight, Trayveon Williams' numbers have dipped. He averaged 97 yards while alongside Knight, but Williams' clip has dropped to 60 over the last three games.
If the Aggies are going to get any explosive plays on the ground, though, they'll come from the freshman.
Williams needs to take advantage of any running lanes LSU provides because it doesn't happen often. Only Alabama has surrendered fewer carries of 10-plus yards, and the Tigers haven't allowed a 40-plus-yard run all season.
Myles Garrett, Defensive End
A nagging leg injury has cost Myles Garrett two games and parts of two others. Last week, the junior edge-rusher gave the nation an eye-opening reminder of his dominance.
Garrett posted a season-high eight tackles, collecting a stunning 4.5 sacks and forcing a fumble.
"It was great to finally be able to move and get off close to how I want to," he said, per Ben Baby of the Dallas Morning News. "I just demonstrated what level I can play at when I'm close to being healthy."
Your turn, LSU!
Butch Dill/Getty Images
LSU
Ross Dellenger of the Advocate reported the latest developments of the LSU coaching search, but cornerback Tre'Davious White believes the program already has the right guy in Orgeron.
"I think he's the flashiest name out there," White said. "I feel like we've got the best coach here. I feel like the way he cares about us and the way that we prepare and juice we have at practice, I feel like he's the best man for the job."
Texas A&M
Thursday likely marks the final time Garrett will play at Kyle Field. Brent Zwerneman of the Houston Chronicle notes Sumlin is impressed with the future top NFL draft pick's desire to help his team.
I can't tell you enough what a great teammate he is. The guy has been injured, and could have shut it down. But he played through it … What that says about a guy who has that bright of a future, who could have said he was going to save himself, it says a lot about what kind of person he is, what kind of teammate he is, and how much he wants to win.
Wesley Hitt/Getty Images
Injuries are a problem for both teams, but LSU's problems are slightly easier to overcome. Knight's absence has created a glaring void on the Texas A&M offense.
Unless the Aggies can convert every red-zone chance into seven points, they'll likely need a touchdown from either the defense or special teams to upend the Tigers.
LSU's offensive line won't dominate Garrett and Co., but the unit is at least built to contain Texas A&M's talented defensive front. As long as Orgeron's team avoids putting the game in Etling's hands, the Tigers have an advantage on the road.
A victory will boost LSU to a 7-4 record, while Texas A&M will finish the regular season at 8-4.
Prediction: LSU 24, Texas A&M 16
---
All recruiting information via Scout. Stats from cfbstats.com or B/R research. Quotes obtained firsthand unless otherwise noted. Follow Bleacher Report CFB Writer David Kenyon on Twitter @Kenyon19_BR.