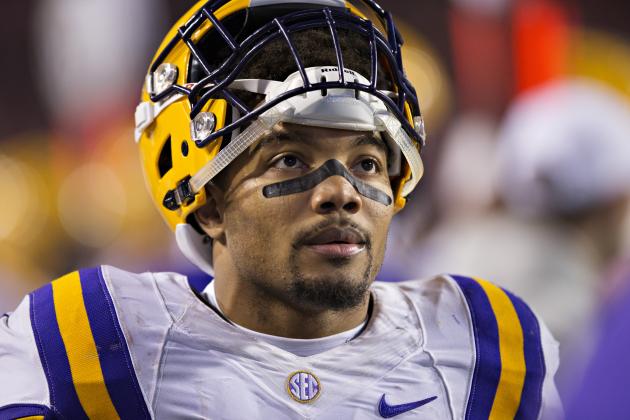 Wesley Hitt/Getty Images
Thanksgiving or no, it was Feast Day for Derrius Guice and the rest of the LSU Tigers in College Station, Texas, on Thursday, as they upended the Texas A&M Aggies, 54-39.
Guice broke the school record for rushing yards in a game with 285 yards—a record previously held by Leonard Fournette.
Danny Etling threw for over 300 yards, the Tigers scored seven touchdowns and Ed Orgeron gave the LSU administration a Hail Mary effort to earn the full-time job amid swirling reports about who will lead the Tigers sideline on a full-time basis.
With that, let's check out the game grades for the Tigers' win over Texas A&M.
David J. Phillip/Associated Press
Grade: A+
You break the school record for rushing yards in a game, your grade will be an A-plus.
Guice's 285 yards came on 37 carries (7.7 yards-per-carry average) with four of them finding the end zone.
The gray cloud of uncertainty that's hovered around Fournette's health has only seemed to burst Guice onto the scene. With how seldom Fournette has impacted the Tigers this season, it's almost fair to ask whether or not he'll be truly missed in Baton Rouge, Louisiana, with Guice returning next fall.
Bob Levey/Getty Images
Grade: A+
When a team's star running back nearly racks up 300 yards on the ground, the rest of the offense is seldom asked to do anything beyond complementary.
However, Etling had perhaps his best game at LSU, tossing for 324 yards and two touchdowns on 20-of-28 passing with no picks.
Eight separate Tigers caught passes from Etling, with Russell Gage hauling in five receptions for 62 yards and a score.
The offense was firing on all cylinders, which was a necessary component on Thursday with LSU down a slew of starters on defense against an offense led by Trevor Knight.
David J. Phillip/Associated Press
Grade: B
Ultimately, the job of a defense is to keep its opponents from scoring more points than its offense can.
It accomplished that, but Texas A&M still did rack up 39 points and was in the game longer than many anticipated as the fourth quarter turned into a quasi-shootout.
Texas A&M, in fact, scored more points on LSU than any other team this season.
The Tigers were without linebacker Kendell Beckwith and sack leader Arden Key, both of whom are almost guaranteed First-Team All-SEC players who were obviously missed.
David J. Phillip/Associated Press
Grade: A
Unless he stays on to coach the bowl game—he didn't at USC—Orgeron likely coached his final game as the head coach of LSU on Thursday.
In a way, Orgeron conjured up images of William Wallace's final breath—blaring out to the world as reports swirled regarding his successor that his team was free of the disappointment suffered the previous Saturday against Florida. ESPN.com's Chris Low and Brett McMurphy reported Thursday that LSU is expected to hire Houston head coach Tom Herman.
Orgeron is loved. He's adored in Baton Rouge. He's proved he deserves to be a collegiate head coach again, on a full-time basis.
But barring anything unforeseen, it won't happen at LSU.