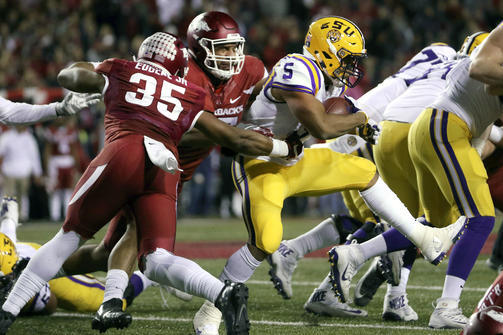 Samantha Baker/Associated Press
Coming off a disappointing 10-0 loss to Alabama, the LSU Tigers continued to try to salvage their season Saturday by dominating a hot Arkansas Razorbacks team on the road by a score of 38-10.
Leonard Fournette and Derrius Guice looked like the best two-headed monster in the nation, while LSU's defense remained as stout as it has all season.
With that, let's check out the game grades for the Tigers following their victory.
Samantha Baker/Associated Press
Grade: A+
The Tigers finished with 390 yards on the ground after netting just 125 yards of total offense against Alabama a week ago.
Leonard Fournette racked up three touchdowns and 98 yards rushing, but it was Derrius Guice who led the way with 252 yards, including a 96-yard touchdown run in the fourth quarter to seal the game.
Fournette and Guice have the potential to be the best backfield duo in the nation, and it seems Ed Orgeron is finally finding the right mix to utilize both on offense.
Jonathan Bachman/Getty Images
Grade: A
Through nine games of 2016, the Tigers have allowed just 10 touchdowns to the opposing offense.
You read that right. All LSU opponents can expect is one offensive trip to the end zone, and that's all Arkansas got Saturday night.
The Razorbacks were held to 81 yards rushing, while Austin Allen was just 15-of-31 passing for 210 yards and a touchdown but with two interceptions.
LSU's offense seems to still be a work in progress and probably won't ever truly come to fruition, but the defense in Death Valley is one of the most feared in the country.
Wesley Hitt/Getty Images
Grade: B+
LSU's play selection a week ago seemed stale against a formidable Crimson Tide defense. The Tigers couldn't get the ball to athletes in space, and the offense looked stagnant as a result.
While there wasn't anything exciting about the play-calling Saturday night, the dynamic between Guice and Fournette added with the efficiency of Danny Etling, who was 10-of-16 passing for 157 yards, kept Arkansas off balance.
It didn't take an elite game plan to beat Arkansas' defense Saturday night, but LSU executed it perfectly and had enough niches to keep rolling steady.
Wesley Hitt/Getty Images
Grade: C-
Last week, Ed Orgeron's chances at landing the full-time gig in Baton Rouge were hanging by a thread, if not gone all together. Orgeron still has an uphill battle, but the statement made Saturday against Arkansas puts him back on track.
The Tigers will still likely have to win out, including a primetime bowl victory, for LSU to hand over the key to the mint to Orgeron.
But a 38-10 win over a ranked SEC team on the road doesn't get much more impressive, especially after the emotional letdown a week ago.