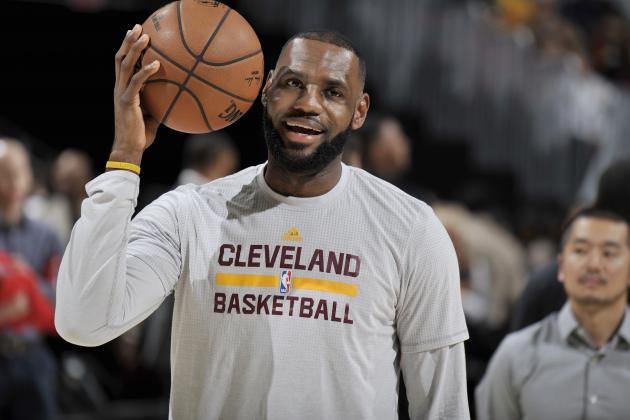 David Liam Kyle/Getty Images
LeBron James and other members of the Cleveland Cavaliers will reportedly be in attendance for the titanic college football showdown Saturday between Ohio State and Michigan.
Tom Withers of the Associated Press reported Friday that James, a Buckeyes fan, and some of his teammates will be at Ohio Stadium to see the rivalry clash with massive College Football Playoff implications before traveling to face the Philadelphia 76ers on Sunday afternoon.
Along with a chance to root on the Buckeyes in the biggest regular-season game of the college football year, there's also business interests in play for the four-time NBA MVP. He's provided the cleats for OSU to wear based on his Nike shoe collection, as he discussed with the AP:
It's been something that's been in the works for years now. We finally was able to put together a shoe and work with the Nike football lab to put a cleat on there. It's always a hard process when you turn a basketball shoe into a cleat, so we finally was able to find a shoe that fits the Nike lab football cleat.
James skipped college and went straight to the NBA in 2003, but that hasn't prevented the Akron, Ohio, native from building a strong relationship with the most prominent in-state school.
Todd Jones of the Columbus Dispatch highlighted that connection in October with a piece featuring previous comments from the three-time champion confirming he would have been a Buckeye if he took the college route. He also talked about his bond with the school community:
It's very humbling, especially knowing I never stepped foot on a college campus as a player or a student. To have some links with a couple programs in America, one being here at Ohio State, it means a lot. It must mean I'm doing something the right way in trying to inspire these kids to not only be great athletes on the floor but also be good role models off the floor as well, represent their universities as well. It's very humbling and I thank Ohio State for it.
James is a fan, but he's also one of the most famous athletes on the planet. After attending a World Series game involving the Cleveland Indians in October, he noted his busy playing schedule has left a hefty bucket list for eventual retirement, per Joe Vardon of Cleveland.com.
"I've been in the playoffs for 12 straight years, so the Kentucky Derby doesn't allow me as far as that," he said. "And the F1 racing in Monaco. … (and a) couple football stadiums, college football stadiums I'd like to go to."
He listed the Wolverines' field, Michigan Stadium, among those he'd like to visit. But this week the Buckeyes have home-field advantage for the critical regular-season finale between two of the nation's Top Three squads.
The game is slated for a noon ET kickoff in Columbus on Saturday, which worked out perfect for James and Co. A prime-time start would have made it difficult to attend the contest and make realistic travel arrangements for the team ahead of Sunday's 1 p.m. ET tipoff in Philly.