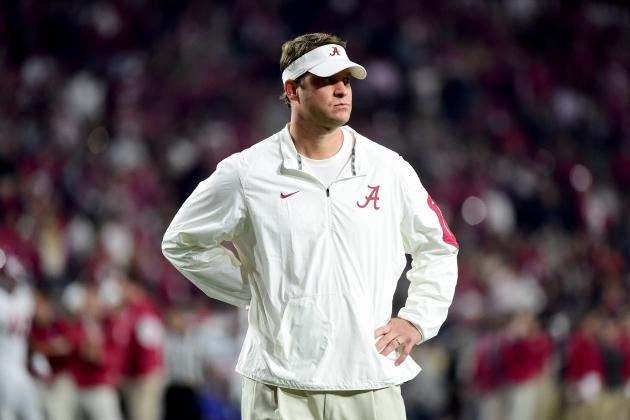 Harry How/Getty Images
Lane Kiffin will be a head coach once again after agreeing Monday on a contract with Florida Atlantic, per ESPN.com's Brett McMurphy and Chris Low.
Fox Sports' Bruce Feldman reported that the deal is for five years, with Low reporting Kiffin's salary will be "closer to $1 million and could increase with bonuses." Low noted Kiffin was making $1.4 million at Alabama.
Kiffin, 41, has spent the last three seasons as the offensive coordinator at Alabama under head coach Nick Saban. Prior to that, he spent three-plus disappointing seasons as the head coach at USC (2010-13) and one ill-fated year at Tennessee (2009) as the Volunteers head coach.
Low noted Kiffin will continue to serve as Alabama's offensive coordinator throughout the postseason.
"We think this is a wonderful opportunity for him to be a head coach again," Saban said Monday, per Michael Casagrande of AL.com. "I think FAU has selected someone that is going to do a great job for them. He's done a great job here molding our offensive players to what they can do to have the best chance to be successful and I think that's always something that's very telling about the quality of a coach."
Kiffin spent time in the NFL from 2007 to 2008 as head coach of the Oakland Raiders, going 5-15 before being fired four games into the 2008 season. That was his only NFL experience other than spending one year as the offensive quality control coach of the Jacksonville Jaguars in 2000.
Kiffin also spent the last two seasons of his initial tenure with USC (2001-06) as an offensive coordinator.
Kiffin had plenty of success during his time with Alabama. The Crimson Tide were 45th in yards (427.1) and 30th in points (35.1) per game in 2015. In 2014, they finished 18th in yards (484.5) and 16th in points (36.9) per contest.
In 2016, the team ranked 13th in the nation with 40.5 points per game.
He managed to do well with two quarterbacks—Blake Sims and Jake Coker—who had talent but weren't elite players. This year, he worked with a freshman signal-caller, Jalen Hurts. Kiffin's ability to groom quarterbacks is valuable at any level.
That success, coupled with his time in the NFL and experience as a head coach, made him an appealing hire for Florida Atlantic. The hope will be that Kiffin learned not only from his prior failures as a head coach but also gleaned wisdom from spending three years under Saban, who has masterminded a dynasty at Alabama.
This may be Kiffin's final shot to prove he can run a program at the college level, however. While he's proved to be a smart football mind, his chances of earning another head coaching gig if he fails at Florida Atlantic are minuscule.
Kiffin's hire is huge for a Florida Atlantic program that hasn't had a winning season since 2008 and has gone just 11-21 in Conference USA play since joining the conference in 2013. Not only should Kiffin immediately turn the program around, but his hire should resonate with recruits and give the Owls an advantage as they look to build a sustainable winner in the coming years.
For Kiffin, it's possible Florida Atlantic will be a bridge job as he looks to prove he's a capable head coach. He could turn success at the school into a job at a more prominent program or even a return to the NFL.
Regardless, his hire is a potentially transformative one for Florida Atlantic.