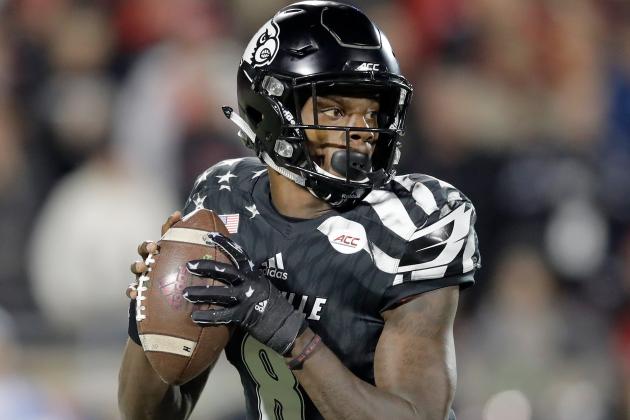 Andy Lyons/Getty Images
Coming in to Saturday, Louisville Cardinals Lamar Jackson was likely so far ahead in the race for the Heisman Trophy this season, he could afford at least one poor performance. The Wake Forest Demon Deacons did everything in their power to provide it.
For one half, it appeared they might succeed. But Jackson and Louisville's offense was never likely to be held down for long.
The Demon Deacons largely stifled Louisville's star quarterback the air, holding him to just 145 passing yards and one touchdown. Stopping him on the ground proved unrealistic, however, as Jackson rushed for an impressive 153 yards on 22 carries, leading Louisville to a 44-12 win.
That performance put him in some impressive company, per ESPN Stats & Info:
Lamar Jackson: 7th career game with 150 rush yards, passing Cam Newton for 2nd-most by a Power 5 QB in last 10 seasons (Denard Robinson, 9) pic.twitter.com/HPFCJkPGnj

— ESPN Stats & Info (@ESPNStatsInfo) November 13, 2016
Wake Forest appeared to have Jackson and the Cardinals figured out early on, taking a 12-3 lead into halftime. Jackson threw for just 46 yards in the half, though he did rush for 65 yards on 12 attempts. Louisville only managed a field goal, however, while the Cardinals also lost three fumbles and held the ball for just eight minutes, 41 seconds.
It was the first half this season that saw Louisville fail to score a touchdown, per Rick Bozich of WDRB. And it was indicative of a pretty wacky day around college football, as Pat Forde of Yahoo Sports observed:
Louisville has three at half at home against Wake. Clemson L. Auburn L. As presumed, the going has indeed gotten weird.

— Pat Forde (@YahooForde) November 13, 2016
The upset alert was on. But Jackson and the Cardinals roared back in the second half.
Louisville finally reached the end zone in the third quarter, as Brandon Radcliff ran 55 yards for the game's first touchdown.
That seemed to awaken the Louisville offense, at least temporarily.
Jackson opened Louisville's next possession with a 55-yard run, setting up the Cardinals on the Wake Forest 28-yard line. The run put Jackson over the century mark in rushing yards as well, tying a Louisville record with seven 100-yard rushing performances on the season, per Bozich.
The Demon Deacons held on defense, however, and Blanton Creque missed a 43-yard field goal, preserving Wake Forest's lead.
Despite his success on the ground, Jackson continued to struggle in the passing game, though Chris B. Brown of Smart Football credited Wake Forest's defense in that regard:
Lamar Jackson really pressing tonight. Very tight throwing the ball, under duress and few run lanes. Wake's front is legit

— Chris B. Brown (@smartfootball) November 13, 2016
But Jackson and Radcliff led the Cardinals down the field two drives later, culminating in Radcliff's seven-yard touchdown scamper. Jackson's pass to the back of the end zone sailed high on the two-point conversion attempt, however, and Louisville clung to a 16-12 lead.
But Louisville had taken control of the game. Following a blocked punt, the Cardinals marched 43 yards in four plays, highlighted by a 17-yard run by Jackson and Radcliff's third touchdown on the day, this time a 19-yard scoot to paydirt.
?TOUCHDOWN? Lamar Jackson hits Cole Hikutini for a 2-yard touchdown pass, gives Jackson 145 yards passing. pic.twitter.com/Nlb2LS8vRv

— LouisvilleFootball (@UofLFootball) November 13, 2016
Jackson would finally get his first touchdown of the game on Louisville's next drive, a two-yard throw to Cole Hikutini that put the game out of reach. And Louisville's offensive prowess was on full display in the fourth quarter, as Ralph D. Russo of the Associated Press tweeted:
Louisville scored 34 points in the fourth quarter.
Lamar Jackson's Heisman march continues.

— Ralph D. Russo (@ralphDrussoAP) November 13, 2016
Indeed, it's hard to imagine Jackson losing any ground as the Heisman front-runner. He's arguably the most electrifying player in college football. He's certainly the most productive, and it's hard to imagine a player more valuable to his team.
More importantly, his performance this season has Louisville still squarely in the College Football Playoff picture. He would have to absolutely disappear against Houston and Kentucky in Louisville's last two games to lose the Heisman at this point.
Wake Forest, to its credit, took its best shot. And Jackson, as he's done all season, deftly avoided the attempt and continued to weave his way past defenders on his way to the Yale Club in New York City.
You can follow Timothy Rapp on Twitter.