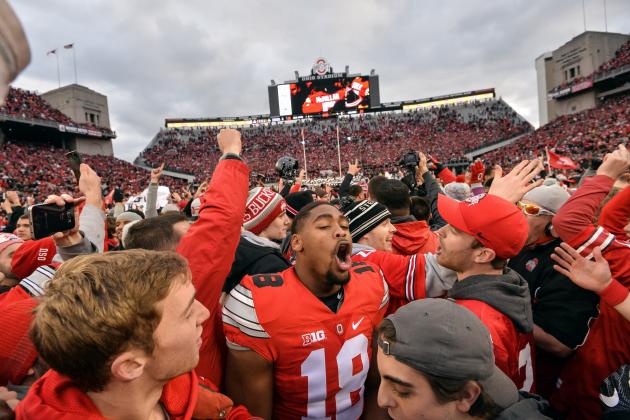 Jamie Sabau/Getty Images
In preparation for one of the most important weeks of his decorated coaching existence, Urban Meyer left town. Without a game to prepare for this weekend, he gassed up the jet, dropped everything and took a voyage down to Texas.
Instead of worrying about an opponent, Meyer went recruiting. At ease with his current team's standing, he turned his focus to the future. He went searching for pieces that could help him win a championship in the years to come.
He is not alone. Many other coaches without games this weekend are doing the same thing.
The only difference is that these coaches are not waiting to see what College Football Playoff city they'll be visiting. Ohio State, for all intents and purposes, is in. Finally, a break in the monotonous playoff sequence.
This much is evident by the selection committee's latest College Football Playoff Top 25—its final dress rehearsal before it officially decides the playoff Sunday morning.
Up until 2016, all eight playoff vacancies were filled with teams that won conference championships. Seven of those eight teams, with the exception of Oklahoma last season, played in conference championship games. The Sooners still won their conference. Ohio State won't do either.
Here's what we know about those final rankings. Alabama is in, no matter what happens in the SEC Championship Game against Florida. It has essentially locked up the top seed, too.
Ohio State, currently No. 2 in the eyes of the committee with a record of 11-1, is in the playoff.
A once debate-heavy discussion now feels like a formality. Victories over Wisconsin (No. 6), Michigan (No. 5) and Oklahoma (No. 9) far outweigh the loss to Penn State (No. 7) and even a lack of a conference championship.
The question is whether the weekend absence will be enough to push Ohio State down to the No. 4 seed. (The answer is probably not.)
And so, the Buckeyes cracked the code. They played a meaningful out-of-conference game against Oklahoma on the road, won that game and will now be handsomely rewarded.
They outlined a path and a blueprint for teams moving forward. They changed the way these conversations and discussions will be viewed moving forward.
They showed that a whole lot of good can be accomplished from the couch on championship weekend, which is precisely what will happen Saturday. Not a bad gig.
As for other observations on the selection committee's penultimate playoff rankings, let's dig in.
Can Michigan Still Make the Playoff? And Can the Big Ten Get 3 Teams In?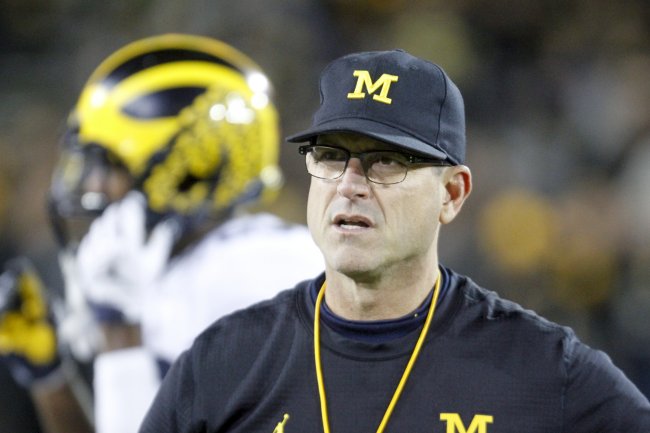 Matthew Holst/Getty Images
Here lies perhaps the most perplexing equation in the 2016 playoff formula. What are we to make of Michigan, the selection committee's No. 5 team—the current bubble boy—heading into the final week of the season?
Although it seems strange that Michigan, fresh off a close and somewhat controversial loss to Ohio State, could still make the College Football Playoff, it is still very much alive.
Working against the Wolverines, of course, is the obvious. They won't play this weekend after losing in Columbus. They are behind Ohio State in the pecking order. They have two losses. They can't win a conference championship, while others can and will. Their resume is complete.
But that resume is still incredibly strong. It includes wins over Wisconsin and Penn State—the two teams representing the Big Ten in its title game this Saturday. It includes a win over Colorado, which will play for its conference championship and own potential playoff existence against Washington.
"The separation between Washington at No. 4 and Michigan at No. 5 is extremely small," selection committee chair Kirby Hocutt said on the broadcast Tuesday night.
Let's say, for the sake of saying it, that Colorado upsets Washington in the Pac-12 Championship Game. And what about a Virginia Tech upset over Clemson in the ACC Championship Game?
Would the committee be willing to select Michigan over this catalog of two-loss champions—many of which the Wolverines hold a head-to-head advantage over?
It seems not only possible but also likely. In fact, championship weekend could produce three—yes, three—Big Ten teams in the playoff.
It's unlikely, but it's possible. If you've ever wanted to watch the college football internet burn to the ground, this might be the weekend.
The (Potential) Outrage Group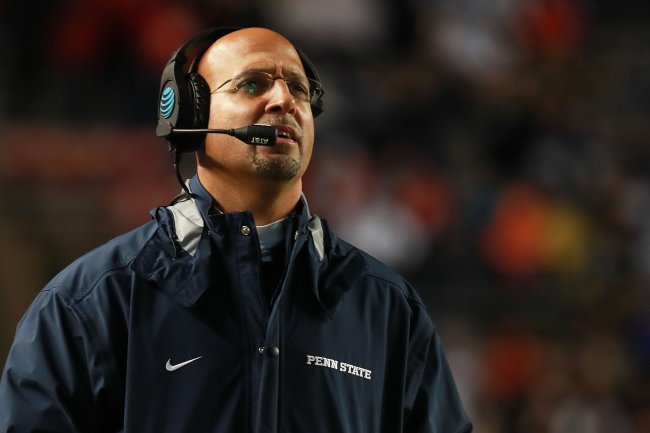 Michael Reaves/Getty Images
Somebody is going to be mad. Potentially really, really mad.
Up until this year, that has not been the case. In 2014, TCU dropped out of the playoff in the final rankings despite beating Iowa State 55-3. To date, it has the most legitimate beef about being omitted.
Then again, the team that jumped it, Ohio State, ended up winning the national championship.
This year, however, at least one team will likely have a gripe. Probably more.
Depending on what happens in other places, the winner of the Big 10 Championship Game, Wisconsin or Penn State, will be rightfully angry if it is omitted from the playoff.
Because the Nittany Lions have a head-to-head win over the Buckeyes, with the rest of the resume not included, they will feel especially snubbed.
Colorado could fit this mold as well. If the Buffs upset Washington and are somehow left out—despite playing Michigan in an out-of-conference game—they will likely be a significant snub.
Unfortunately, Colorado could be competing for that last spot with the team that beat it. It's worth noting Michigan only began to dominate that game once Colorado starting quarterback Sefo Liufau left with an injury.
And last but certainly not least are Oklahoma and Oklahoma State. For Oklahoma, which lost games against Houston and Ohio State, it will hold up an undefeated conference record proudly. It will showcase the potential danger of scheduling outside of the conference.
And for Oklahoma State, perhaps the most notable playoff conundrum of all, it will be left thinking about this play:
The Hail Mary that should not have happened or counted against Central Michigan could work against the Pokes if they pull the upset in Bedlam.
They will not go quietly if that is the case.
The Group of Five's Unfortunate Reality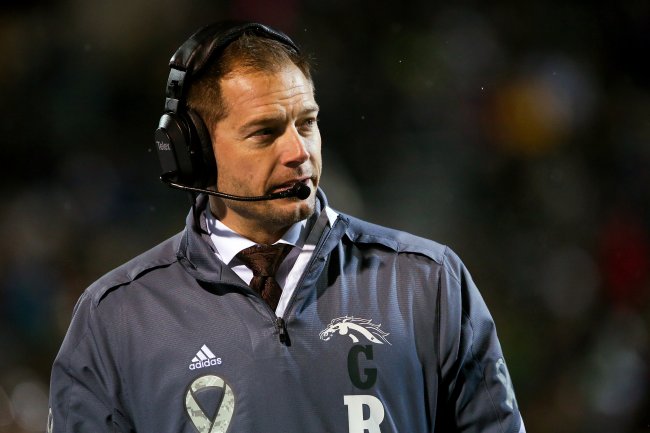 Dylan Buell/Getty Images
Western Michigan is a wonderful football team.
It has a wonderful head coach in P.J. Fleck, who will soon hit the coaching lottery at his current home or somewhere else. His checking account will look like a slot machine in the near future.
It has Corey Davis, a truly gifted wideout, who just set the FBS record for the most receiving yards in a career. And yes, the Broncos are unbeaten.
Their reward for such a brilliant season, with a chance to win a MAC title against Ohio this weekend, is the selection committee ranking them 17th.
This is what you are up against, teams outside of Power Five conferences. This is the obstacle you face when it comes to flirting with the idea of making the playoff.
Undefeated and yet still almost directly behind Florida, Louisville and Auburn—three teams that lost last weekend.
In the three years since the playoff began, it's become clear the committee doesn't care for football outside the obvious places. Not even a special season can trigger that change.
It is incredibly hard to make it this far without a loss. It doesn't matter the schedule or competition. It should be rewarded more than it is right now.
For a "Group of Five" team to make the playoff, a few things will have to go right. For starters, that team needs a massive win. (Think Houston over Oklahoma or Louisville. Think Memphis over Ole Miss last season.)
This team will also need to be unbeaten—without a doubt the most important ingredient. With this record, there also needs to be supreme star power or the perception of NFL talent on the roster.
The selection committee needs to believe what it's seeing week after week is real, and that this team could come through and beat a Power Five opponent.
And yes, there needs to be a whole heck of a lot of luck. Power Five teams need to lose games and keep losing. If a Group of Five team is to ever make a real run, the stars will need to align.
That, or we need an eight-team playoff. That might do it, too.
And Finally, Here's What to Watch for This Weekend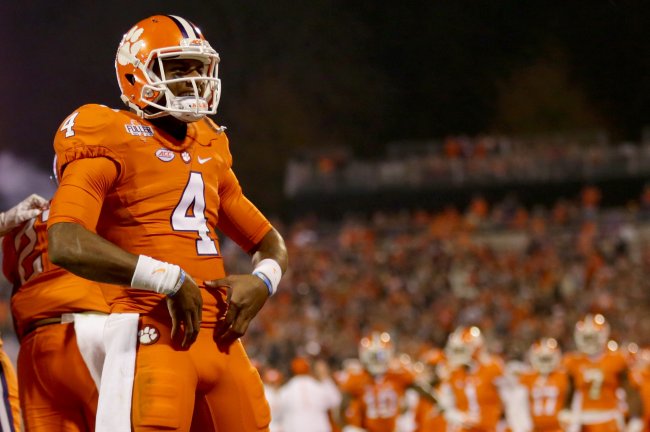 Streeter Lecka/Getty Images
Watch it all. We are running out of college football games, so take in as much as possible this weekend no matter the importance of the game.
But if playoff intrigue is what you're after, look no further than two places. The Pac-12 Championship Game and the ACC Championship Game will ultimately dictate what the selection committee does next.
If Washington and Clemson hold serve as the favorites, no matter what happens anywhere else, the four teams currently in the playoff—Alabama, Ohio State, Clemson and Washington—will almost certainly be the four teams competing for a national championship. Then it will come down to seeding, which likely won't change much, either.
If one of those games produces an upset, there will be intrigue. If two upsets occur, there will be college football madness of the utmost kind.
And who'd be upset at that? After all, the College Football Playoff has entered a brave new world.