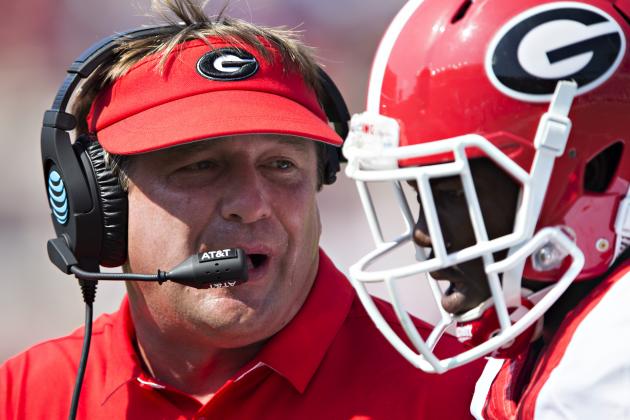 Wesley Hitt/Getty Images
Georgia head coach Kirby Smart
The first season for head coach Kirby Smart at Georgia was like a roller coaster that comes to a screeching halt in the middle of one of the scariest loops.
As a result of the 28-27 home loss to intra-state rival Georgia Tech—just the fourth time the Bulldogs have lost to the Yellow Jackets this century—fans are left hanging, wondering what will come next. Forward momentum down the track or a sudden reversal?
Both are possible after Smart's 7-5 regular season record in Year 1, which should be considered a "mulligan" year.
It starts with Smart, who didn't exactly bring the type of Nick Saban success some expected in his first season away from Alabama and first as a head coach.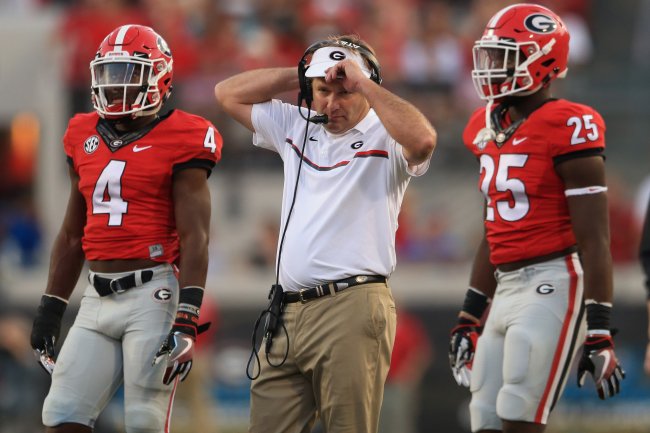 Rob Foldy/Getty Images
The lowlights of rivalry losses to Tennessee, Florida and Georgia Tech, a stunning home loss to Vanderbilt that culminated with a mind-boggling 4th-and-1 sweep to a receiver rather than one of two stud running backs and .500 conference record will leave scars for the next nine months.
"To the fans, I'm just as sick as you are, I'm just as upset as you are and I'm just as disappointed as you are," Smart said after the Georgia Tech loss according to the school. "We've got to do a better job. We recognize that…and we will."
To steal a quote from Green Bay Packers quarterback Aaron Rodgers, "relax."
Smart is a first-time coach who will learn from his mistakes in game situations, change his offseason program to address glaring deficiencies like inconsistency in the trenches on both sides and continue to develop a roster that, while talented, wasn't ready for playoff contention.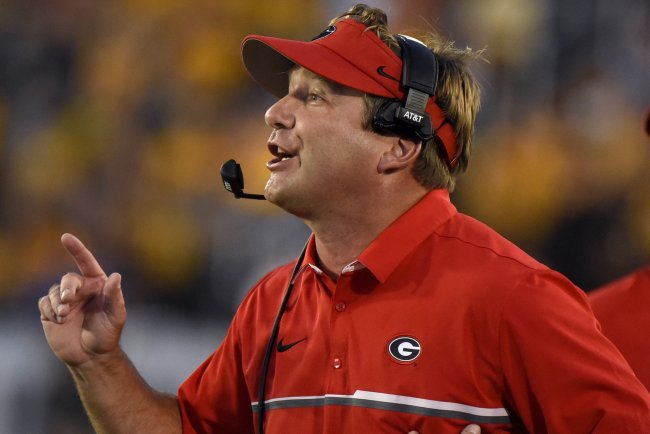 Ed Zurga/Getty Images
Saban—who had spent time as a head coach in the NFL and won a national title at LSU when he landed at Alabama—went 7-6 with a home loss to Louisiana-Monroe in his first season in Tuscaloosa. Urban Meyer—who had gone to a BCS bowl with Utah the previous season—went 5-3 in the SEC in his first season at Florida with an ultra-talented roster. Dabo Swinney went 19-15 in his first two-and-a-half seasons at Clemson before winning the ACC Atlantic in 2011.
It's hard for coaches to find early success even for established coaches with good rosters, much less for first-timers.
"Every day is a new day and everything is a new problem," LSU head coach Ed Orgeron said of his stint as a first-time head coach at Ole Miss (2005-07). "I went in there as a defensive line coach and I handled everything as a defensive line coach. It didn't work. My days are long gone from that. I've learned. I've been a head coach now. We've been successful trying some new things. It was beneficial for me to go through that, learn and write down notes of what I did wrong."
It's fair to be frustrated with Smart, because this team was not competitive. That falls on him. But patience is needed for first-timers, especially those who have stellar recruiting classes coming in.
Georgia's recruiting class currently ranks fourth in the country in the class of 2017 and chimed in at No. 10 last year despite Smart and his staff being on the job for just two months. Add that with a depth chart in 2016 that included Eason being thrown into the fire, freshman wide receiver Riley Ridley emerging as a reliable deep threat, only one upperclassman on the defensive line and not a single senior starting linebacker, and Georgia's future still looks bright.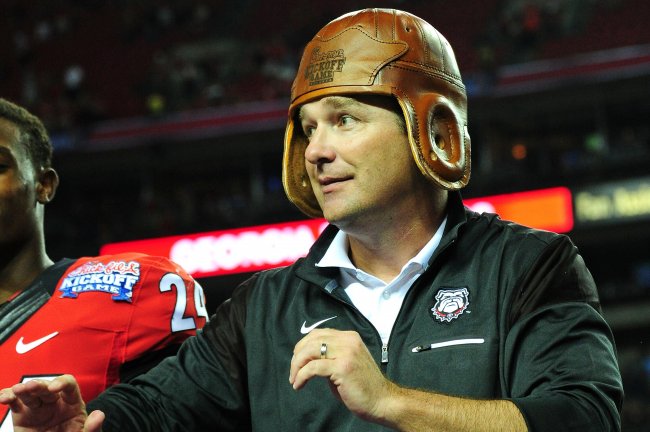 Scott Cunningham/Getty Images
The frustration also stems from what might have been.
The SEC East was an abject disaster in 2016. But the Bulldogs still managed to throw a go-ahead touchdown pass against Tennessee with 10 seconds left in the game, only to see a big SEC East win ripped from its fingertips due to horrible defense on a Hail Mary and a heck of a play by Vol wide receiver Jauan Jennings.
If that play didn't happen, who knows how much confidence that could have given some of the youngsters heading into October and November. After all, quarterback Jacob Eason had already thrown a game-winning touchdown on 4th-and-10 at Missouri in September. Another big win would have worked wonders for the true freshman signal-caller.
What happens with youth? Inconsistency. That's what Georgia was this year not just at the quarterback spot, but across the board.
Will Georgia win a national championship under Kirby Smart?
Will Georgia win a national championship under Kirby Smart?

Yes

No
Georgia shouldn't be an afterthought.
It shouldn't be a pushover.
It shouldn't be anonymous in a mediocre division.
It was all of that in Smart's first season, and history can't repeat itself in 2017. If it does, there should be legitimate questions raised about Smart's ability to handle a job of Georgia's magnitude.
But give the man some time.
The quarterback of the future is there, running backs Elijah Holyfield and Brian Herrien should step in quickly if Sony Michel and Nick Chubb jump to the NFL, the young defense came together in 2016 and Smart will be better with a year of experience on his resume.
The roller coaster shouldn't get stuck next year.
Quotes obtained firsthand unless otherwise noted. Statistics courtesy of CFBStats.com unless otherwise noted.
Barrett Sallee is the lead SEC college football writer and national college football video analyst for Bleacher Report, as well as a host on Bleacher Report Radio on SiriusXM 83. Follow Barrett on Twitter @BarrettSallee.