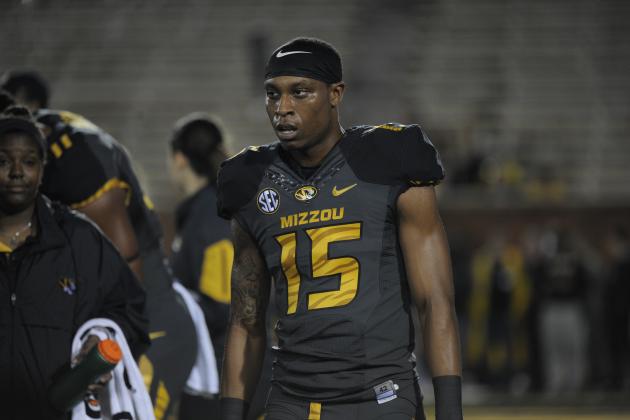 Ed Zurga/Getty Images
Missouri Tigers sophomore wide receiver Keyon Dilosa was suspended indefinitely from the team Wednesday following his arrest on suspicion of domestic violence.
According to Tod Palmer of the Kansas City Star, police arrested Dilosa outside a Columbia, Missouri, bar at 12:48 a.m. Wednesday. A witness allegedly saw him punch a woman in the face, and police said Dilosa is in a relationship with the 20-year-old woman.
KOMU 8 News provided a look at Dilosa's mugshot on Twitter:
UPDATE: Missouri football player arrested for allegedly punching his girlfriend in the face https://t.co/LjAZsit7wG

— KOMU 8 News (@KOMUnews) November 30, 2016
Per Palmer, Mizzou associate athletic director Chad Moller released the following statement regarding Dilosa's status: "We are aware of the situation and addressing it internally. He is suspended indefinitely while we work to learn more."
According to Palmer, Dilosa was released from jail on $1,000 bond about three hours after his arrest and has yet to be formally charged.
Dilosa has appeared in just four games for the Tigers this season, making two catches for seven yards. The Round Rock, Texas, native hauled in 11 receptions for 86 yards as a freshman.
Missouri is not bowl-eligible with a record of 4-8, which means its season is over and Dilosa's playing status doesn't need to be immediately addressed.
Follow @MikeChiari on Twitter.