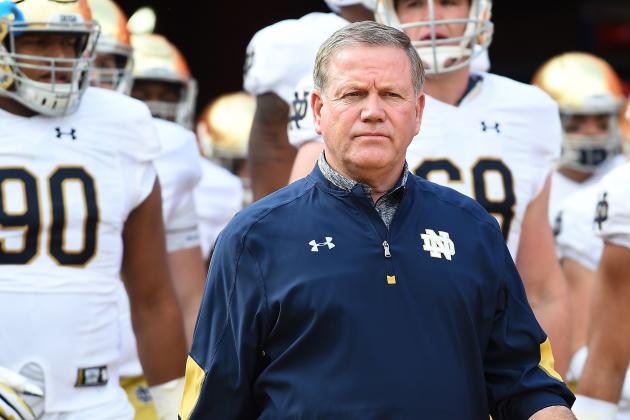 Jayne Kamin-Oncea/Getty Images
"Accountability is built within any program," Notre Dame coach Brian Kelly said after his team lost to USC last Saturday.
Texas, Michigan State, Duke, North Carolina State, Stanford, Navy, Virginia Tech and Southern California. Those are the opponents that beat Notre Dame.
Not this decade. This year.
About the only good thing that could be said about Notre Dame's fall was that a lot of the games were close. But when Fighting Irish fans are trying to hang their Leprechaun hats on something like only losing to a now-4-8 Duke team by three points—a program it had last lost to in 1961—there's something seriously wrong in South Bend.
This was a high-expectation season for Notre Dame. The schedule was extremely favorable, the talent on the roster was thought to be comparable, if not better, than the team that played for the 2012 national championship, and the Fighting Irish were ranked 10th in the preseason Associated Press Top 25.
Many predicted an appearance in the College Football Playoff.
Instead, Notre Dame was the biggest flop of the 2016 season.
It went 4-8. Not only is Notre Dame not playing in a bowl game, but it lost to three teams that are already home for the holidays as well.
It didn't just have bad luck. Head coach Brian Kelly called it a "nightmare" season.
But that's only where Notre Dame's problems begin, as the off-field issues have been even worse than its on-field performance.
Among them is an academic scandal that has put the program on NCAA probation, and it was ordered to vacate 21 wins from 2012 and 2013. The school has said it will appeal the decision.
Former Notre Dame student athletic trainer committed academic misconduct for football players: https://t.co/dfB3EiVSLG

— Inside the NCAA (@InsidetheNCAA) November 22, 2016
On Sept. 25, a day after the loss to Duke, defensive coordinator Brian VanGorder was fired (while his son was on the team). Moreover, Kelly had a sideline confrontation with another assistant, he called his center's snapping "atrocious" and against USC last week he embarrassed the players by addressing them on the field before allowing them into the locker room at halftime.
During the same game, defensive lineman Jerry Tillery, who is listed as 6'6″, 310 pounds, did two things in the second half that can only be described as disgusting: He kicked Aca'Cedric Ware in the helmet when the running back was on the ground with an apparent head injury, and stepped on offensive tackle Zach Banner's foot when he was down.
That's not going to help someone who just suffered a brain injury, Notre Dame pic.twitter.com/eQmt1BU47y

— Deadspin (@Deadspin) November 26, 2016
Update: this is the same Notre Dame player who kicked Ware in the head pic.twitter.com/72CN5uXEqe

— Deadspin (@Deadspin) November 26, 2016
Having already lost the support of a lot of Fighting Irish fans, it was proof that the coach had lost his team as well. Notre Dame went on to post an embarrassing 45-27 loss to its rival from the West Coast.
It wasn't just the end of a bad season, but indicative of the kind of program Notre Dame's become—one with more scandals than seasons to be proud of during Kelly's seven-year run.
Among them, there were accusations that the handling of an investigation into a football player being accused of sexual assault helped lead to the suicide of 19-year-old victim Lizzy Seeberg. Additionally, 20-year-old student Declan Sullivan died during a 2010 practice accident after wind gusts made conditions unsafe for videographers to be in lifts filming practice. The school was later fined after an investigation.
These are in no way directly Kelly's fault, but scandals are never a good look on the man in charge of a college football team.
Also, starting quarterback Everett Golson was caught cheating on an exam and Notre Dame dismissed junior receiver DaVaris Daniels, senior linebacker Kendall Moore, junior defensive back KeiVarae Russell and senior defensive lineman Ishaq Williams due to academic fraud in 2014. Safety Eilar Hardy was later benched.
Some of the players were later reinstated, but the NCAA issued its penalties last week after ruling that three of them had played while ineligible.
Even Kelly's most successful season didn't end well. In addition to the Manti T'eo fake-girlfriend fiasco, Alabama absolutely crushed Notre Dame to win the 2012 national title.
Afterward, Kelly said: "We've got to get physically stronger, continue to close the gap there. … They're back‑to‑back national champs. So that's what it looks like. Measure yourself against that, and I think it was pretty clear across the board what we have to do."
It obviously hasn't happened.
Kelly is 15-15 over his last 30 games. He has a losing record against ranked opponents, 11-14, and five of those wins are about to be vacated. Only three of his teams have finished ranked in the Associated Press Top 25, and he's had just two wins against Top 10 opponents.
The Brian Kelly Era

| | | |
| --- | --- | --- |
| Year | Record | Final Rank |
| 2010 | 8-5 | NR |
| 2011 | 8-5 | NR |
| 2012 | 12-1* | 4 |
| 2013 | 9-4* | 20 |
| 2014 | 8-5 | NR |
| 2015 | 10-3 | 11 |
| 2016 | 4-8 | NR |
Notre Dame (*wins to be vacated)
This is supposed to be the New York Yankees of college football, where they boast about the sign reading "Play like a champion today" and the marching band blasts the most famous song in American sports, the "Victory March."
Only at Notre Dame could Dan Devine compile a record of 53-16-1 and win a national championship and not place in the program's all-time top five in terms of coaching winning percentage. His .764 may be considered great, but still doesn't compare to Knute Rockne's .881, Frank Leahy's .855 or Ara Parseghian's .836—numbers most people not familiar with the program assume must be typos.
Nothing about football should ever be considered ordinary at Notre Dame.
Instead, Kelly went out of his way over the weekend to refute reports that he was exploring other job options. Just feeling the need to comment on that possibility tells you how dire things have become.
Statement from @NDFootball coach Brian Kelly… pic.twitter.com/NuPHmNlTyr

— Michael Bertsch (@NDsidBertschy) November 27, 2016
Kelly's record proves that he can coach football. Over 13 years at Division II Grand Valley State, his teams went 118–35–2 and won two national championships. He turned around a horrible Central Michigan program and won the 2006 Mid-American title. During his three seasons at Cincinnati, the Bearcats' worst season was 10-3.
Should Brian Kelly coach Notre Dame next season?
Should Brian Kelly coach Notre Dame next season?

Yes

No
He's the only two-time winner of the Home Depot Coach of the Year Award (2009, 2012). Yet maybe Kelly's just better suited for a smaller school, or at one where the spotlight isn't so blinding.
Although Kelly received a six-year contract extension in January, things have disintegrated. Somehow, someway, he and Notre Dame need to go their separate ways. Perhaps he can land work in the National Football League, or they can come to a joint agreement claiming irreconcilable differences.
Either way, they'll both be better off for it.
Quotes were obtained firsthand unless otherwise noted.
Christopher Walsh is a lead SEC college football writer. Follow Christopher on Twitter @WritingWalsh.