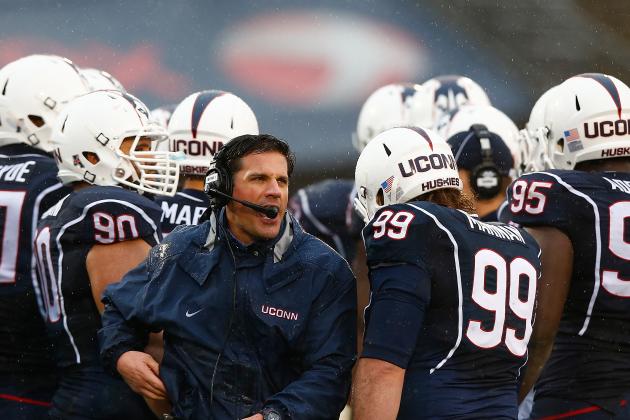 Jared Wickerham/Getty Images
Back in the summer of 2015, University of Connecticut football coach Bob Diaco engaged in what can only be viewed as a curious attempt to rile up the fanbase of a program that hasn't had much hope to cling to over the course of its recent history. The Huskies, by dint of the random geography of the American Athletic Conference and the program's overarching lack of success, don't have a natural rival.
So Diaco got aspirational: He purchased a trophy that appeared to have been filched from a local bowling tournament and then unilaterally dubbed UConn's upcoming matchup with the University of Central Florida as the "Civil Conflict."
First day back on campus for #UConnFootball! And just 130 days until the next Civil Conflict with @UCF_Football ! pic.twitter.com/RgOkXiob0T

— UConn Football (@UConnFootball) June 1, 2015
What's ensued in the days and months since is mostly widespread mockery. Diaco had made a one-man decision to generate a rivalry out of thin air, and UCF's then-coach, George O'Leary, responded with outright dismissiveness, as if he were swatting away a fruit fly.
Diaco said he didn't need UCF's permission to fabricate a rivalry, which felt like a philosophical tree-falling-in-the-forest quandary that only a sport as goofy and colorful as college football could arouse: Can a rivalry exist if one of the two parties involved doesn't consider it a rivalry at all? (Or maybe this was a sign that Central Florida had "made it" as a program. Looking down upon another school to the point that it barely registers on your emotional radar—after a 24-16 win over UConn in October, UCF's players completely ignored the presence of Diaco's trophy—requires a self-importance reserved for only the most confident of programs.)
College football has a rich and textured panorama of rivalries that date back decades, if not more than a century—Michigan-Ohio State and Alabama-Auburn, among others, rank up there with the greatest in any sport. But this is not a story about those games. Because amid all that pageantry, there are also some rivalries that seem more grounded in awkwardness than animosity. With Rivalry Week here, then, it is worth noting certain cases in which the vitriol is muted, or one-sided, or largely nonexistent.
Here, then, are seven (OK, eight) rivalries (in no particular order) that reflect seven unique brands of lackluster. Are these even rivalries at all? I suppose Diaco would say that's in the eye of the beholder.
1. LSU-Arkansas, or The Rivalry That Just Can't Seem to Catch On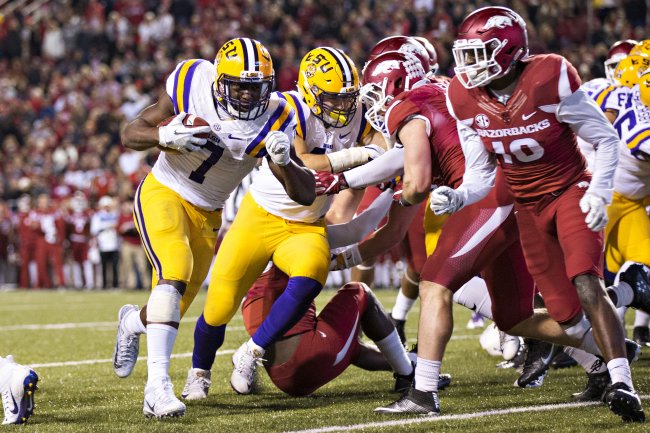 Wesley Hitt/Getty Images
Let us examine the concept of the trophy, since that's how Diaco attempted to gin up his players and fanbase. All great rivalry games have a trophy of some sort, but some trophies are built better than others, and on occasion, these trophies are so pathetic that they can wind up reflecting the true nature of the rivalry itself. Every year, Arkansas and LSU play for something called the Golden Boot, which is supposedly an amalgam of what the two neighboring states look like on a map but actually resembles, as Arkansas coach Bret Bielema said, a "bad neck chain."
Arkansas and LSU were essentially designated to become rivals after the Razorbacks joined the Southeastern Conference in 1992; for years, they played this game the weekend after Thanksgiving, in the slot traditionally reserved for rivalry games. But you can only manufacture so much animosity, and while some Arkansas fans get hyped up for this contest ("It's still a rivalry game for us," one Arkansas player told reporters before this year's game), most LSU fans aren't exactly amped about it. In fact, LSU administrators campaigned to have the game moved off Thanksgiving Day so the Tigers could play Texas A&M instead.
The games themselves have been competitive, though at the end of this year's 38-10 LSU victory, Leonard Fournette didn't exactly embrace the intensity:
Leonard Fournette took a break in the 4th Qtr after scoring 3 TD to take a few selfies. https://t.co/MygKd3voIb

— SportsCenter (@SportsCenter) November 13, 2016
2. Vanderbilt-Tennessee, or The Rivalry That Bears No Name
My 8-yr old switching to end of #VANDYvsTENN: "wait, Vandy-Tennessee is a rivalry? Does Vandy play a lot of football?" Spoiled by #IronBowl

— Anoop Mishra (@mishraman) November 29, 2015
Go ahead and surf over to the Wikipedia page for this game, which has been contested 110 times heading into this season. Anything strike you? Perhaps that 15 of the 17 "notable games" took place before 1929? And that the most recent "notable game" was a 53-28 Tennessee victory last season?
Back in 2013, before he left for Penn State, Vanderbilt coach James Franklin acknowledged to reporters that this couldn't be considered a rivalry because "it hasn't been as competitive as it needs to be long-term."
That's an understatement—other than Vandy shockingly winning two in a row under Franklin in 2012 and 2013, the Commodores haven't won two straight in this series since 1926, which is when Tennessee hired Robert Neyland as its coach expressly to defeat Vandy. It's a game so lackluster that it doesn't bear either a name or a trophy. It is the Anonymous Rivalry.
3. TCU-SMU, or The Rivalry That the Death Penalty Tore Asunder
From 1972-86, SMU won every game in this then-Southwest Conference rivalry between schools from the neighboring cities of Dallas (SMU) and Fort Worth (TCU). Then the SMU program got the Death Penalty for multiple recruiting violations, and the SWC broke up, removing some of the luster from a game that is played—due to a potentially apocryphal story involving a fan sauteing frog's legs—for an implement designed to effectively fry bacon.
TCU 33, SMU 3 in PHOTOS by @mfaulknerphotoghttps://t.co/ACzVLlwadapic.twitter.com/Hvhgdcsq7B

— Carlos A. Mendez (@calexmendez) September 24, 2016
Since a stunning 40-33 overtime victory in 2011, SMU (now in the AAC) has been outscored by TCU (now in the Big 12) by a combined score of 217-73, including a 33-3 loss in September before a, uh, massive and zealous home crowd.
4. Boston College-UMass, or The Quaint Attempt by New Englanders to Embrace College Football's Pageantry
I can think of at least 5 college hockey rivalries in MA more appealing than the BC-UMass football rivalry as seen on a billboard in Walpole

— Jake Levin (@JakeLevin477) July 6, 2016
"BC doesn't respect us," UMass linebacker Da'Sean Downey told reporters before this year's version of a game that has been contested precisely five times in the current century—and in those five games, BC has won by a combined total of 154-52.
UMass is a program searching for both a signature win and a conference affiliation; BC has had a couple of decent years under current coach Steve Addazio, but for the most part it is still trafficking upon the glory of a Doug Flutie Hail Mary.
My son just went down for a nap. I should have just put him in front of the #BattleoftheBayState

— #BeatHarvard (@CurryHicksSage) September 10, 2016
Even this game's Wikipedia page is laced with skepticism. "A small amount of marketing effort went into [the 2016 game]," reads the page, in referring to a game now supposedly referred to as "The Battle of the Bay State." Which is about as uninteresting as it sounds.
The vibe in the Game Thread for the #BattleoftheBayState is… interesting. BC leads UMass, 13-7 in 3Q: pic.twitter.com/AJXgBTLx0z

— RedditCFB (@RedditCFB) September 10, 2016
5. Ohio State-Penn State/Maryland-Penn State, or The Shoehorned Rivalries That Conference Realignment Hath Wrought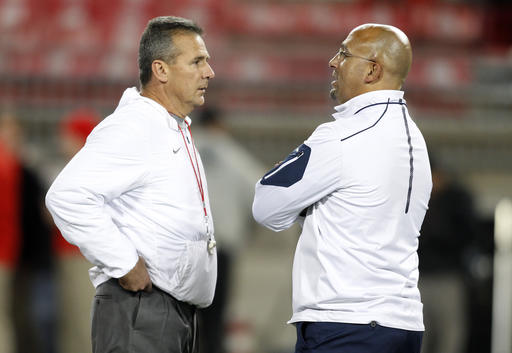 Paul Vernon/Associated Press
Here is what happens as a conference like the Big Ten slowly expands its footprint in an attempt to boost its reach and television ratings: Both the conference and its fanbases attempt to breed rivalries that are either contrived or one-sided.
At first, the conference attempted to generate a rivalry between Penn State and Michigan State, but that went nowhere; meanwhile, Penn State fans got increasingly worked up over their games against Ohio State, which have been intermittently great (including this year's Penn State upset at Beaver Stadium) even as the Buckeyes have largely dominated.
Still, as Ohio State coach Urban Meyerpointed out to reporters, "I've heard that Penn State considers Ohio State their rival. Obviously, we have one [true rival]"—that, of course, being Michigan. In other words, just because both teams are often good doesn't make it an actual rivalry.
A Penn State fan told me Ohio State and PSU are rivals because it is the Nittany Lions biggest game. That's not a rivalry.

— Jordan Wagner (@JWagnerOSU) October 25, 2013
And so Penn State, after two decades in the Big Ten, is still seeking a first-tier rival who regards it in the same fashion that Pitt fans once did. At this point, it isn't Maryland, a team the Nittany Lions have lost to exactly twice in 40 meetings. That won't stop Maryland from trying to push it as a rivalry for recruiting purposes—it purposely refused to shake hands with Penn State players before the 2014 game—but mostly Penn State sniffs at that designation.
"To me, it shouldn't be something that we're trying to convince or create," Penn State coach James Franklin told reporters after this year's Maryland game, which Penn State won 38-14. "It's there or it's not."
I fear the heat and energy from the Penn State-Maryland Rivalry will recharge Hurricane Matthew into a Category 5 storm.

— J. Schnauzer (@Jschnauzer) October 6, 2016
6. Washington State-Idaho, or The Rivalry That Will Most Likely Die a Merciful Death
What is a Palouse? Good question. It is the designation for the swath of the country in which both Washington State and the University of Idaho are located, approximately eight miles from each other across state lines. The Battle of the Palouse is an outstanding name and basis for a rivalry, except for the fact it's never been very competitive, and Idaho's largely flailing football program is dropping down to the FCS level in 2018.
There is MT @RedditCFB Didn't realize dat Washington State and University of Idaho were only 8 miles apart. Why isn't there a rivalry there?

— Connor Pelton (@ConnorPelton28) August 1, 2014
The Cougars have won each of the last nine matchups by at least 12 points (including 56-6 this year); in 2008, then-Idaho coach Robb Akey suggested it become a "once-in-a-while thing," and the teams didn't meet at all from 2008 to 2012. They're not due to meet again until 2020, but that matchup might prove to be a good thing for the Vandals given that Washington State has lost to an FCS team in each of the past two seasons.
7. Florida State-Virginia, or The Rivalry That Most People Aren't Aware Even Exists
The Jefferson-Eppes Trophy is back with FSU. pic.twitter.com/nGnVufSXHg

— Tim Linafelt / FSU (@Tim_Linafelt) November 9, 2014
Honestly, could there be a more stultifying name for a rivalry prize than the Jefferson-Eppes Trophy? It sounds either a) like a rare disease, or b) like something that would be given out as part of a scrimmage between rival law firms.
Florida State leads the series 14-3, and the teams have played only three times since 2010, which leaves the winning team sufficient time to cleanse the maple syrup from that silver pitcher.
Honorable mention duels: Iowa-Iowa State, Duke-North Carolina, Illinois-Northwestern, Colorado-Utah, Minnesota-Michigan, Ohio State-Illinois
Michael Weinreb is a writer based in San Francisco and the author of Season of Saturdays: A History of College Football in 14 Games. Follow him on Twitter @michaelweinreb.