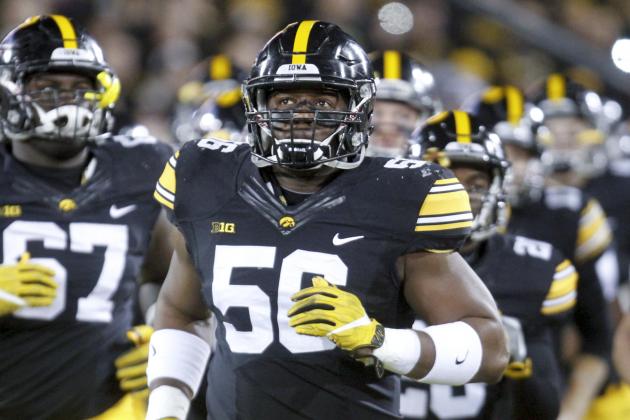 Matthew Holst/Getty Images
Iowa Hawkeyes defensive lineman Faith Ekakitie said a player on the Nebraska Cornhuskers used a racial slur during his team's 40-10 win Friday at Kinnick Stadium.
According to Mike Hlas of the Gazette in Cedar Rapids, Iowa, Ekakitie declined to name the player or say what derogatory term he used.
"Anyone willing to go out of their way and throw that around, even in a competitive environment, I think you're a piece of trash," Ekakitie said, per the Des Moines Register's Chris Cuellar. "I've been fortunate enough to not have to experience things like that…I think they got what they deserved."
Cuellar said he asked for an official statement from Nebraska about the allegations, and athletics spokesman Keith Mann replied, "I appreciate you informing us." Mann did not provide any additional comments.

In July, Ekakitie made headlines when he described an incident in which officers from the Iowa City Police Department held him at gunpoint. In a Facebook post, the senior wrote he had matched the description of a suspect in a nearby bank robbery.
Following a search of Ekakitie and his belongings, the officers let him go.
"Lastly, I would urge us all to at least to attempt to unlearn some of the prejudices that we have learned about each other and now plague our minds and our society," Ekakitie wrote in the post. "I am convinced that in the same way that we learned these prejudices, we can also unlearn them."