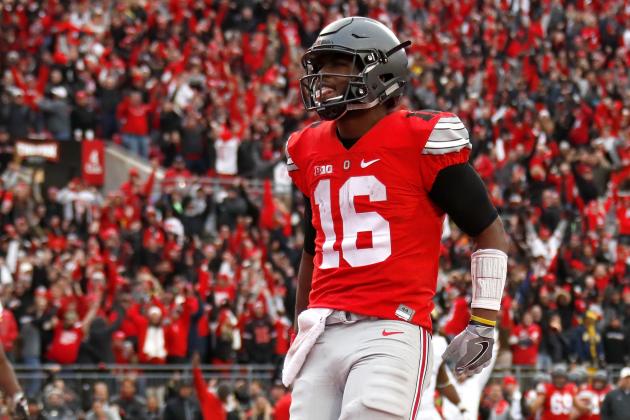 Gregory Shamus/Getty Images
A double-overtime victory over the rival Michigan Wolverines on Saturday afternoon kept the Ohio State Buckeyes alive in the race for the College Football Playoff.
Now, they need some help.
Fortunately for Ohio State, that assistance could come from multiple teams. Unfortunately for the Buckeyes, they control nothing.
Penn State avoided an upset against Michigan State, overcoming a slim halftime deficit with a dominant second half to record a 45-12 win and claim the Big Ten East division title. An unexpected turnaround led to the Nittany Lions finishing 8-1 in conference action.
That head-to-head loss in State College, Pennsylvania, is what put the Buckeyes into this precarious position.
And Wisconsin's comeback win against Minnesota complicated Ohio State's outlook for the playoff.
Had the Badgers lost, it's unlikely they would've received a nod over the Buckeyes despite winning the conference championship because of the result in Madison, Wisconsin, on Oct. 15. Instead, the winner of the Big Ten will have two losses.
Penn State would have a convincing argument, since the committee's protocol includes factoring in conference championships and head-to-head wins.
Conversely, Ohio State vs. Wisconsin is a potentially precedent-setting decision. The Buckeyes have the head-to-head victory, but the committee rightly hasn't yet considered the value of a conference title. Would the Badgers leap Ohio State with a Big Ten crown?
As much as we'd like to provide a definite answer, we simply don't know how the committee will decide between an 11-1 Buckeyes team and a potentially 11-2 Wisconsin. But it's one possible route.
Selection committee, by the way, is inching closer to reallllllly pissing at least one team off.

— Adam Kramer (@KegsnEggs) November 26, 2016
The easiest way for Ohio State to reach the playoff, though, is with a healthy dose of Team Chaos during championship week.
Alabama, Clemson and Washington are obvious choices if they finish 12-1 with a conference title. If—and again, this is an unknown if—the committee prefers a Big Ten trophy over a specific win, Ohio State would be the next team out.
However, one loss could scramble the rankings. Maybe.
If Florida falls to Florida State, no other SEC team will have a legitimate case to jump Alabama in the poll. There's a chance the Tide would make the College Football Playoff even with a loss to Florida.
But a Clemson loss to Virginia Tech would open the door for the Buckeyes as well as a Washington loss to either Colorado or USC. Granted, if either Pac-12 South program wins the conference title, the result isn't as clear-cut.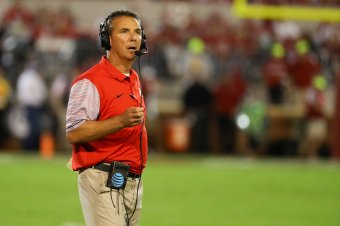 Scott Halleran/Getty Images
Another part of the committee's criteria is comparative outcomes against common opponents. Ohio State beat Michigan, which defeated Colorado. That probably won't be as compelling as a Pac-12 conference championship, though.
So the Buckeyes likely need Utah to knock off Colorado, which would mean USC—which has mounted a late-season surge since Sam Darnold took over—takes on Washington.
But Clay Helton's squad has three losses and is currently ranked behind an Oklahoma team that could win the Big 12 title. If the Sooners win out and stay ahead of USC, that helps Ohio State's resume. The question becomes whether or not the committee values a head-to-head win over a conference championship.
Hey, that sounds familiar, doesn't it?
The final criterion for the committee when judging "comparable" teams is strength of schedule. Entering Week 13, Ohio State boasted a 5.59 rating, per Sports-Reference.com. That ranks a commendable 11th nationally, but USC is No. 1 at 7.67, and another matchup with Washington would boost the number.
So the conversation turns to whether or not a 10-3 Pac-12 champion USC and an 11-1 non-Big Ten champion Ohio State are comparable teams.
The committee protocol says the regular season "must be preserved" while considering titles. One loss is considerably less than three.
It's a complicated, multifaceted scenario, but Ohio State likely needs one highly ranked team to lose. If that happens, the Buckeyes must hope the committee values head-to-head victories and regular-season success over conference championships.
Only then will Ohio State have a chance to reach the playoff.
---
All recruiting information via Scout. Stats from NCAA.com, cfbstats.com or B/R research. Quotes obtained firsthand unless otherwise noted. Follow Bleacher Report CFB Writer David Kenyon on Twitter @Kenyon19_BR.