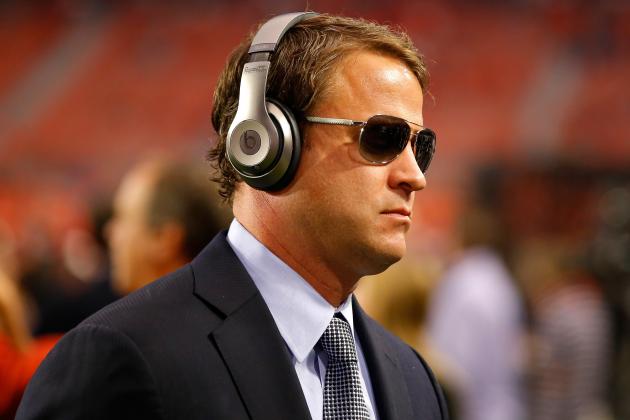 Kevin C. Cox/Getty Images
FAU head coach Lane Kiffin
Just like that, the Lane Kiffin era at Alabama is over.
Well, after one or two more games, of course.
After three years as the Crimson Tide's offensive coordinator in which Kiffin took three different quarterbacks to the SEC title and College Football Playoff, the former Tennessee and USC head coach is back in the big office as the head coach of the Florida Atlantic Owls, according to ESPN.com's Brett McMurphy and Chris Low:
Alabama offensive coordinator Lane Kiffin has agreed to become FAU's next head football coach, per @ClowESPN and @McMurphyESPN. pic.twitter.com/wRkCOCfkcZ

— ESPN CollegeFootball (@ESPNCFB) December 12, 2016
It's not quite time to say goodbye to Kiffin, though. He still has a rather big game to prepare for in the Peach Bowl national semifinal against Washington.
Nick Saban confirms that Lane Kiffin will stay on through the playoff. https://t.co/KFp5JRkImF

— Alex Scarborough (@AlexS_ESPN) December 12, 2016
Luckily for head coach Nick Saban, he has solid arms out of the bullpen to slide in after Kiffin finishes out his tenure in Tuscaloosa in the College Football Playoff, including Steve Sarkisian, Billy Napier and Mike Locksley.
Sarkisian was dismissed as the head coach of USC in October 2015 for personal reasons and hired as an offensive analyst on Alabama's off-field support staff in September 2016.
Now you know why.
He's the latest of a slew of hires on the field and off that give Saban the ability to fill positions on the fly with little to no disruption.
While Sarkisian's personal issues—reportedly due to a combination of alcohol and prescription medication, according to ESPN.com—prevented him from landing a full-time coaching gig on the field immediately after his dismissal, Saban's foresight to give him his second chance should pay off big time not only for Sarkisian but for Alabama.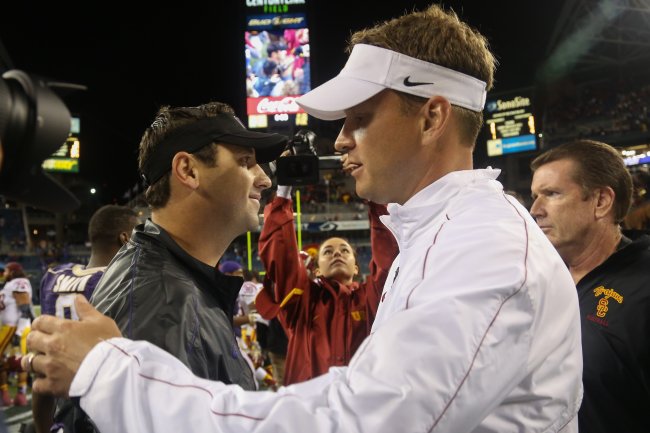 Otto Greule Jr/Getty Images
Sarkisian and Kiffin worked together on Pete Carroll's staff at USC in the early 2000s when USC was evolving into a West Coast monster. The two were instrumental in the development of Heisman Trophy-winning quarterbacks Carson Palmer in 2002 and Matt Leinart in 2004.
Both are well versed in their flexibility and ability to mold their playbook and scheme to the strengths of their quarterbacks in any given year. This year, as my Bleacher Report colleague Michael Felder noted on Twitter, Kiffin has kept things simple with true freshman quarterback and SEC Offensive Player of the Year Jalen Hurts:
Lane Kiffin's been really good the last few years. Done a brilliant job making it easy on Hurts this year. Curious to see them handle this.

— Michael Felder (@InTheBleachers) December 8, 2016
This was by design. Saban's design.
What might throw a wrench in the works is if Sarkisian decides to join Kiffin as the offensive coordinator at FAU or becomes the pick for LSU head coach Ed Orgeron (as suggested by Ross Dellenger of The Advocate). Orgeron was on that same USC staff with Kiffin and Sarkisian when the Trojans caught fire in the early 2000's.
As The Kiffin Turns.

With Lane Kiffin out, #LSU turns to three guys it has seriously vetted: Canada, Sark, Helfrichhttps://t.co/esQjHiLSU2

— Ross Dellenger (@RossDellenger) December 12, 2016
No worries there, at least for Saban. He has options.
Napier is sitting on staff as the wide receivers coach and was Clemson's offensive coordinator in 2009 when the Tigers averaged 31.1 points per game. During his time in Tuscaloosa, Napier has helped receiver Amari Cooper earn an invitation to New York as a Heisman Trophy finalist in 2014, assisted Calvin Ridley in topping the 1,000-yard mark in 2015 as a true freshman and gotten incredibly creative with ArDarius Stewart.
The Tide also have Locksley stashed as an off-field analyst. The former New Mexico head coach (2009-2011) and Maryland offensive coordinator (2012-2015) led the Terps to 28.5 points per game in 2014 and 26.2 in 2013 with players who aren't even close to the caliber of what Saban has amassed at Alabama.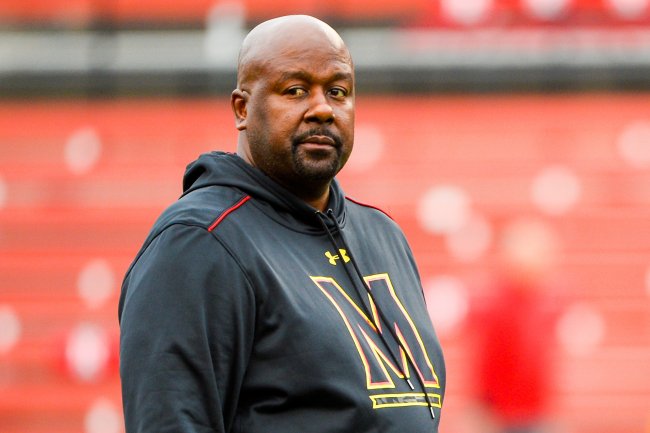 Alex Goodlett/Getty Images
Don't be so sure that it's a no-brainer for Sarkisian to stick around at Alabama as its offensive coordinator. Saban has created what amounts to a coaching farm system.
Kiffin's work at Alabama—a program record for total offense in 2014 (484.5 YPG), a Heisman Trophy winner in Derrick Henry and a national title in 2015, and an undefeated regular season with a true freshman quarterback in 2016—warranted a head coaching gig much sooner.
Why didn't Kiffin get one until now?
The immature image he portrayed at Tennessee and USC at times couldn't be fixed due to Saban's policy that prevents assistants from speaking publicly except for select times during fall camp and as required by bowls.
Sarkisian is in the same boat based on his unceremonious midseason dismissal by the Trojans in 2015. While Alabama can work wonders for coaches in need of a career reboot, it doesn't do much in terms of image rehabilitation.
Alabama also could choose to go in a different direction with either Napier or Locksley.
Whether it's Sarkisian, Napier, Locksley or somebody else, Saban's super-staff at Alabama will pay off as it looks for a new offensive coordinator in the post-Kiffin era.
Quotes obtained firsthand unless otherwise noted. Statistics courtesy of cfbstats unless otherwise noted.
Barrett Sallee is the lead SEC college football writer and national college football video analyst for Bleacher Report, as well as a host on Bleacher Report Radio on SiriusXM 83. Follow Barrett on Twitter and Facebook.