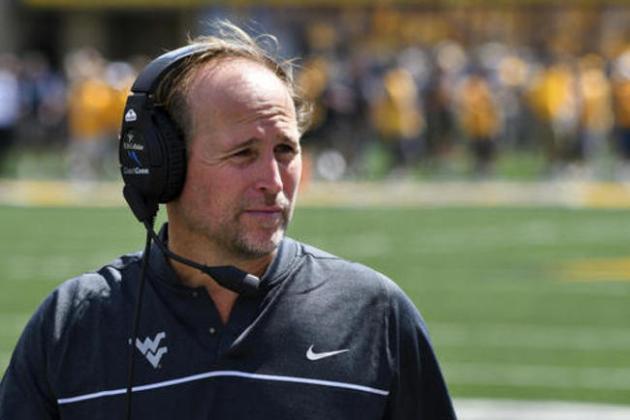 Associated Press
Given the imminent departure of Tom Herman, Houston is reportedly setting its sights on some notable names for its next head football coach.
Continue for updates.
---
Holgorsen, Briles Among Early Names Linked to Cougars
Saturday, Nov. 26
Joseph Duarte of the Houston Chronicle reported the Cougars may target former offensive coordinator Dana Holgorsen, now the head coach at West Virginia. Per Duarte, another name who is receiving some—albeit not much at the moment—consideration is former Baylor coach Art Briles, who coached the Cougars from 2003 to 2007.
Heather Dinich of ESPN.com reported Texas will officially announce Herman as its next coach later Saturday. The 41-year-old emerged as the hottest name in college football coaching circles after leading Houston to a 22-4 record over the last two seasons. He will replace Charlie Strong, who was officially fired Saturday after three years in Austin.
It's unclear whether Holgorsen or Briles would be interested in a return to their old stomping grounds.
Holgorsen would be the clear top choice of the two. While he hasn't led West Virginia to consistent prominence, the Mountaineers are heading to their fifth bowl game in his six seasons and may end the season ranked for the first time since 2011.
Holgorsen is 44-30 overall at West Virginia and seems to have settled in the area. He purchased a home with his family in 2014 and doesn't have many tangible ties to Houston; Holgorsen was on the Cougars staff for only two seasons.
Briles may be the more realistic of the two options but comes with a pile of baggage leftover from his Baylor departure. The Bears fired him after an investigation found members of the athletic administration covered up and discouraged the reports of rape on campus—specifically those involving football players.
University officials revealed Briles knew details of an alleged gang rape in 2012 and did not report the matter to judicial affairs, per Claire Ballor of the Dallas Morning News. Then-athletic director Ian McCaw and an unnamed sports administrator also knew of the alleged crime but did not report it.
Briles' lawyer, Ernest Cannon, denied the university's account of events.
Follow Tyler Conway (@jtylerconway) on Twitter.