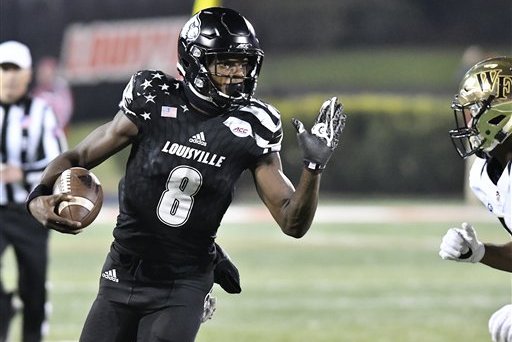 Timothy D. Easley/Associated Press
The race for the 2016 Heisman Trophy became a little closer last week, as the overwhelming favorite turned in his worst performance of the season.
Louisville quarterback Lamar Jackson struggled in a 36-10 loss at Houston, but the electric sophomore is still the front-runner due to his sensational numbers and a lack of a real challenger in the rest of the field.
With that in mind, let's take a look at where potential Heisman candidates rank with the last week of the regular season underway. These are personal rankings, and odds for the award can be tracked at Odds Shark.
2016 Heisman Trophy Rankings

| | | |
| --- | --- | --- |
| Rank | Player | School |
| 1 | QB Lamar Jackson | Louisville |
| 2 | DB Jabrill Peppers | Michigan |
| 3 | QB J.T. Barrett | Ohio State |
| 4 | QB Deshaun Watson | Clemson |
| 5 | QB Jake Browning | Washington |
| 6 | QB Baker Mayfield | Oklahoma |
Author's rankings
Against the Cougars, Jackson went 20-of-43 for 211 yards and one touchdown through the air to go with just 33 rushing yards on 25 attempts. He also lost a critical fumble late to seal the Louisville loss. These numbers are not befitting a Heisman winner, but Jackson's body of work more than makes up for an abysmal outing.
The Florida native has epitomized the term "dual-threat" this season. He has 3,109 passing yards and 28 touchdowns while rushing for 1,367 yards and 19 touchdowns on the ground, which is good for third nationally.
Jackson has emerged as the top offensive player in the country, as his talents make Louisville's read-option game almost unstoppable. As a result, a poll of USA Today writers who hold Heisman votes indicates that Jackson has practically no competition:
After Lamar Jackson, who? FOURTEEN players receive votes in the latest @USATODAYsports Heisman Survey https://t.co/uhS92tLy6Vpic.twitter.com/RAMtnjDHiE

— The Football Four (@TheFootballFour) November 22, 2016
Scout.com's Jody Demling also noted that Bovada is no longer projecting the Heisman race, as Jackson is too far ahead:
Heisman Trophy odds have been taken off the board in Las Vegas because the odds are "astronomical in favor of Lamar Jackson."

— Jody Demling (@jdemling) November 21, 2016
There is little reason to believe Jackson will not end his season with a stellar performance against a Kentucky defense that allowed at least 34 points six times in 2016, including to New Mexico State and Southern Mississippi. However, there is an advantage other Heisman hopefuls have over Jackson, who will not play in a conference title game.
J.T. Barrett and Jabrill Peppers play in the most high-profile game of the season Saturday when Ohio State meets Michigan. They are the best players on their respective teams, so standout performances on such a massive stage could go a long way toward impressing voters.
Barrett has thrown for 2,304 yards and 24 touchdowns to go with 722 yards and eight scores rushing. He has guided Ohio State to the No. 2 spot in the latest College Football Playoff rankings.
Peppers plays almost every position on a Michigan team that leads the country in total defense. The junior also has three rushing scores on the season and is ahead of Barrett on these Heisman rankings for one reason.
Saturday will be Ohio State's last game until bowl season, no matter the outcome. If the Buckeyes win, then Penn State wins the Big Ten East. If Michigan wins, the Wolverines will play for the Big Ten title. This gives Peppers the potential to play one more game than Barrett, and it could come against a stout Wisconsin team. Therefore, he has more time to impress voters, which puts him just in front of Barrett.
As for the rest of the Heisman candidates, the three remaining quarterbacks have put up tremendous numbers, but they will likely not make up enough ground to contend.
2016 Statistics

| | | | | | | |
| --- | --- | --- | --- | --- | --- | --- |
| Player | Completion Percentage | Passing Yards | Passing Touchdowns | Interceptions | Rushing Yards | Rushing Touchdowns |
| Jake Browning | 64.3 | 2,870 | 37 | 7 | 60 | 4 |
| Baker Mayfield | 71.4 | 3,381 | 35 | 8 | 138 | 6 |
| Deshaun Watson | 66.4 | 3,279 | 28 | 13 | 425 | 4 |
NCAA.com
As the above statistics indicate, Jake Browning and Baker Mayfield have the advantage with their numbers. Mayfield has come on particularly strong down the stretch, throwing at least three touchdown passes in five of Oklahoma's eight games since the 45-24 thrashing at the hands of Ohio State.
However, Watson has the edge of leading a team that has been in the playoff rankings all season and will play for the ACC championship. Mayfield will not have this luxury, since Oklahoma has two losses and the Big 12 does not have a conference title game.
Browning could jump Watson after a big-time performance against Washington State and a potential matchup with the Pac-12 South winner.
In the grand scheme of things, these discussions of who ranks No. 2 through No. 6 is a moot point since Jackson is such an overwhelming favorite. Unless something catastrophic happens, expect Jackson to become the fifth underclassman to win the Heisman since 2007.
Statistics are courtesy of NCAA.com unless otherwise noted.