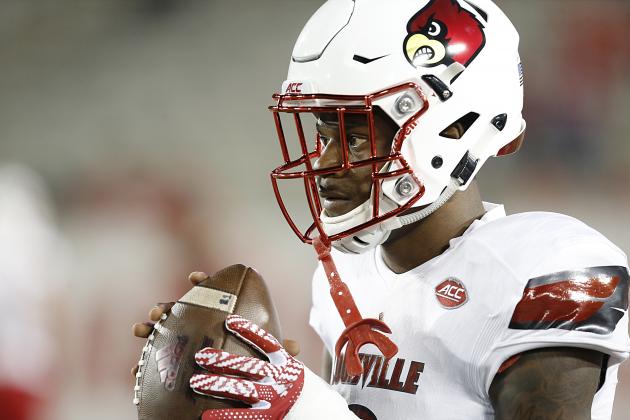 Thomas B. Shea/Getty Images
Louisville quarterback Lamar Jackson
As the college football regular season nears the finish line, the Heisman Trophy race still appears to be in the secure hands of Louisville quarterback Lamar Jackson.
Jackson and his Louisville teammates were pummeled by Houston 36-10 last week. The quarterback was sacked 11 times and threw only one TD pass. It was his worst showing of the season.
Nevertheless, Jackson has had a remarkable season. He has led his team to a 9-2 record, and he has been a part of 47 touchdowns. Jackson has thrown 28 scoring passes and he has also run for 19 scores. He has exceeded 3,000 passing yards and ran for nearly 1,400.
The sophomore has led his team to 52 points or more six times, and he is the clear front-runner for the Heisman.
There are several other players who are worthy of consideration, but once their arguments are made, Jackson should still be the standout winner.
Players like Jabrill Peppers of Michigan, Deshaun Watson of Clemson and J.T. Barrett of Ohio State have all brought glory to themselves and their respective schools, but it doesn't seem likely they will be able to make a strong enough run this late in the season to catch Jackson.
According to Odds Shark, Jackson is a 1-50 favorite to capture the honored trophy. Peppers is 12-1 to win the award, followed by Watson at 16-1 and Barrett at 25-1.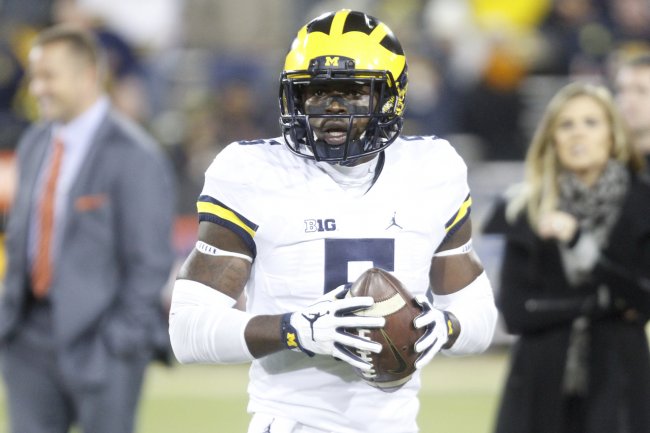 Matthew Holst/Getty Images
Peppers is simply the most remarkable all-around player in college football. His primary position is as a safety for the Wolverines, but he can make big plays on offense and special teams as well.
Peppers has 63 tackles (16 for loss), four sacks, eight QB hurries, 687 all-purpose yards, including 521 as a return specialist, and four touchdowns.
If he has any choice of rising up and becoming a true Heisman rival to Jackson, he is going to need to put a huge game on the board when the Wolverines face the Buckeyes at Ohio State on Saturday.
The epic confrontation between the second-ranked Buckeyes and the third-ranked Wolverines could have national championship implications. If Peppers can dominate in all three phases, he will pick up a lot of support.
Barrett may be the longest shot of the bunch, but he is a sensational leader for the Buckeyes who has proven that he can come through when the game is on the line.
Barrett runs the Ohio State offense with the touch of a surgeon. He has connected on 199 of 314 passes for 2,304 yards with 24 touchdowns and just four interceptions. He has also run for 722 yards and eight touchdowns, while averaging 4.4 yards per carry.
While those numbers are impressive, they don't compare with Jackson's.
Watson was the Heisman favorite at the start of the season, but he has not been as productive as he was a year ago. The Clemson quarterback has completed 66.4 percent of his passes for 3,279 yards. He has thrown 28 TD passes, but they are offset by 13 interceptions.
Watson's rushing totals are not as impressive as they were last year when he ran for 1,105 yards and 12 touchdowns. He has rushed for 420 yards and four touchdowns this season.
Is Lamar Jackson still the Heisman frontrunner? ?

You better believe it. ? #L1C4pic.twitter.com/A55SI0mqlq

— ACC Digital Network (@theACCDN) November 22, 2016
Prediction
This is Jackson's race to lose, and that does not look like it is a possibility.
He has raised his team up this season and he has had brilliant individual numbers. Peppers is a great player who has helped Michigan write a brilliant story, but he can't hope to beat out Jackson and neither can Barrett or Watson.
Jackson wins the Heisman.