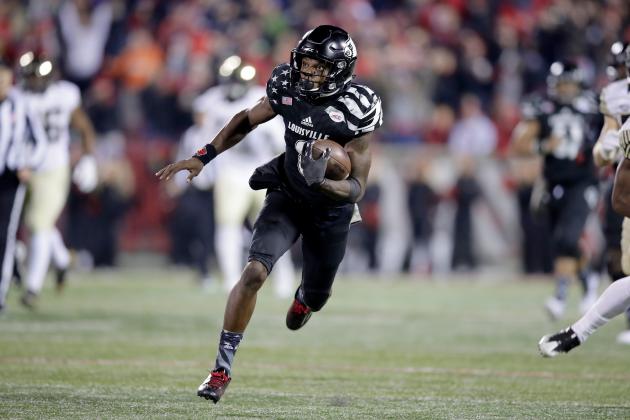 Andy Lyons/Getty Images
We've already waded through three full months of college football action. With the season winding down, it's time to look ahead to the two biggest events in the college football world.
Once the regular season comes to an end, we'll know which teams are in the College Football Playoff. We'll also know who the finalists are for the coveted Heisman Trophy.
Let's examine some of the top Heisman candidates and how their stock is trending after the latest slate of games. The list undoubtedly looks a bit different than it did at the beginning of the season (sorry, Christian McCaffrey), or even a few weeks ago.
The list is probably going to look a lot different when we finally reach the end of the season, though we'll obviously have to wait for that.
Let's dig in and examine the current front-runners.
Deshaun Watson, QB, Clemson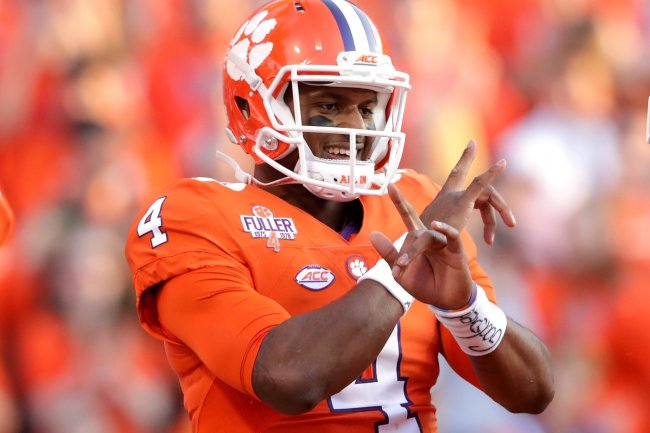 Streeter Lecka/Getty Images
Clemson quarterback Deshaun Watson was a Heisman finalist last season, and he entered 2016 as an early favorite. However, he has shown some cracks in the proverbial armor over the course of the season, which has hurt his Heisman stock and his status as a potential top overall draft pick.
This isn't to say that Watson hasn't played well, because he has. However, he has shown inconsistencies with his footwork and decision-making, which has led to some unattractive turnovers.
Still, Watson is completing 64.4 percent of his passes and has thrown for 27 touchdowns. Those turnovers, though, aren't going to help his Heisman cause.
Turnovers were an especially big issue in Saturday's loss to Pittsburgh. Though Watson passed for 580 yards (on 70 attempts!) and three touchdowns, he tossed three interceptions and the Tigers ultimately lost by a point.
Deshaun Watson now has 13 interceptions. Coming into today would have tied for most nationally.

— Stewart Mandel (@slmandel) November 13, 2016
Unfortunately, Watson's penchant for turning the ball over may leave him wanting when the Heisman finalists are announced. Unfortunately, his team's loss on Saturday may kill Clemson's hopes of competing for a national title.
Lamar Jackson, QB, Louisville
Louisville quarterbacks Lamar Jackson wasn't really in the Heisman spotlight prior to the start of the season, but he has firmly placed himself there over the past three months.
A dual-threat signal-caller, Jackson has been a dangerous offensive weapon throughout the season. He has passed for nearly 2,900 yards and rushed for more than 1,300 yards. He has also scored 46 combined touchdowns with just six interceptions.
Lamar Jackson set a new ACC record for rushing yards by a QB in a season with 1334. Old record was 1184 yards by BC's Tyler Murphy in 2014.

— Kelly Dickey (@RealCardGame) November 13, 2016
Based on the way Jackson and the Cardinals have dominated the competition this year, he is probably the heavy favorite for the Heisman right now. His humble attitude might even help endear him to voters. Remember how much more likable Johnny Manziel was when he didn't speak to the media?
"I didn't really like being in front of the attention," Jackson said, per Julian Benbow of the Boston Globe. "I don't like stuff like that."
Unlike Watson, Jackson helped lead his team to a victory over the weekend. Louisville bested a tough Wake Forest team 42-12. However, Jackson only produced modest statistics by his own standard.
Jackson only passed for 145 yards with a touchdown while rushing for 153 yards. Producing nearly 300 yards of offense would look good on most players' resumes, but it's not what we've come to expect from Jackson.
Still, this probably won't hurt Jackson's campaign much, given the fact Louisville pulled out an impressive win.
Jabrill Peppers, Michigan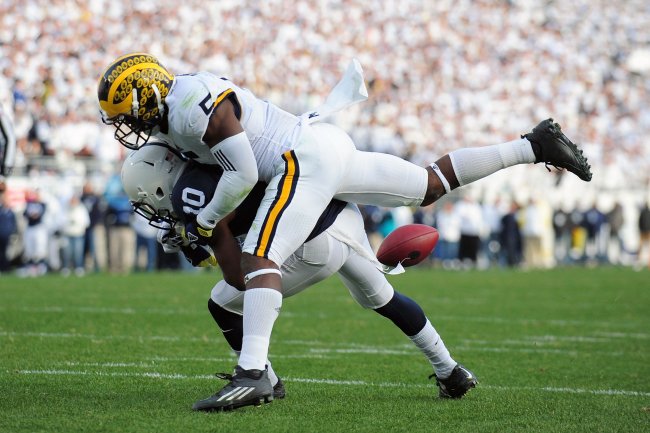 Evan Habeeb/Getty Images
It's difficult to really put a position on Michigan's Jabrill Peppers because he plays a variety of them for the Wolverines.
Peppers is a dynamic defender who has lined up at linebacker, safety and cornerback. He has also taken snaps on the offensive side of the ball, at quarterback, running back and receiver. Peppers also plays special teams and returns kicks and punts.
"He's a great athlete, a dynamic player, everyone knows that," Iowa defensive end Parker Hesse said of Peppers, per Marc Morehouse of the Ceder Rapids Gazette. "They're confident, the entire group. He's just like that. They're all confident guys."
Because Peppers does so many things, he's an intriguing Heisman candidate. However, the fact he doesn't necessarily dominate at any one position also works against him. He isn't leading the nation in rushing yards, sacks or interceptions.
The fact that Michigan just lost 14-13 to Iowa also hurts Peppers. One of the reasons he has remained in the spotlight is his place on one of the nation's top teams. Now that Michigan has had a few flaws exposed, Peppers has lost some luster.
Jake Browning, QB, Washington
When it comes to quarterbacks more in the NFL mold, Washington's Jake Browning might be the best in the country. He has already passed for more than 2,500 yards with 35 touchdowns and just five interceptions.
Up until Saturday, Browning had the Huskies looking like a legitimate title contender. Unfortunately, Browning is another Heisman hopeful that watched his team lose over the weekend.
Browning was intercepted twice against USC and was held to a completion percentage of just 47.2. As the Trojans pulled away for a 26-13 victory, Browning may have seen his Heisman hopes crash.
This was a huge game for Washington, a team that finally cracked the top four on the CFP rankings. Instead of rising to the occasion, Browning shrank—which is something the best player in college football simply doesn't do.
As Doug Kyed of NESN.com pointed out, Washington's loss probably kills the team's hopes of a national championship.
Jake Browning finally started playing like a sophomore quarterback. National championship will wait until next year.

— Doug Kyed (@DougKyed) November 13, 2016
Because the poor play of Browning was a major factor in the loss, it may have also ended Browning's own aspirations.