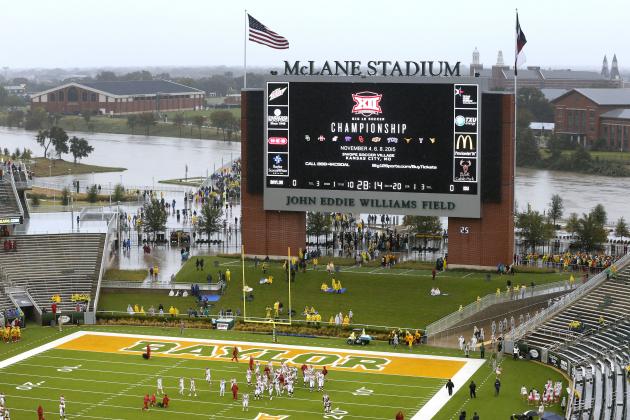 Ron Jenkins/Getty Images
Baylor associate athletic director Heath Nielsen was arrested earlier this month for a misdemeanor assault warrant following an alleged incident with a local sportswriter on Nov. 5.
Troy Hein and Mikel Lauber of KWTX reported Nielsen was booked into the McLennan County Jail on Nov. 8 and is currently out on bond.
KWTX also provided a mugshot of the 47-year-old:
Baylor's Associate AD was arrested for attacking a reporter after the #Baylor#TCU game, @kwtx has learned. https://t.co/QmSdSFNjO5

— KWTX Sports (@kwtxsports) November 22, 2016
The victim, James McBride, who writes for the Texas Blaze, detailed the alleged incident to KWTX on Monday:
I had asked the player if I could take a photo with him. He said "yes."

I was leaning back to take the photo. I heard somebody who I didn't know at this point in time yell from my right-hand side, saying "No interviews on the field."

About that time they came in and tomahawk-chopped, trying to knock the phone that I had taken the picture with out of my hand. They were unsuccessful in trying to do that, and when they couldn't do that they came up and they grabbed my throat, and I pulled back. Whenever I looked up I saw that it was Heath Nielsen.
Nielsen also reportedly added, "You'll never f–king work in this business again. You're abusing your privileges on the field," immediately after the confrontation.
Baylor lost to visiting TCU 62-22 on Nov. 5.
Nielsen made headlines in 2014 when the Big 12 fined him $1,000 after he criticized officials on his Twitter account.
Per KWTX, Nielsen is in his 17th year with the school and is responsible for "management of the public image of the program."