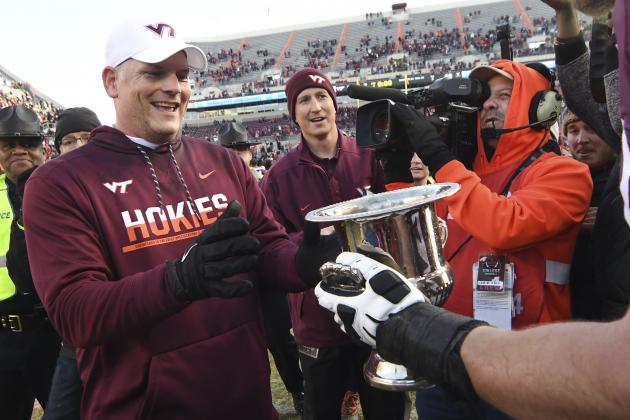 Michael Shroyer/Getty Images
Justin Fuente had a tremendous debut as Virginia Tech's head coach.
It's hard to believe, but we're nearing the end of the 2016 college football season. Last week's slate of rivalry games marked the last full schedule of regular-season games, with championship weekend, bowls and the third College Football Playoff ahead. Most teams have put together a full body of work or, at the very least, 11 games worth.
It's an excellent time to take a step back and evaluate how the 28 FBS head coaches who began the season at new programs fared this season. Some excelled. Some struggled. Others began the process of digging out from difficult situations their predecessors left behind.
We took the time to grade each first-year coach's season, taking into account their team's record, what they inherited and their overall accomplishments.
Michael Reaves/Getty Images
Chris Ash had a rough first season at Rutgers.
On the surface, Chris Ash looked like a good hire for Rutgers. The Scarlet Knights face a difficult road in the rugged Big Ten East, with Michigan, Ohio State, Penn State and Michigan State in the division. Kyle Flood left the program in turmoil, but there's little doubt that Ash's first season showed no progress.
One year after a 4-8 record in Flood's final year, Rutgers finished 2-10 and ended the year on a nine-game losing streak, going 0-9 in Big Ten play. And the gap between Rutgers and the top of the Big Ten East is huge: The Knights lost to Michigan, Penn State, Ohio State and Michigan State by a combined 224-0, including a 78-0 loss to the Wolverines and a 58-0 loss to the Buckeyes.
Ash has a solid track record, but he and Rutgers have a long road ahead to mere respectability.
Grade: D-
Brett Carlsen/Getty Images
Dino Babers gave a jolt to Syracuse's stodgy culture.
Syracuse closed out 2016 with an identical 4-8 record to the 2015 season that cost Scott Shafer his job. However, there's a different feeling following Dino Babers' first season in the Carrier Dome. The Orange are a far more exciting team offensively, averaging 321.3 yards per game passing—No. 11 nationally. That said, defense is a major issue. Syracuse scored 61 points Saturday but still lost by two touchdowns after yielding 76 points to Pitt in the highest-scoring game in FCS history.
Syracuse allows 38.6 points per game—No. 120 nationally. That means the offense has to work harder, with the likes of Amba-Etta Tawo making 94 catches for 1,482 yards and 14 touchdowns. Babers has an offensive system that can work, but the defense needs big help to ensure consistent success.
Grade: C
David K Purdy/Getty Images
Matt Campbell had ups and downs in his first season at Iowa State.
Iowa State is one of the toughest jobs in the FBS. The Cyclones have extremely loyal and patient fans, but their location in a state with an established, consistent winner in Iowa and membership in the rugged Big 12 makes consistent success difficult. Matt Campbell got an idea of that this fall.
Campbell arrived from Toledo with a solid track record and a plan to energize the program. His results were mixed. Iowa State lost Campbell's opener to in-state FCS foe Northern Iowa and began 1-8. However, they showed signs of progress by beating Kansas and whipping Texas Tech 66-10 to close the season. The year could have been better had ISU held onto second-half leads over Oklahoma State and Baylor.
ISU fans should remind themselves that Campbell's tenure could be a marathon, not a sprint, but they'll hope for improvement from another 3-9 record next fall.
Grade: C
Andrew Weber/Getty Images
Jason Candle did a great job succeeding Matt Campbell at Toledo.
When Matt Campbell left for Iowa State after a 35-15 record in five seasons, Toledo didn't have to look far for his replacement. The Rockets elevated offensive coordinator Jason Candle, who had the keys to a potent, talented offense that fueled the overall success.
That looks like the right move. Toledo finished 9-3, with its only losses coming at BYU (55-53) and to MAC division champions Ohio and Western Michigan. The Rockets averaged 329.1 passing yards per game, No. 9 nationally, with quarterback Logan Woodside throwing for 3,882 yards with 43 touchdowns and nine interceptions.
Candle looks like a perfect successor to Campbell and an eventual candidate to make a move into an even better job.
Grade: A-
Dylan Buell/Getty Images
Tracy Claeys had a successful first full season at Minnesota.
When Tracy Claeys had his "interim" head coaching tag removed last fall, it was a sign that Minnesota wanted to continue the momentum built by coach Jerry Kill, who was forced to step away from his post due to health concerns. And although Minnesota lost five of its final seven games in 2015 to finish 6-7, the Gophers took a positive step ahead this fall.
Minnesota finished 8-4, with respectable losses coming to Nebraska, Iowa, Wisconsin and Penn State by a combined 31 points. Quarterback Mitch Leidner struggled, throwing seven touchdowns against 12 interceptions, but tailback Rodney Smith rushed for 1,084 yards with 15 interceptions.
There are programs where eight wins wouldn't be an acceptable season. Minnesota is not one of those programs. It's a good debut for Claeys.
Grade: B
Joe Robbins/Getty Images
D.J. Durkin showed progress in his first season at Maryland.
D.J. Durkin walked into a difficult job at Maryland. The Terrapins were never a dominant team in the ACC Atlantic, and they've moved into one of college football's toughest divisions in the Big Ten East. In that context, getting Maryland bowl eligible at 6-6 (which the Terps did with a 31-13 win over Rutgers) is an accomplishment.
While that is a big improvement from 2015's 3-9 record (and done with six players throwing passes for the offense) much work lies ahead to close the gap between Maryland and the top of the division. Michigan, Ohio State and Penn State whipped the Terps by a combined score of 159-20, although beating Michigan State was a big accomplishment.
Randy Edsall was able to get Maryland to low-level bowl games. Whether Durkin can win truly meaningful games will determine how long he hangs around in College Park.
Grade: C+
Jonathan Bachman/Getty Images
Willie Fritz had mixed results in his first season at Tulane.
Willie Fritz excelled at Georgia Southern with a flexbone offense, leading the nation in rushing in 2014 and 2015. When he arrived at Tulane, however, Fritz moved his offensive philosophy more to fit the talent around him. His first season with the Green Wave produced mixed results.
Tulane closed out the season Saturday with its first American Athletic Conference win in 14 tries, whipping UConn 38-13 to close with a 4-8 record. But quarterback Glen Cuiellette completed just 42.6 percent of his passes with 10 touchdowns against eight interceptions, and the Wave didn't have an 800-yard rusher.
The AAC is the best Group of Five conference, and it's clear that Fritz has more work ahead of him on both sides of the ball. The Huskies are not a good team, but they were clearly Tulane's best win of the season.
Grade: C
Richard Carson/Getty Images
Scott Frost authored a major turnaround in his first season at Central Florida.
Central Florida had a baffling 2015 season. Two years after making the Fiesta Bowl and upsetting Baylor, the Golden Knights went 0-12, costing longtime coach George O' Leary his job. UCF has plenty of potential in the up-and-coming American Athletic Conference, while also being located in recruiting-rich Florida. So it was an attractive job for Oregon offensive coordinator Scott Frost.
And Frost quickly tapped into that potential, leading the Knights to a 6-6 record and getting them bowl-eligible in his first season. Three of their losses came by six points or less, including a 26-25 defeat to eventual division champion Temple.
It's pretty clear that Frost can coach, and he was an excellent choice for UCF. The only question is this: How long will he hang around?
Grade: A-
Michael Shroyer/Getty Images
Justin Fuente gave Virginia Tech the spark it needed following Frank Beamer's retirement.
Frank Beamer had an incredible 25-year run at Virginia Tech, turning the Hokies into a nationally recognized program with 14 10-win seasons, including a run of eight consecutive 10-win seasons. But it's fair to say that the program got stale near the end of his tenure, as Tech went 29-23 over his last four years with no nine-win seasons.
The Hokies needed a change, and Justin Fuente has provided it. With a faster-paced offense led by quarterback Jerod Evans paired with Bud Foster's typically stout defense, the Hokies have thrived. While there have been some head-scratching moments like losses to Syracuse and Georgia Tech, Virginia Tech is 9-3 and won the ACC Coastal Division.
Fuente tells Norm Wood of the Daily Press (per The Virginian-Pilot) that everything is going well.
"Life has been pretty good, to be honest with you," said Fuente. "We all have things that we're trying to overcome, program-wise. Change has been incredibly smooth (at Tech), but there hasn't been anything to me that's stuck out that's been a huge thorn in our side."
The Hokies will face off vs. Clemson Saturday night in the ACC title game, and while they'll be decided underdogs, a 10-win season and good bowl game are well within their grasp. That's change for the better.
Grade: A-
Harry How/Getty Images
Clay Helton has authored a major turnaround at Southern California this season.
Clay Helton's first season in charge of Southern California is a perfect example of why we judge coaches on a full body of work, rather than their first month. Four games in, the Trojans were 1-3 with losses to Alabama, Stanford and Utah, and there was reason to question why school officials chose to elevate an interim coach rather than hire a full-time leader from the outside.
Moving Sam Darnold in as the starting quarterback, however, changed the season's trajectory. Saturday's 45-27 rout of Notre Dame was USC's eighth consecutive win. At 9-3, the Trojans didn't win the Pac-12 South, but no one in America wants to play them in a bowl game. Darnold has thrown for 2,633 yards with 26 touchdowns against eight interceptions, and cornerback Adoree' Jackson (who scored on a receiving touchdown and kick and punt returns Saturday) is one of the nation's most exciting players.
The future looks bright, indeed, in Troy with Helton at the helm.
Grade: A-
Michael Hickey/Getty Images
Southern Miss took a step back in Jay Hopson's first season as head coach.
Southern Miss had an odd 2016 all around. The Golden Eagles were forced to scramble for a head coach days before national signing day when Todd Monken left to become the Tampa Bay Buccaneers' offensive coordinator. They landed a solid hire in former assistant Jay Hopson, who'd previously spent six seasons in Hattiesburg.
But USM took a step back from 2015's Conference USA West Division winning team, taking a win over Louisiana Tech Saturday night to get bowl-eligible at 6-6. Quarterback Nick Mullens missed two games with injury and had 2,926 yards passing with 22 touchdowns against 10 interceptions, a year after passing for 4,476 yards with 38 touchdowns.
Hopson's quick turnaround could explain some of the struggles, but it's a frustrating season regardless, given what USM accomplished in 2015.
Grade: B-
Joe Murphy/Getty Images
Bowling Green slipped in a big way in Mike Jinks' first season.
Dino Babers' time at Bowling Green was short but sweet. In two seasons, Babers compiled an 18-9 record and won the MAC title before being plucked away by Syracuse. New coach Mike Jinks inherited only four offensive starters (all on the offensive line), but the Falcons were still expected to be competitive.
That didn't happen. After a 10-4 2015, BGSU slipped to 4-8, and that came after winning its final three games. They slipped offensively (24.8 points per game—No. 102 nationally) and were poor defensively, allowing 38.3 points per game—No. 118 nationally. One year after a MAC championship, it was a year to forget at Bowling Green.
Grade: D-
Rob Foldy/Getty Images
Seth Littrell made real progress in his first season at North Texas.
Seth Littrell walked into a tough situation at North Texas. Dan McCarney had some success with the Mean Green, but the program had slipped in his later years, with UNT coming off a 1-11 season in 2015.
In that context, a 5-7 season (a four-game improvement) should be considered a positive step for his debut season. The Mean Green lost all seven games by at least 13 points, but they made noise in Conference USA with wins over league powers like Marshall and Southern Miss.
The next step will be making a bowl game, but Littrell created a solid foundation to build on.
Grade: B-
Steve Helber/Associated Press
Bronco Mendenhall had struggles in his first season at VIrginia.
Virginia plucking Bronco Mendenhall away from BYU was one of the most surprising moves of the 2015-16 coaching carousel. Mendenhall was solidly entrenched with the Cougars after leading BYU to 11 bowl games, but UVA offered a new, exciting challenge. Well, it's certainly going to be a challenge.
The Cavaliers had a slightly easier schedule that didn't feature ACC Atlantic powers Clemson or Florida State, but still wound up 2-10—two games worse than in Mike London's final season. Virginia's only wins came over Central Michigan and Duke, and the Cavs ended the season on a seven-game losing streak.
Virginia managed only 22.5 points per game—No. 116 nationally, and it had to hurt that Virginia Tech also changed its coach and won the ACC Coastal Division. The year should be a wakeup call for Virginia fans that plenty of hard work lies ahead.
Grade: D
Kirk Irwin/Getty Images
East Carolina struggled in Scottie Montgomery's first season at the helm.
When East Carolina fired Ruffin McNeill, it was a surprising call. After all, McNeill had ECU in solid position with four bowl games and only two losing records in six seasons, including a 5-7 mark in 2015. Hiring Duke offensive coordinator Scottie Montgomery, who was only 37 at the time, was designed to capitalize on the program's potential.
One year in, Montgomery has yet to do so. The Pirates slipped to 3-9, including a 1-7 record in American Athletic Conference play, with the only league win coming over hapless UConn. ECU finished the year on a four-game losing streak, with all four losses coming by at least 21 points.
While the Pirates had a potent passing attack averaging 334.7 passing yards per game, No. 7 nationally, they couldn't defend air, allowing 36.1 points per game—No. 110 nationally. Montgomery has an offensive background, but he'll need to figure out the defensive issues to give the Pirates any sort of traction in the AAC.
Grade: D
Rob Foldy/Getty Images
Will Muschamp exceeded expectations at South Carolina this fall.
Will Muschamp's hiring at South Carolina was met with some legit skepticism. After all, he succeeded Urban Meyer at Florida and led the Gators into mediocrity with a 28-21 record before being fired after four seasons. How would he do at a program with a lesser SEC East reputation, albeit one that had great success under Steve Spurrier?
Spurrier let recruiting and talent slip over his final three years, and the result was an ugly 3-9 2015 campaign that saw him walk away halfway through and was capped with a home loss to FCS foe, The Citadel. In that context, Muschamp's first season in Columbia was a pleasant surprise. Even after a 56-7 decking at Clemson's hands Saturday, the Gamecocks are bowl-eligible at 6-6 with one of the nation's worst offenses (No. 124 nationally in points per game at 19.8).
True freshman quarterback Jake Bentley (who graduated high school a year early), is a piece worth building around. The Gamecocks need more talent on both sides of the ball, but this was a positive start.
Grade: B
Michael Hickey/Getty Images
Ball State had only minimal improvement under new coach Mike Neu.
Following the 2015 season, Pete Lembo made a preemptive move off the hot seat at Ball State, leaving to become a Maryland assistant after a two-year 8-16 run. To get the program back on track, BSU turned to an alum in former quarterback Mike Neu, who had experience as a college and NFL assistant.
His first year showed mixed results. After a 3-9 record in Lembo's final season, the Cardinals went 4-8 under Neu—a one-win improvement. Ball State ended the season on a five-game losing streak, but that did feature narrow losses to Eastern Michigan and Miami of Ohio by a combined eight points. Still, Neu probably didn't create a lot of new Ball State fans this fall.
Grade: C-
Joe Murphy/Getty Images
Mike Norvell picked up right where Justin Fuente left off at Memphis.
When Justin Fuente left for Virginia Tech after winning 19 games in two seasons, Memphis needed someone who would keep up the momentum (particularly on the offensive side of the ball) that Fuente set in motion. They found Arizona State offensive coordinator Mike Norvell, who had a proven record of points and yardage as the Sun Devils' play-caller.
One year in, Norvell looks like a solid successor. Memphis finished 8-4 in the tough American Athletic Conference, averaging 39.5 points per game (No. 18 nationally). Quarterback Riley Ferguson looks like a keeper after throwing for 3,326 yards with 28 touchdowns and nine interceptions. Defense is a bit of an issue (Memphis allowed at least 42 points in each of its four defeats), but it appears the Tigers are on the right track.
Grade: B+
L.G. Patterson/Associated Press
Barry Odom had a tough first season as Missouri head coach.
Barry Odom was a natural choice to follow Gary Pinkel's successful tenure at Missouri. The former Missouri player and longtime Pinkel assistant understood the Tigers' culture and had a strong track record as a defensive coordinator, leading a defense that allowed just 16.2 points per game last fall (second-best in the SEC).
So his first season in the head role was a bit surprising. The Tigers regressed under his watch, going from 5-7 to 4-8. Before upsetting Arkansas in Friday's season finale, their wins came over Delaware State, Eastern Michigan and Vanderbilt. And Mizzou's defense was awful, allowing 31.5 points per game—No. 90 nationally.
Quarterback Drew Lock progressed in his second season as a starter, throwing for 3,399 yards with 23 touchdowns against 10 interceptions. But overall, Tiger fans have to be wondering why they didn't expand their search net a little wider.
Grade: C-
Eric Espada/Getty Images
A change of scenery did Mark Richt wonders at Miami.
Sometimes, you just need a change of scenery. Mark Richt knows this all too well. After 15 successful years, 145 wins and a pair of SEC championships at Georgia, the Bulldogs fell short of the SEC title game for three consecutive seasons, which led to Richt and UGA parting ways. He quickly found a home at alma mater Miami, and thus far, it looks like a solid fit.
The Hurricanes had a streaky season (four consecutive wins, four consecutive losses and then another four consecutive wins) to emerge with an 8-4 season record. And it could have been better; three of the four defeats came by a touchdown or less, including a 20-19 loss to Florida State and a 30-27 loss to Notre Dame.
Quarterback Brad Kaaya was a standout, throwing for 3,250 yards with 23 touchdowns against seven interceptions. If he returns for his senior season, it'll be a huge boost for a program that showed some good things in Richt's first season at the helm.
Grade: B
Kent Nishimura/Getty Images
Nick Rolovich showed that he understands Hawaii football this fall.
Hawaii is not an easy task for any head coach to take on. Isolated thousands of miles from the U.S. mainland with a program that has a limited budget, it's understandable if struggles happen. You need to know the lay of the land, which is why former quarterback and offensive coordinator Nick Rolovich was a solid call for the Rainbow Warriors.
In his first season, Rolovich proved that he can be a good leader for Hawaii's program. One year after a 3-10 mark, he doubled the Warriors' wins, finishing at 6-7. There were lopsided losses to Cal, Michigan, Boise State and San Diego State, but overall, Hawaii was far more competitive than a year ago, which bodes well moving forward.
Grade: B
Gene Sweeney Jr./Getty Images
Kalani Sitake and BYU were so close to a much better 2016.
For Kalani Sitake and BYU, 2016 was a year of what could have been. The Cougars dominated in-state rival Utah State 28-10 to end the regular season on a four-game losing streak and finish 8-4. But take a closer look, and you know it could have been so much more.
BYU's four losses came by a combined seven points (20-19 to Utah, 17-14 to UCLA, 35-32 to West Virginia and 28-27 to Boise State). That has to sting. The Cougars have an excellent defense, allowing 19.4 points per game—No. 17 nationally.
But sixth-year senior quarterback Taysom Hill was up and down as a passer, throwing for 2,323 yards with 12 touchdowns against 11 interceptions. To make noise as an independent, BYU needs to turn those close losses into wins next fall.
Grade: B
Michael Chang/Getty Images
Kirby Smart had mixed results in his first season at Georgia.
Be careful what you wish for, as you just might get it. Georgia fans weren't satisfied with Mark Richt's steady success. Not after the Bulldogs missed the SEC title game in three consecutive seasons. Alabama defensive coordinator Kirby Smart was supposed to be the man who took the Dawgs back to SEC and national prominence. And maybe he still will be. But it won't be the easy fix that some fans might have expected.
The Bulldogs slipped to 7-5 in a mediocre SEC East, including baffling home losses to Vanderbilt and rival Georgia Tech. The offense struggled to find consistency, averaging 24 points per game (No. 108 nationally) and tailback Nick Chubb didn't quite look like himself a year after a serious knee injury, averaging 4.8 yards per carry following an 8.1-yard average as a sophomore.
Freshman quarterback Jacob Eason is a future star, but it's clear that Smart is yet another member of the Nick Saban coaching tree who isn't a fully-formed product yet as a head coach.
Grade: C
Stacy Revere/Getty Images
Lovie Smith had a difficult readjustment to college coaching.
Illinois has had a tough year as a program. When Lovie Smith was hired, he was the Fighting Illini's third head coach in less than a calendar year, following Tim Beckman and Bill Cubit. Smith had little current experience in college football, and that showed up this fall.
The Illini slipped from 5-7 to 3-9, with wins over Murray State, Michigan State and Rutgers. They used three different quarterbacks and finished the year on a three-game losing streak, getting outscored 118-24 by Wisconsin, Iowa and Northwestern.
Illinois was below-average on offense (No. 118 nationally in points per game) and defense (No. 93 in points per game). That wasn't what new athletic director Josh Whitman hoped for when he made Smith's splashy hire.
Grade: D+
Todd Bennett/Getty Images
Tyson Summers and Georgia Southern surprisingly struggled this fall.
Georgia Southern looked like an up-and-coming program in its first two seasons of FBS play. Under coach Willie Fritz, the Eagles went 18-7 in two seasons and led the FBS in rushing both seasons. It looked like an easy transition for Colorado State offensive coordinator Tyson Summers to walk into.
But somewhere along the way, something went wrong. Entering the regular-season finale against 9-2 Troy, the Eagles have gone from 9-4 to 4-7. After rushing for 1,608 yards as a junior, Matt Breida has 580 through 11 games, averaging 3.8 yards per carry after going for 7.9 a year ago.
Georgia Southern is 1-7 following a 3-0 start, including an embarrassing loss to a Georgia State team that has already fired its coach. The Eagles still average 224.7 yards rushing per game, but that's No. 28 nationally.
If Summers doesn't get the issues surrounding his program figured out quick, his stay in Statesboro could be short.
Grade: F
Andres Leighton/Associated Press
Matt Viator showed signs of life for Louisiana-Monroe football this fall.
If there are tougher FBS jobs than Louisiana-Monroe, there aren't many of them out there. The Warhawks have just one winning season since 1994 and play in the Sun Belt, considered the worst FBS league. They were coming off a 2-11 season when Matt Viator arrived from McNeese State, where he went 78-33.
In that sense, Viator's debut at ULM has to be considered progress. Entering Saturday's season finale vs. Louisiana-Lafayette, the Warhawks are 4-7, meaning they've already doubled 2015's win total. And losses to Georgia Southern and Idaho came by a combined five points, meaning a bowl game was just out of reach this fall.
The arrow is clearly pointing up for Viator in Monroe.
Grade: C+
Eric Gay/Associated Press
Frank Wilson did a remarkable job with Texas-San Antonio this season.
Frank Wilson's hiring as Texas-San Antonio's head coach was a true risk/reward scenario. Wilson is considered one of the best recruiters in college football, but he had never served as a coordinator or head coach before UTSA brought him in.
Judging by his first season, Conference USA should be frightened about what will happen when Wilson actually gets to bring his own players in. After a 3-9 record in Larry Coker's final season, the Roadrunners are 6-6 and bowl-eligible. With wins over Southern Miss and Middle Tennessee, UTSA certainly raised some eyebrows.
Wilson's hiring looks like a smart move for a young program, and it's starting to pay real dividends.
Grade: B+
Wesley Hitt/Getty Images
Texas State regressed in Everett Withers' first season.
Under Dennis Franchione, Texas State inched close to relevance but never quite got there. The hope was that Everett Withers, coming off a successful stint as head coach of FCS James Madison, would change the equation. It hasn't happened yet.
Entering Saturday's season finale vs. Arkansas State, the Bobcats are 2-9 and struggling. They're riding a seven-game losing streak and each of their last four losses have come by at least 25 points. Texas State averages 19 points per game (third-worst nationally) and allows 41.5 points per game, also third-worst nationally.
Simply put, this is a bad football team that has regressed and not shown improvement in Withers' first season at the controls.
Grade: D-