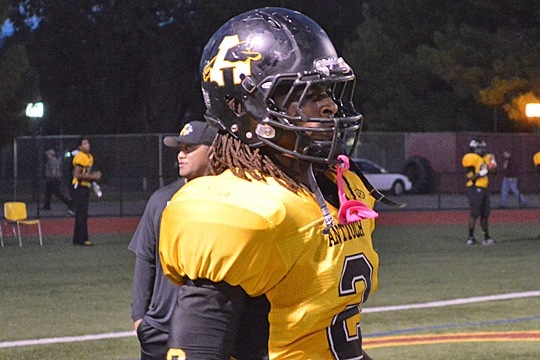 Credit: Scout.com
Running back Najee Harris, the nation's top-ranked player and an Alabama commit, remains a discussion piece with recruiting. Will he stay committed to the Crimson Tide, or will an upcoming official visit to Michigan make his recruitment one to watch in December?
It's December. 'Tis the season to be jolly.
And anxious. And overconfident. And…well…absolutely, unconditionally ticked off.
That's how recruiting can feel to a diehard college football fan. And at the end of each year, it seems like even the casual fan can run the gamut of emotions engaging in the ever-changing decisions of the average 17-year-old superstar football athlete.
Look for this December to be no different from the norm in the recruiting world. You'll have athletes who once were considered hard commits thinking about flipping their pledges to another program. You'll have uncommitted athletes considering schools that were once thought to be long shots in their respective recruiting processes.
Why is the insanity of recruiting so routine around this time of year? We as fans (yep, I'm a fan, too) have to remind ourselves about the domino effect that isn't discussed as much as it probably should. The month of December means the end of regular seasons. It means in-home visits. It means official visits. It also means head coaching changes, which means new staffs, which ultimately means new relationships for athletes committed and uncommitted.
Dec. 1. The 11th hour of recruiting is here.

Expect the unexpected.#HSFB#Crootinpic.twitter.com/fcfSkcggTd

— Damon Sayles (@DamonSayles) December 1, 2016
And before we go further, there are many of you adamant about committing to a program versus committing to coaches. When you buy a house, purchase a car, choose a job or make any kind of big purchase, are you committing to the company?
Or are you committing to the people you trust?
This is why, as fans, we all must sit back, grab the proverbial popcorn, let kids be kids and enjoy the show. And what a show this 2017 recruiting class can be.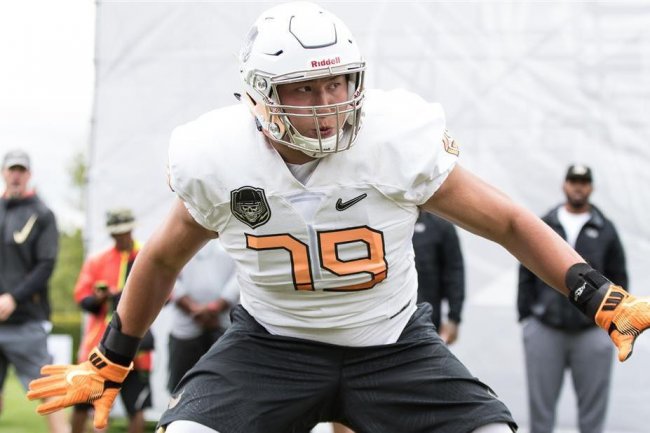 Credit: Student Sports
For starters, three of the top five players in Scout.com's 2017 class are still looking to make their verbal commitments between now and national signing day. Offensive tackle Foster Sarell, the nation's No. 2 player, has Stanford, Notre Dame, Nebraska, USC and home-state school Washington high on his list.
Ole Miss, Florida State, Ohio State, Georgia, LSU and Alabama are a few of the schools that have been associated with the potential commitment of running back Cam Akers, the nation's No. 4 player. Safety Devon Hunter, the No. 5 player, has schools like Virginia Tech, North Carolina, Florida, Alabama and Auburn high on his list. Ole Miss is trying to keep Akers in state, and Virginia Tech is trying to do the same with Hunter.
The nation's top-ranked pledge, running back Najee Harris, has been committed to Alabama since April 2015, but schools like Michigan, UCLA and USC have been in the mix for weeks. He has an official visit set to Michigan the weekend of Dec. 10. To add, Harris isn't the kind of guy who wants the media attention, so for many, it's tough to read where his head is regarding recruiting.
Me, personally, I kind of like that. It's all about playing your hand and keeping a poker face. You card sharks know what I'm talking about.
Speaking of athletes who are tough to read, there's linebacker Dylan Moses. Also an Alabama commit, Moses is one of those athletes on social media who doesn't say much—but when he does, his words hit like a truck. He tweeted eight words Thursday morning that immediately triggered a side discussion between Alabama fans and a group rooting for schools such as LSU, Ohio State, Texas and USC.
Decisions, Decisions…The recruiting process is something serious..

— King Ⓜ️oses (@Dylan1Moses_) December 1, 2016
Coaching changes are huge this time around, as they can help or hurt a recruiting process. Texas has only seven commitments, but with the new hiring of former Houston coach Tom Herman, that number could see a boost, primarily with a few elite in-state targets still uncommitted. Studs like defensive tackle Marvin Wilson, offensive tackle Walker Little, defensive back Jeffrey Okudah and linebacker Baron Browning have been very high on Herman after watching him go 22-4 in two seasons at Houston.
LSU saw Ed Orgeron lose his interim tag last week, but as permanent head coach, he lost a big commitment in quarterback Myles Brennan. The good news for Tigers fans is that Brennan has chosen not to completely part ways with the program but merely reopen his process to make sure he's making the right decision.
This is not a De-commit, this is a way to explore all other options as LSU is going through transitions to have a back up plan if needed!

— Myles Brennan (@mylesbrennan12) November 30, 2016
Most recently, Oregon lost its head coach Tuesday in Mark Helfrich. Hours before the news was public, cornerback Deommodore Lenoir decommitted from the Ducks. The program still has 13 commits, but how will that class look after it hires a new coach and staff?
December additionally will be a month to see which programs can bounce back. Tennessee had a horrendous November, losing five pledges for the month and three on Tuesday in athlete C.J. Cotman and defensive tackles/twin brothers Breyon and Brandon Gaddy.
November: Not been a good month for #RockyTop. The #Vols have lost 5 pledges this month, including 3 in the last 90 minutes or so.

— Damon Sayles (@DamonSayles) November 30, 2016
As bad a month as Tennessee had, Baylor would love to be in the Volunteers' position. Tennessee is still a team with 23 pledges. Baylor has one. Still recovering from a sexual-assault scandal, the Bears are hoping to have a prosperous December, recruitingwise. Safety Jalen Pitre is the lone commit, and he's been committed since July 24, 2015.
Today marks a little less than 10 weeks remaining until national signing day. Consider this the start of the eleventh hour of recruiting. And, above anything else, expect the unexpected.
Damon Sayles is a National Recruiting Analyst for Bleacher Report. All player ratings are courtesy of Scout.com. Follow Damon via Twitter: @DamonSayles