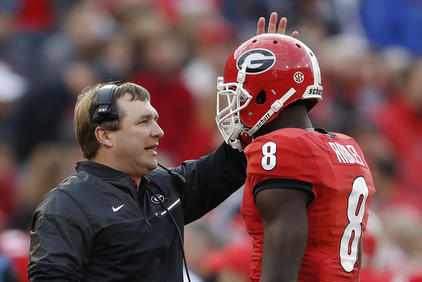 John Bazemore/Associated Press
If you told Kirby Smart before Georgia's game against Auburn that his team wouldn't score an offensive touchdown in the game but still win, he'd probably raise his eyebrows so high his visor would fall off.
But that's exactly what happened in Georgia's 13-7 win over Auburn Saturday in Athens.
The Bulldogs submitted a masterful defensive performance, particularly in the second half when they held the Tigers to 32 yards on offense.
Rodrigo Blankenship did Rodrigo Blankenship things, Jacob Eason minimized his mistakes and Georgia beat Auburn for the third straight year, becoming bowl-eligible in the process. This is its sixth win on the year, improving to 6-4 and 4-4 in the SEC.
With that said, grab your finest quill and ink, because it's time to get grading.
John Bazemore/Associated Press
Riley Ridley had himself a game. The freshman, who had a lingering hand injury earlier in the season, is coming into his own at a perfect time. He did so to the tune of 89 yards receiving off three receptions.
Fifty-seven of those yards came off a long pass play from Eason in the first quarter—one where Ridley made an incredible catch. He also had a nice tiptoe sideline catch that went for 22 yards.
Ridley was all over the field Saturday and seemed to always have a step on whoever was covering him. That was evident on a play that should probably have been called pass interference in the second quarter that would've equaled another big gain to set up a goal-line situation.
These plays are all a testament to the play of Eason Saturday, who had his best purely quarterbacking game. Eason made an errant throw here and there, but for the most part, he was smart with the football and read the defense well. He checked off when he needed to and was able to find receivers across the middle. He targeted five different receivers, continuing to do a good job spreading the ball around as he has the past few games.
Eason was most impressive on those deep passes, of which Georgia probably should have even run a few more. Eason stood in the pocket and took hits on a few of these passes, delivering them with pinpoint accuracy. Eason's deep ball is his fastball, and when it's working, it's a marvel to watch.
But overall, even if he and the unit didn't have a touchdown to speak of, Eason played well Saturday—he had a passer rating of 120.9—and is certainly improving as the season goes on.
Grade: B+

John Bazemore/Associated Press
It has become clear that Georgia has recommitted itself to the run. You'd think this wouldn't be much of a concept, and as seen Saturday, it isn't. Throughout the CBS broadcast, a meeting Nick Chubb and Sony Michel had with the coaches was brought up, as they expressed that they'd like to be more involved in the offense. They were heard.
Chubb rushed 23 times for 101 yards, and Michel had 73 total yards rushing and receiving, with 55 on the ground and 18 receiving.
Chubb looks more and more like his old self with each passing week, especially in the way he finishes his runs. He had four runs of 10 yards or more.
Georgia's backs did a good job of being patient in waiting for holes to open up for them. The run offense allowed Georgia to run a lot of clock, especially late in the game. The Bulldogs won the time of possession battle; they had ball the for 39:09. Against a team like Auburn that likes to run a lot of plays, that is a big win.
The Tigers have a two-headed monster in Montravius Adams and Carl Lawson, and the Bulldogs did an admirable job picking up the yards they did against them. The two got their stops, but Georgia had success against Auburn's much-vaunted defensive line.
Georgia continues to be committed to the sweep play with Isaiah McKenzie, and while McKenzie finished with 35 yards rushing, it worked to varying degrees. I understand the desire to get him the ball, but it can sometimes stall a drive's momentum if the whole team is moving east to west.
But we're nitpicking—Georgia rushed the ball well and the pass/run ratio was slanted toward the run, which is how it should be for this team.
Grade: B+
John Bazemore/Associated Press
Before we get too far into this, keep in mind that Auburn quarterback Sean White has been dealing with a shoulder injury, and Saturday's performance didn't look like the player he has been the past month.
But Georgia limited Auburn to just 37 pass yards total on 22 attempts. That should be commended. The Tigers had no big plays through the air, and several times White was left flustered in the pocket on obvious passing downs because of airtight coverage downfield.
Convincing Mo Smith to transfer has to be one of the high points of Kirby Smart's tenure so far, as the fifth-year senior very likely swung this game himself. Smith had a morale booster of a pick-six of White to open the third quarter on a pass that was thrown right to him. It would be Georgia's only touchdown.
There's not too much to analyze from this unit other than to say it played solid and didn't have many, if any, lapses. There's not much to criticize given the way Auburn's offense played for half the game regardless.
Grade: A
John Bazemore/Associated Press
Much like Georgia, Auburn's modus operandi is running the football. The Tigers played this game without Kamryn Pettway, the conference's leading rusher who treats running the ball like Monopoly, passing go and collecting 150 yards without breaking a sweat. Pettway had 150 yards-plus in his past four games prior to this one.
Pettway sat out Saturday's game with a leg injury, and Tiger fans are likely leaving Sanford Stadium wondering what could have been. Auburn rushed for 127 total yards, which accounted for 77 percent of its total offense (the team had 164 total yards of offense).
Georgia was outstanding in stopping the run. Coming into this game, Georgia was third in the SEC allowing just 118.2 yards per game, and Auburn's 127 are in and around that bell curve.
It held Auburn running back Kerryon Johnson to a yard under 100 total and generally was a pest with whatever the Tigers tried to throw at them.
Sophomore defensive lineman Jonathan Ledbetter is showing why the team thought he'd be a difference maker this season, finishing second on the team in tackles with five and one for a loss. Linebacker Roquan Smith led the team in tackles with seven.
Auburn had been averaging 494.1 yards per game this season, and it didn't even equal half that Saturday. Give a pat on the back to the Georgia defense for slowing a formidable attack to a halt, holding Auburn to just two third-down conversions and forcing eight punts.
Grade: A+
John Bazemore/Associated Press
The words "folk hero" are being floated around Rodrigo Blankenship, and why not? The fan favorite gets loud cheers every time he walks onto the field, and he's earned it. Prior to a 49-yard miss that had the aim but not the distance, Blankenship had a 10-make streak going, adding two to that Saturday. Having a kicker you can trust is such an understated advantage, and Georgia has that.
Blankenship hit a 45-yarder and a 21-yarder and is now 11-of-13 on the year. That 21-yarder was a big one, as it forced the Tigers to try to score a touchdown late instead of going for a game-tying field goal.
Blankenship was also great on kickoffs, and most if not all of them sailed through the end zone, something Georgia's inability to do earlier in the season had irked Kirby Smart.
Isaiah McKenzie had a nice 20-yard punt return in the fourth. Georgia's special teams overall were much-improved in that they didn't draw any negative attention to itself.
Brice Ramsey had a mostly positive game regarding punting the ball, downing three inside the 20 with an average of 33.7 yards. There are probably a few he'd like to have back, but he punted admirably in relief of Marshall Long. He's going to have to continue to keep this up with Long out for the season with a knee injury, according to Dawgs247.
In a season that has been plagued by special teams miscues, Georgia cleaned itself up Saturday. Sometimes the best thing is to not be heard from, and that's exactly what happened.
Credit Blankenship for continuing to be a weapon in kick coverage for opening things up for returns. A nice showing all around for this unit.
Grade: A
John Bazemore/Associated Press
Kirby Smart's impact on this defense as the season has progressed is remarkable. Yes, this season has been disappointing in the win-loss column. But Smart and Mel Tucker have made significant strides with the unit, implementing the style of football they want it to play. When Smart gets more of the type of players he wants on defense over the next few years, this defense is going to be a force to be reckoned with.
Tucker had a good plan for stopping Auburn's rushing attack, and whatever adjustments he made for the second half paid off in spades. Auburn was historically bad on offense in the second half; Georgia didn't allow them to do much of anything moving the ball.
On offense, this was coordinator Jim Chaney's second game calling plays from up in the box, and the team is 2-0 in those games. That has to count for something. Chaney has swallowed his pride a little it seems and is feeding his running backs the ball. It worked Saturday, even if his unit didn't account for a touchdown.
However, there is an overarching problem with Chaney's play-calling this game and this season, and that's stubbornness. Georgia ran a pass play in the first quarter with Terry Godwin under center that it had no business calling, and it led to a Tray Matthews interception. Then, late in the fourth, it ran a similar play on 3rd-and-goal on a pass to Jacob Eason.
The second call was more egregious than the first, as it quite literally took the ball out of Georgia's best players' hands. A run with Nick Chubb or a crossing pattern to Riley Ridley, whom Eason looked to five times throughout the game, would've been far more appropriate.
I get that Godwin was a high school quarterback, and you want to mix things up and keep people guessing. But there's a time and a place for that; it's not on 3rd-and-goal in crunch time. This was Chaney getting a little too cute, especially given that he showed his hand with Godwin earlier in the game. Godwin very likely threw more passes into the end zone than Eason did. Something's wrong with that picture.
Chaney has a tendency to telegraph plays by showing them earlier in the game—see Isaiah McKenzie's sweep against Vanderbilt after it was prevalent all game. That all but ended that game, and several times Georgia has insisted on passing on short-yardage fourth-down attempts this season.
It's something to keep an eye on in the next three games Georgia has. It didn't cost the Bulldogs Saturday, but sometimes the easiest solution to a problem is the one that's the simplest. Chaney knows this for the most part, calling far more runs than passes Saturday. But there have been a few too many lapses, and that'll have to change going forward.
Grade: B+
John Bazemore/Associated Press
Georgia won this game by lulling Auburn into playing its style of football: dull, uninteresting and methodical. Consider this a backhanded compliment.
This wasn't a beatdown by any means; it was more of a suppression. Georgia did not allow Auburn to do the things it does best well, and that was the reason it won. The defense has molded into something more than serviceable, and Rodrigo Blankenship's growth is fun to watch and has to be a big morale booster. Smart has said so himself.
The win is a useful one for the big picture, as the team gets to avoid bowl-game qualifying questions for the rest of the season. This team doesn't have a lot left to clinch, so extending its bowl-game streak to 20 straight years has to feel good.
This game was decided in the second half, and Auburn folded like a paper airplane. Its offense disappeared, and it wasn't able to exploit any of the Bulldogs' weaknesses. Three and out became the norm, and that's now going to get the job done, even in a low-scoring game like this one.
The Auburn/Georgia rivalry the past three years is starting to get a bit lopsided — Auburn has scored just seven points in each of its past two appearances in Athens. The win was Georgia's second this season over a Top 25 team and its first since the first game of the season.
There are still places to improve, and this wasn't a perfect performance by any means. But it was one of the team's best this season. It limited its mistakes, and that's how you beat a team that on paper is supposed to beat you. This is a Kirby Smart signature win in his first year. He and the Bulldogs will look to close the season out strong with two winnable games left on the schedule.