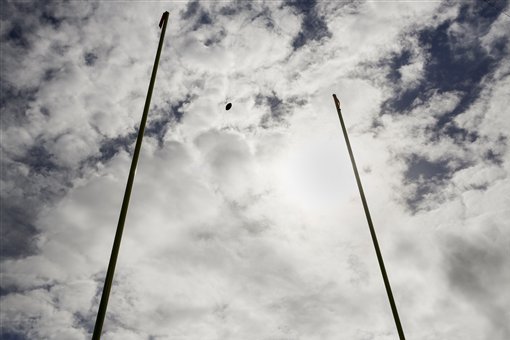 Patrick Semansky/Associated Press
William Riley Gaul, a freshman wide receiver at Division III Maryville (Tennessee) College, has been charged with first-degree murder in connection with the death of a 16-year-old girl.
According to an Associated Press report, the Knox County Sheriff's Office announced Gaul was arrested and is being held on $750,000 bond on charges related to the death of Emma Walker. Per the AP, "officials said evidence at the scene indicated Gaul fired shots into her bedroom from outside the house while she slept." Walker was found dead Monday morning.
Authorities did not indicate what type of relationship the two had. However, John North of WBIR reported acquaintances said they were dating—an account backed up by posts Gaul made on his Twitter account in recent days:
That's my beautiful Emma. Rest easy now sweetheart. 1 Corinthians 13:8. Be sure to remind God about our verse.I love you.Forever and always. pic.twitter.com/gD2stHbY3z

— Riley (@rileygaul) November 21, 2016
I love you Emma, I can't be around any of that yet, it's too soon. I know you know I'm dying to be there but understand I can't. I love you.

— Riley (@rileygaul) November 22, 2016
Jenny Weldon, Walker's aunt, told Hayes Hickman of the Knoxville News Sentinel the two had recently ended their relationship. "She had chosen to move on," she said. "He refused to accept it. He chose not to accept her wishes."
Gaul attended Central High School in Tennessee, where Walker served as a cheerleader. He was part of the football team before graduating in 2016 and moving on to Maryville College.
"Maryville College is cooperating fully with the Knox County Sheriff's Department in this investigation. Our thoughts and prayers are with the victim's family and friends and other individuals affected by this tragedy," the university said in a statement.
Police had been monitoring Gaul since Walker's death because they believed he was planning to destroy evidence. He will undergo a preliminary hearing soon within the coming days, though no date has been formally announced.
Follow Tyler Conway (@jtylerconway) on Twitter.