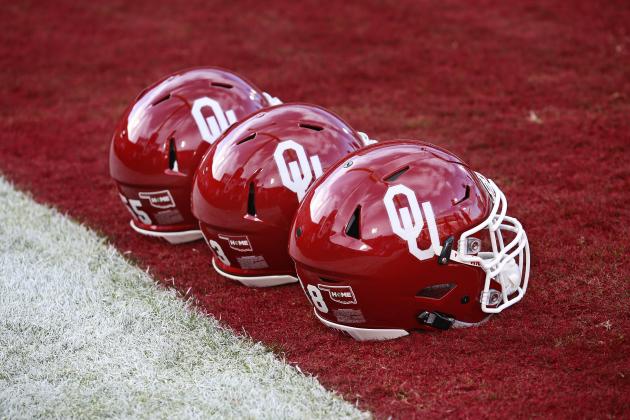 Brett Deering/Getty Images
Former Oklahoma standout linebacker James "Jimbo" Elrod died early Monday morning following a car crash in Oklahoma. He was 62.
An Oklahoma Highway Patrol spokesman confirmed the 1975 All-American's death to NewsOK. The report noted the vehicle Elrod and his wife, who was injured in the incident, were traveling in hit a guardrail and overturned, which caused him to be ejected.
The school, Sooners legend Brian Bosworth and longtime wrestling announcer Jim Ross, an OU superfan, were among those to pass along condolences on social media:
Our hearts go out to the family of Jimbo Elrod today. A great Sooner, All-American, champion & friend.https://t.co/NlJ6kTLX2gpic.twitter.com/WoXaRW1J0I

— Oklahoma Football (@OU_Football) December 12, 2016
Please send prayers for OUr amazing SOONER/Dad/Husband/Friend/Teammate Jimbo Elrod I love yOU brother #54 All-American Human RIP #HEARTBROKEhttps://t.co/r8tDlT7fRm

— Brian Bosworth (@GotBoz44) December 12, 2016
RIP @hitmamelrod Jimbo Elrod. A great friend/Sooner. @raiseanative_99@marshdeedee@GotBoz44@OU_Footballpic.twitter.com/J3jJVu7j7L

— Jim Ross (@JRsBBQ) December 12, 2016
KTUL sports director John Moss recalled some time he spent with the former defender:
I interviewed Jimbo Elrod a couple of times – he was as classy as they come. Thoughts and prayers go out to his friends and family.

— John Moss (@JohnMossKTUL) December 12, 2016
Elrod developed into a key member of the Oklahoma defense during his time in Norman. He served as the backbone for a unit that helped the program win back-to-back national championships in 1974 and 1975, his junior and senior seasons.
His play in 1975 helped him earn Consensus All-American honors alongside the likes of Ohio State's Archie Griffin as well as teammates Lee Roy Selmon and Dewey Selmon.
Elrod moved on to the NFL, where the Kansas City Chiefs selected him in the fifth round of the 1976 draft.
The Tennessee native played four seasons at the pro level, three in Kansas City and one with the Houston Oilers. He made 40 appearances, including five starts.
In 2012, he explained to Bill Haisten of Tulsa World that his football career left him with "great memories and constant pain," including shoulder and hip problems. He'd previously told the outlet he wouldn't have let a son play football because of the lingering effects.
"I love the game," Elrod said in 1998. " … But it's a brutal game."
But even the health issues couldn't keep him away from Sooners games. He told Tulsa World the drive from Tulsa to Norman just required some time in the hot tub and stretching to loosen up.