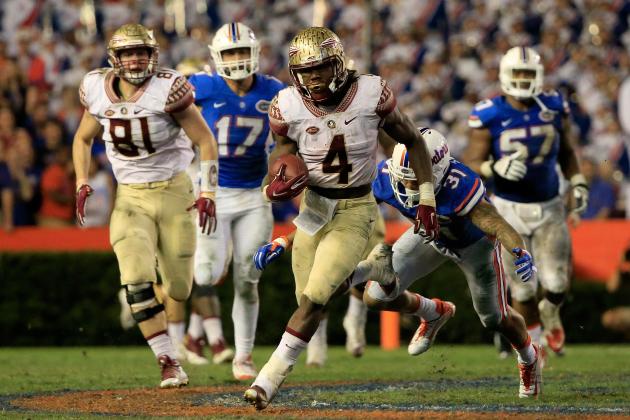 Sam Greenwood/Getty Images
The No. 13 Florida Gators and No. 15 Florida State Seminoles will renew their rivalry Saturday, Nov. 26, in Tallahassee.
Florida (8-2, 6-2 SEC) owns a 34-24-2 advantage in the series, but Florida State (8-3, 5-3 ACC) has claimed five of the last six victories, including three in a row.
No matter the result, the Gators have already secured a place in the SEC Championship Game. However, a loss to the 'Noles would effectively eliminate Florida from the College Football Playoff discussion.
ABC will broadcast the clash at 8 p.m. ET. According to Odds Shark, Florida State opened as a five-point favorite.
Jonathan Bachman/Getty Images
Overcome the Road Issues
Florida's offense is relatively inconsistent and nonsensical, and the unit has struggled on the road.
In five home games, the Gators averaged 458.6 yards and 32.2 points. Away from The Swamp, though, Florida has mustered just 276 yards and 18.2 points per game.
A victory at LSU was impressive, but the offense simply provided enough. While Florida has regularly survived inferior teams with that style, it's not a sustainable way to defeat top opponents.
Red-Zone Defense
No offense in the nation has created more red-zone opportunities than the 'Noles, and they're efficient with those chances, too.
Of Florida State's 51 trips, 39 ended in a touchdown. The 76.5 percent rate ranks sixth in the country. Plus, the Seminoles have crossed the goal line on 19 of their last 20 red-zone possessions.
The Gators consistently stalled LSU, surrendering just 10 points on five red-zone chances and winning the game with a goal-line stand. They'll need a repeat performance to knock off FSU.
Mike Ehrmann/Getty Images
Win on 3rd Down
In games Luke Del Rio started, the Gators converted 47 of their 95 third-down attempts—a 49.5 percent rate. When Austin Appleby has opened the contest, though, Florida has moved the chains just 20 times in 54 tries for a 37 percent clip.
Should Florida State match that defensive edge on offense, the Gators are in trouble. That won't be easily accomplished because of Florida's stout defense, though.
The 'Noles have hovered between 33 and 55 percent on third down over the last eight games. Anything less than a 40 percent conversion rate will be a problem.
Stop the Big Play
Immediately following one goal-line stop against LSU, Appleby launched a deep shot to Tyrie Cleveland, who shook one tackler and raced 98 yards for a touchdown.
That was the game-changing play because Florida managed little else, tallying 172 yards and nine points on eight other possessions.
While the Gators should be more successful on the ground against FSU than LSU, they've only topped the 20-point mark once with Appleby. Stopping the big play would smother Florida's effectiveness.
Sam Greenwood/Getty Images
Austin Appleby, Quarterback
Yes, Florida's chances at the College Football Playoff are slim. But entering Week 13, any chance is better than no chance.
"If we keep winning, I don't think you can keep us out," Appleby said in a video posted by the Orlando Sentinel. But only if the Gators keep winning, and that entails knocking off a team that held the offense scoreless in the 2015 matchup.
Since an outstanding first half at Tennessee, Appleby has averaged a mere 6.4 yards per attempt. Remove the 98-yard score, and the number plummets to 5.4. Being a "game manager" likely won't cut it on the road at Florida State.
Caleb Brantley, Defensive Tackle
A future NFL draft pick, Caleb Brantley made the goal-line tackle to seal Florida's victory over LSU.
"This tops everything," he said, according to Zach Abolverdi of SEC Country. "To win the SEC East on a goal-line stand, that's the greatest moment of my career."
Brantley's box-score numbers won't overwhelm you, but that's not a primary objective for a defensive tackle. The redshirt junior is the key to disrupting Florida State's running game.
Michael Chang/Getty Images
Dalvin Cook, Running Back
Dalvin Cook must enjoy playing in-state rivals. He torched Miami for 588 total yards and six touchdowns in three games, and he's shredded Florida for 366 yards and two scores through two meetings.
The junior is a home-run threat on every touch, and Cook's most valuable trait is his ability to shed and elude tacklers despite poor blocking. That should be handy against a tough Florida defense.
If the Gators are able to contain Cook, they'll probably be in position to spring the upset. If not, Cook and FSU may run away.
Tarvarus McFadden, Cornerback
While Florida boasts a pair of potential first-round draft picks at corner in Teez Tabor and Quincy Wilson, the Seminoles have a ball hawk. Tarvarus McFadden leads the nation with eight interceptions.
"They keep throwing them," he said, per SafidDeen of the Orlando Sentinel. "I'm going to keep making my plays when they come."
Florida better hope not, because the offense needs those explosive plays. McFadden can be beaten, but the risk-reward ratio falls at extreme ends of the scale.
Joe Robbins/Getty Images
Florida
According to Ryan Young of SEC Country, head coach Jim McElwain said the Gators have "got our work cut out for us" to stop Cook.
This Dalvin Cook guy is the most explosive player in all of college football. I mean, you can just look at his plays, both running and catching, this guy's a special, special player that's going to play a long time at the next level. And rightfully so.
Florida State
If the Seminoles earn a victory on Saturday, it will mark the fourth straight season they've swept Miami and Florida. Tim Linafelt of the school's official site notes head coach Jimbo Fisher said that's a priority for FSU.
It's part of our goal. We always say that. The state of Florida is a dynamic football state. If you can play with Miami and Florida, you're usually in the national title hunt. It's a rivalry game. It's always going to be important. We play them both.
Jason Behnken/Getty Images
Florida needs the defense to control Cook and Co. right away. It could get ugly if the 'Noles start fast, because the Gators are better suited to hold off a late charge than to play from behind.
While Appleby must avoid multiple turnovers, he must also excel on third down and in the red zone for Florida to put the pressure on a resilient Seminoles team.
Florida State can afford early struggles on offense thanks to the QB-RB-WR trio of Deondre Francois, Cook and Travis Rudolph. However, that can't be compounded by a poor defensive effort.
It should be a close game early, but the 'Noles will pull away in the second half to record their fourth straight in-state sweep.
Prediction: Florida State 27, Florida 17
---
All recruiting information via Scout. Stats from cfbstats.com or B/R research. Quotes obtained firsthand unless otherwise noted. Follow Bleacher Report CFB Writer David Kenyon on Twitter @Kenyon19_BR.