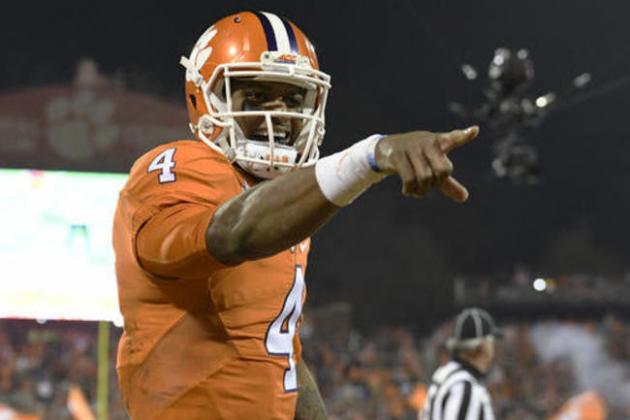 Associated Press
As the last weekend before the final unveiling of the College Football Playoff rankings approaches, the 2017 Fiesta Bowl matchup is still up in the air with three of the four current playoff teams playing in conference championship tilts.
Ohio State, which sits No. 2 in the latest rankings, is already in the clubhouse after downing Michigan last week but losing a Big Ten East tiebreaker with Penn State. Meanwhile, Alabama, Clemson and Washington still have one more game to play to secure playoff berths.
These factors will all affect who lands in the Fiesta Bowl, which places No. 2 against No. 3. With that in mind, let's take a look at the game's schedule, as well as break down what the matchup might look like.
2017 Fiesta Bowl Schedule

| | | | |
| --- | --- | --- | --- |
| Date | Matchup | Time (ET) | Network |
| Saturday, Dec. 31 | CFB No. 2 vs. No. 3 | 3 or 7 p.m. | ESPN |
CollegeFootballPlayoff.com
Matchup Prediction
The Top Four teams are likely to remain in the group if the three schools playing can win this weekend.
Alabama has been No. 1 in the rankings for the entire season, displaying dominance throughout its nonconference and SEC schedules. The Crimson Tide defense leads the nation in points allowed per game (11.3) and total defense (246.8 yards allowed per game). Texas A&M was the last team to score a touchdown on this unit—in October.
A SEC title game matchup with Florida should not pose much of a threat. The Gators average a mere 24.1 points per game, good for 104th nationally, and the last time they took the field, Florida State held them to 207 total yards. This should allow Alabama to smother Florida's offense long enough for the Crimson Tide to generate some points and remain undefeated.
Ohio State has the advantage of being idle this weekend. It is 11-1, and no teams outside the Top Four have any shot of jumping the Buckeyes. Michigan may be the only team with an equally impressive resume, but the Wolverines' two losses, including one at Ohio State, would prevent the Buckeyes from falling out of the group, via ESPN Stats & Info:
Ohio State & Michigan EACH have 3 wins vs teams in this wk's College Football Playoff Rankings, 1 more than Penn State + Wisconsin combined

— ESPN Stats & Info (@ESPNStatsInfo) November 30, 2016
However, not playing this weekend could see Ohio State drop within the Top Four. Clemson and Washington play quality opponents, which gives each the ability to gain more favor with the committee with a strong performance.
The Tigers will play Virginia Tech for the ACC title and are the favorites. The Hokies are 9-3 but have battled inconsistency all year. After a statement 34-3 victory over North Carolina on Oct. 8, Virginia Tech followed that up with a 31-17 loss at Syracuse. The Hokies then won three straight, including at Pittsburgh and a home contest with Miami, before losing 30-20 at home to an average Georgia Tech team.
Meanwhile, Clemson is 11-1 with only a last-second hiccup to Pittsburgh as its lone blemish. Behind Heisman candidate Deshaun Watson, the Tigers have a bevy of talent and experience after finishing as last season's runner-up.
On paper, these teams match up well on both sides of the ball, with Clemson being slightly better in almost every category:
Clemson and Virginia Tech 2016 National Team Ranks

| | | | | | | |
| --- | --- | --- | --- | --- | --- | --- |
| Team | Scoring Offense | Total Offense | Scoring Defense | Total Defense | Third Down Percentage | Third Down Defense |
| Clemson | 40 (17th) | 508.7 yards (12th) | 17 (8th) | 307.9 yards (8th) | 51.3 percent (7th) | 28.2 percent (5th) |
| Virginia Tech | 35 (35th) | 453.4 yards (38th) | 21.1 (20th) | 332.2 yards (19th) | 41.8 percent (58th) | 26.8 percent (4th) |
NCAA.com
The one number that stands out is third-down success. The Tigers are among the nation's best at keeping drives alive, while Virginia Tech is simply average.
This could decide the game Saturday, as Clemson can sustain drives and build a lead that Virginia Tech just is not equipped to make up. Especially with a playoff berth on the lead, expect the Tigers to emerge victorious and jump an idle Ohio State into the No. 2 spot.
That leaves Washington, which plays a tough team in No. 8 Colorado for the Pac-12 title Friday.
The Huskies sport a tremendous offense led by Heisman candidate Jake Browning and stars in running back Myles Gaskin and receiver John Ross. The Buffaloes counter with a solid offense of their own and a defense that leads the Pac-12 in yards allowed with just 323.8 per game.
However, Colorado may be too far behind in the rankings to make a move up should Washington fall, as the Detroit News' Bob Wojnowski notes:
Based on Holcutt's comments, Michigan's playoff chances are much better than many thought. If Washington loses to Colorado, I think UM is in

— Bob Wojnowski (@bobwojnowski) November 30, 2016
If that were to happen, Ohio State would be in the Top Three and likely play Clemson in the Fiesta Bowl. However, a Washington win would give the Huskies an impressive resume and a conference title, as ESPN.com's Ted Miller points out:
Good for Washington resume: No. 8 Colorado, No. 11, USC, No. 18 Stanford and No. 20 Utah.

— Ted Miller (@TedMillerRK) November 30, 2016
Given that Ohio State is off and not a conference champion, this should move Washington ahead of the Buckeyes.
The contest between Colorado and Washington is almost too close to call, but the Huskies have an advantage in overall talent and are playing some of their best football of the season after a 45-17 thrashing of Washington State last weekend. Give Washington the edge here, which sets up an outstanding Fiesta Bowl matchup with Clemson.
Prediction: No. 2 Clemson vs. No. 3 Washington
Statistics are courtesy of NCAA.com unless otherwise noted.