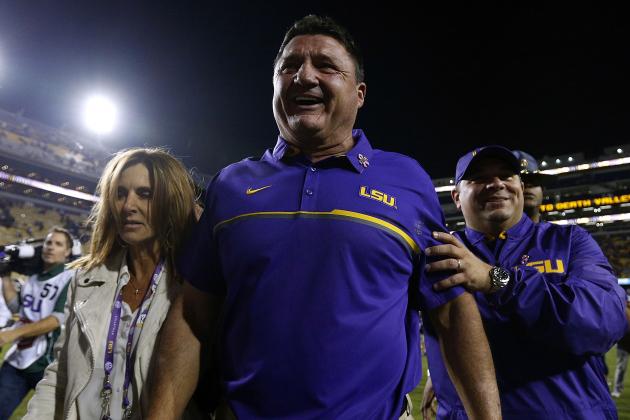 Jonathan Bachman/Getty Images
Following the removal of his interim tag Saturday, new LSU head coach Ed Orgeron addressed the media in an introductory press conference.
Despite rumors that LSU was closing in on naming Tom Herman the new head coach, vice chancellor and director of athletics Joe Alleva announced that Orgeron was being given the full-time job after leading the Tigers to a 5-2 mark following Les Miles' departure, according to LSUSports.net.
The Louisiana native displayed gratefulness and pride regarding his new position and embraced the responsibility in front of him, per LSU Football on Twitter: "I want to let everyone know that myself and our football team will represent everyone the best we can."
LSU has been out of the national title picture for the past five seasons, but Orgeron realizes a quick turnaround is of the utmost importance: "My job is to build a championship program. Fast."
Despite now owning one of the most high-profile jobs in college football, Coach O showed no interest in having the spotlight on him: "It's never going to be about me. It's going to be about the players and the people of Louisiana."
Orgeron was the head coach at Ole Miss from 2005 through 2007 and went 6-2 as USC's interim head coach in 2013.
LSU added him to the staff after the Trojans decided against making him the head coach, and Orgeron thanked Miles for bringing him aboard.
While the Tigers defense is perennially elite, offense has been a major issue in recent years. Orgeron stressed the importance of bringing in high-quality assistants to turn that around: "My plan is to take my time and assemble the best staff in America."
According to Lenny Vangilder of SportsNOLA.com, Orgeron intends to provide the current staff with an opportunity to remain in place: "We will evaluate our staff after the bowl. Give everybody a legitimate shot to be a Tiger."
With regard to the offense, Orgeron made the need for a great offensive coordinator clear: "We're going to look at recruiting the best offensive coordinator in football and bring him to LSU. We have a blueprint and a mindset and we're going to go out and get it."
While Orgeron offered no specifics, Ross Dellenger of the Advocate reported that he intends to attempt to hire Lane Kiffin away from Alabama. Orgeron coached under Kiffin during their time together at USC.
Although it appeared momentarily that Orgeron had fallen behind in the race to become LSU's head coach, he never feared losing out on the job:
EO on his chances to be the coach: There was never a day where I felt like I wouldn't have a chance to get this job. And that's all I wanted pic.twitter.com/sTCAeVqqLf

— LSU Football (@LSUfootball) November 26, 2016
Orgeron seemingly had plenty of public support due to his status as a Louisiana guy, and he feels as though his hiring will elicit a positive reaction: "In Louisiana, everyone should have a hope and a dream. I know Louisiana is happy today."
The honeymoon may not last long if Orgeron doesn't take the Tigers back to the top of the SEC and the college football world in general.
Orgeron is aware of that and appears ready to take on the challenge, as evidenced by his closing comments: "We are going to be judged by one game and I embrace it. It's the benchmark. We understand it and it will drive us forward."
Alabama is among the biggest obstacles standing between LSU and national title contention, and Orgeron's success against the Crimson Tide could define his tenure.
If the players continue to embrace Orgeron and he manages to put together a strong offensive staff, the Tigers have the talent and resources to return to prominence.
Follow @MikeChiari on Twitter.