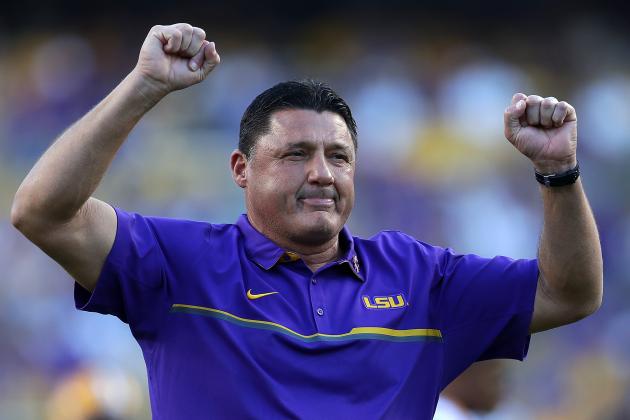 Chris Graythen/Getty Images
LSU head coach Ed Orgeron
In the end, LSU got it right.
No, Ed Orgeron doesn't have a track record of SEC success—his combined conference record is 7-23 at stints as the head coach of Ole Miss and LSU. He doesn't have the up-and-coming superstar status of current Houston and likely future Texas head coach Tom Herman. He isn't the splash that maybe some were expecting a program like LSU to make with the hire.
None of that matters. He's a Louisiana guy who is a perfect fit for this job—his dream job.
"We're proud to be a part of Louisiana, and understand LSU and what it means—winning…winning championships," Orgeron said during Saturday's press conference streamed live on LSU's website. "My goal is to build a championship program fast, very fast. I understand the expectations at LSU and I invite 'em."
His new boss understands how important it is to have a head coach with that passion.
"It's part of his DNA," athletics director Joe Alleva said. "He grew up eyeing this job. This is his dream job."
Orgeron's record isn't great. That's undeniable, and something that Orgeron wears with pride. He also knows that, as a first-time head coach with Ole Miss, he made some mistakes en route to a 10-25 (3-21 SEC) record from 2005-2007.
Good coaches learn from those mistakes.
"I'm trained and ready to do this," he said on Saturday. "I've had my chances before and learned from my mistakes. I'm ready to build a championship program along with a great staff."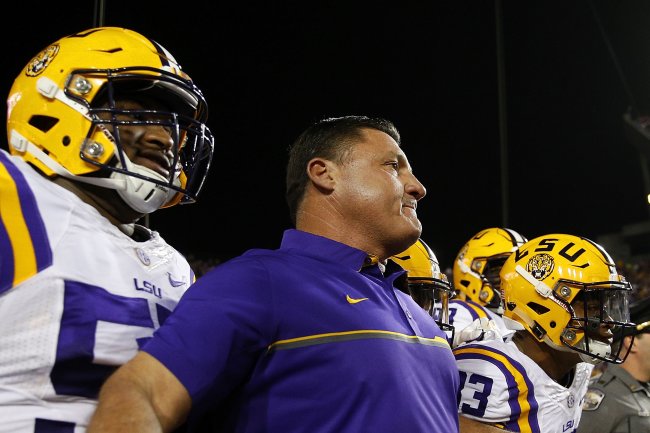 Jonathan Bachman/Getty Images
One example of a lesson learned is with the practice schedule.
Instead of running his players into the ground in practice, Orgeron lightened things up in his interim stints at USC and LSU where he went a combined 11-4 in 2013 and 2016, respectively.
"Be able to manage the football team and get done what you need to get done with energy, and then go have fun," Orgeron said on the SEC coaches teleconference three days after being named the interim head coach in September. "Instead of just grinding them and working them so hard where they say 'it's not worth it.' There's a fine line there."
Self-scouting is important in football, and that goes for the film room and in the mirror.
Orgeron's ability to self-scout and evolve with the game makes him attractive to LSU. After all, Les Miles' stubbornness and inability to adapt were the two primary reasons the he was fired after four games this year and created need to find a more flexible head coach—something Alleva stated in his letter to the fan base earlier this month.
If your criticism of the hire is that LSU ran off Miles—one of the most successful coaches in program history—with a largely unsuccessful assistant who nobody else wanted, change the way you think. Miles was the problem at LSU, and "Coach "Eaux" is the solution thanks to his passion, ability to adapt and willingness to do whatever it takes to make the program great.
"There will be some critics who say 'look at his record at Ole Miss,'" Alleva said on Saturday. "You know what, that was a long time ago. In this world, people learn more from their mistakes and failures than they do from their successes. Coach O realizes his strengths and realizes his weaknesses."
No, the offense didn't look great at times this year—specifically when it gained just 125 yards in a loss to Alabama and sputtered in the red zone three times at home against Florida. But it also topped the 500-yard mark four times in seven games essentially running an offense that made a few minor tweaks to Miles' stale, out-dated philosophy on the fly.
"You can't change the system in one week," he said in September. "The guys are doing the best that they can tweaking things that they think they can be better. Eventually we're going to get to the system that we want. You'll see a couple of things different, but we're going to keep the same terminology and system because that's what our young men know."
That was on the fly. Imagine what Orgeron—who's at a much bigger discount than the $6 million Herman was pushing for—can do when he has his actual staff in place.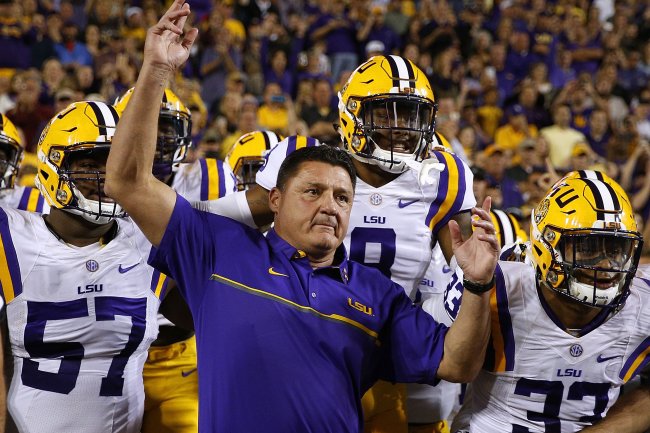 Jonathan Bachman/Getty Images
According to Ross Dellenger of The Advocate, Orgeron will push for Alabama offensive coordinator, longtime friend and his former boss at USC Lane Kiffin to run the Tiger offense. Kiffin, who is on the last year of a three-year deal, revolutionized Alabama's offense to become a multi-dimensional force that thrives with either pro-style or dual-threat quarterbacks, has won SEC titles in each of the last two seasons, won a national title last year and helped Derrick Henry become the third running back since the turn of the century to win the Heisman Trophy.
It would be quite a coup to hire the man who, outside of head coach Nick Saban, built Alabama into what it is today.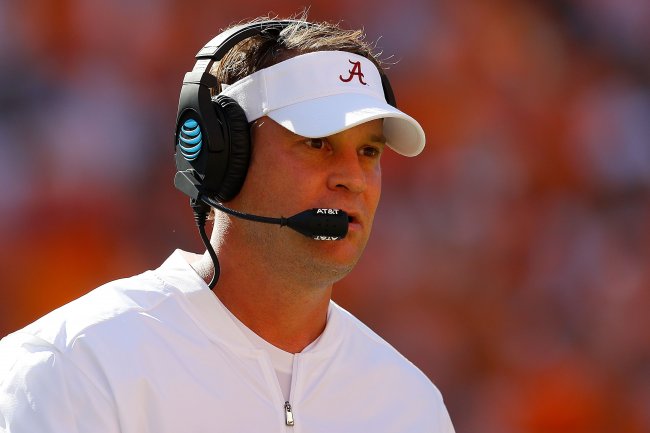 Kevin C. Cox/Getty Images
If Kiffin chooses to stay in Saban's shadow or finds a head coaching job, Orgeron could go a similar route and tab current Crimson Tide off-the-field analyst and former USC head coach Steve Sarkisian to run his offense.
Whoever it is, Orgeron gets what the direction of the program must be. That's the important part.
Dellenger also reported that Orgeron's plan for the program includes a hefty raise to current defensive coordinator Dave Aranda, whose unit allowed more than 21 points just once this season (on Thanksgiving's 54-39 win over Texas A&M). Herman could make a run at Aranda—who was his roommate at California Lutheran in the mid-90's.
Orgeron said on Saturday that he's confident in his ability to retain Aranda.
"He is the best coordinator in football, and we plan on him being with us," he said. "I spoke with him this morning, and we're happy that Dave is an LSU Tiger."
Will Ed Orgeron lead LSU to a national title?
Will Ed Orgeron lead LSU to a national title?

Yes

No
If Orgeron can pair this current defense with an offense that takes just a little bit of pressure off, that would make LSU and instant contender in the SEC West.
With Arden Key back at defensive end, a moniker of "DBU" set in stone, one more year of running back Derrius Guice and a new offensive scheme that should be more quarterback-friendly, those minor tweaks that worked so well down the stretch in 2016 are all Orgeron needs to make LSU a force in 2017.
He knows the pressure is there, and that pressure should lead to big things for the Tigers. It will lead to a stellar staff with the coaching staff that should be able to find and develop quarterback talent—two things that the previous staff lacked.
If he can't cut it, it will be obvious early and LSU can move on in a different direction.
LSU wasn't going to win a battle with Texas for Herman's services.
Sure, it could afford him. Any SEC team can offer a head coach north of $6 million. But that would limit the impact of the staff, athletics director Joe Alleva would constantly be concerned if he would jump for that bigger, better deal if another presented itself down the road.
Orgeron won't do that because this is it.
The man with the cajun accent who was born in Larose, Louisiana, played one season at LSU and finished his career at Northwestern State is Louisiana through and through.
He now leads Louisiana's football team.
Quotes obtained firsthand unless otherwise noted. Statistics courtesy of CFBStats.com unless otherwise noted.
Barrett Sallee is the lead SEC college football writer and national college football video analyst for Bleacher Report, as well as a host on Bleacher Report Radio on SiriusXM 83. Follow Barrett on Twitter @BarrettSallee.