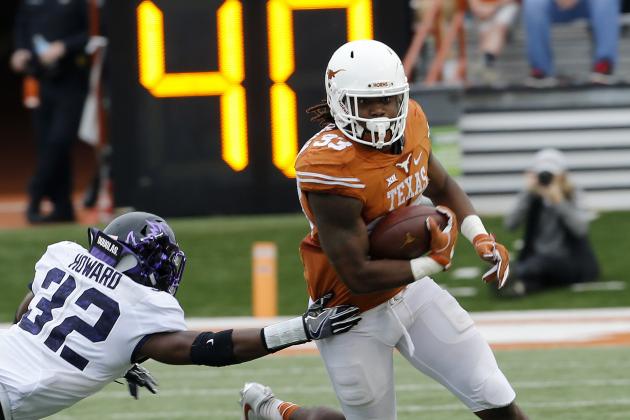 Chris Covatta/Getty Images
D'Onta Foreman, one of the top running backs in college football this season, declared for the NFL draft on Wednesday.
Thank you for everything, @Longhorn_FB!! #HookEm? pic.twitter.com/urPfzcUdQf

— D'Onta Foreman (@D33_foreman) November 30, 2016
Per ESPN CollegeFootball, Foreman has signed with an agent. The running back described his decision to go to the NFL as an opportunity to "strike while the iron is hot," per Kirk Bohls of the Austin American-Statesman.

Per Bohls, Foreman said he probably still would have declared for the NFL draft if Texas had brought Charlie Strong back as head coach.
The Longhorn Network listed Foreman's accomplishments as a Texas Longhorn and wished him well on his journey to the pros:
He gone. D'Onta Foreman will forego his senior year and enter the NFL Draft. #ThanksForTheRunpic.twitter.com/WX12tmBq3X

— Longhorn Network (@LonghornNetwork) November 30, 2016
The Texas running back was superb in 2016, rushing for 2,028 yards and 15 touchdowns and proving to be one of the few bright spots during a rough season for the 5-7 Longhorns.
Certainly, he has a chance to be a first-round pick in this year's NFL draft—even in a deep class that likely will include Leonard Fournette, Dalvin Cook and Christian McCaffrey.
In his mock draft on Nov. 18, Bleacher Report's Matt Miller had Foreman projected as the No. 31 pick. However, in Miller's mock draft on Nov. 30, Foreman had dropped out of his top 32 picks, suggesting the Texas running back is likely hovering around the end of the first round or the top of the second round.
Per ESPN.com's Max Olson, Foreman's current draft feedback projects him as a late first- or early second-round selection.
"He's big, strong, has breakaway speed and has underrated balance and body lean," Miller told Barrett Sallee of Bleacher Report. "Defenders literally bounce off his thighs when he gets hit. Of course the fumbles are an issue, but most come from trying to do too much after contact."
If you were looking for a pro comparison, Marshawn Lynch might be a good place to start.
Whether Foreman has Lynch's upside remains to be seen. Certainly, he appears to have Lynch's physicality and balance. And he's been an absolute dynamo for Texas this season.
"He's the MVP for Texas this season—and I say that with Connor Williams already being the best left tackle in CFB—and should be a Heisman top five," Miller told Sallee. "He's having a year on par with guys who are on a first-name-basis at Texas: Earl, Ricky [Williams] and Cedric [Benson]."
There was likely a practical aspect to declaring for the draft.
Wear and tear is always a concern for running backs, and Foreman would have been the centerpiece of Texas' offense again next season and would have received a huge number of touches. Returning to school would have come with the risk of suffering an injury that could have affected his draft stock in 2018 or even ended his playing career.
Foreman didn't have anything left to prove on a personal level after rushing for more than 2,000 yards this season. Starting his professional career made plenty of sense for the Texas standout.
You can follow Timothy Rapp on Twitter.