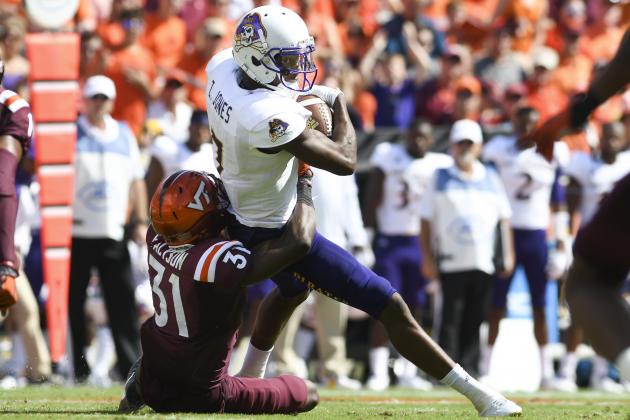 Michael Shroyer/Getty Images
The numbers were fixed in Zay Jones' head before the season even began, and those numbers were so overwhelming that even his wide receivers coach at East Carolina thought they were "crazy astronomical."
On a whiteboard in Phil McGeoghan's office over the summer, Jones transcribed the figures he had written in a note to himself: 147 catches, 1,500 yards, 10 touchdowns. Beyond that, Jones wanted to be an All-American, he wanted to win the Biletnikoff Award as the best wide receiver in the country, and he wanted to break his former teammate Justin Hardy's all-time FBS record for career receptions.
It's why he went with that peculiar number, 147, which only one receiver in NCAA history, Bowling Green's Freddie Barnes (155 in 2009), has ever eclipsed in a single season.
"I said, 'Wow,'" recalled McGeoghan, who played and coached in the NFL before coming to East Carolina with new head coach Scottie Montgomery before this season. "I told him, 'To get to those numbers, you're going to have to do everything right all year long and catch some breaks.'"
That wasn't a deterrent for Jones. He owes his career to an unyielding sense of self-belief, instilled at least in part by a strict father who played nearly a decade in the NFL.
Four years after arriving at East Carolina as a marginal 3-star recruit on Scout.com who couldn't muster a single FBS scholarship offer in his home state of Texas—not even a preferred walk-on spot—Jones will leave his alma mater as both one of the most highly regarded receivers in the country and one of the most respected athletes on campus. He has caught every break he needed to this season, along with virtually everything else thrown his way.
While his struggling East Carolina team—at 3-8 and losers of eight of its last nine games—limps into its season finale against Temple, Jones has quietly put up one of the most prolific seasons by a wide receiver in college football history.
Last week against Navy, he surpassed Hardy's record, and he has 151 catches for 1,685 yards heading into his final college game. With two more touchdowns against Temple, he'll hit 10 for the year.
Given that he has 48 more receptions than any other FBS receiver (and over 300 more yards than his closest competitor), he has an excellent chance to be named an All-American and win the Biletnikoff, for which he is one of three finalists.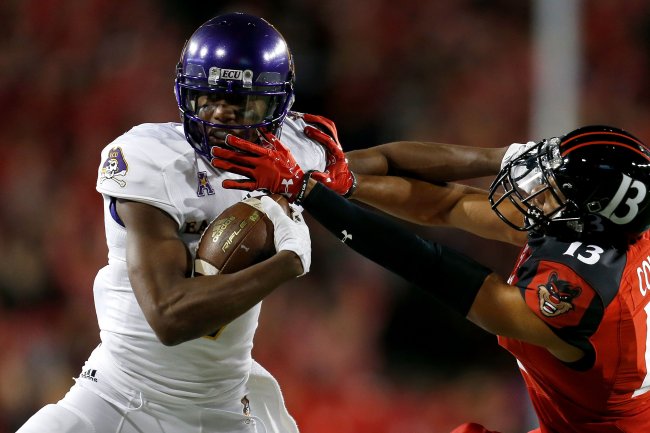 Kirk Irwin/Getty Images
The game-by-game numbers are breathtaking: Against SEC foe South Carolina, Jones had 22 catches for 190 yards. In three other games, he had 17 catches or more. Only once this year (an early-season loss to NC State) did he have fewer than 10 catches in a game.
McGeoghan said scouts have told him Jones possesses "undeniable NFL talent that projects to the next level." Bleacher Report's Matt Miller said he has the "best hands" of any receiver in next spring's NFL draft. Indeed, the hype is real, and much of it stems from how difficult Jones was to cover thanks to his versatility.
"I was a slot receiver my first three years, and I wouldn't say I perfected the slot, but I was damn good at it," Jones said. "But this year, I moved to the outside too, so this was my first year facing up against cornerbacks and not just linebackers and safeties. It's a different feel, going up against those fast-twitch guys."
"It was much more difficult for defensive coordinators to lock in on where he was going to be," McGeoghan said. "If you don't know where your target's going to be, it's harder to aim."
Jones himself has never shied away from aiming at targets—it's part of what got him to this level in the first place. His father, Robert, a former linebacker who was the NFC Rookie of the Year for the Dallas Cowboys in 1992 and won three Super Bowl rings, used to wake his kids up at 6:30 a.m. on weekdays and refused to let them sleep past 9 even on weekends.
These, he told Jones and his siblings, were the sacrifices they'd have to make both in football and in life. Sometimes, Robert would snap off the television and order them to go outside and rake leaves just because. They had to be home by 10 every night. To this day, Zay has never owned a car because his father insisted he had to earn the money to pay for it first.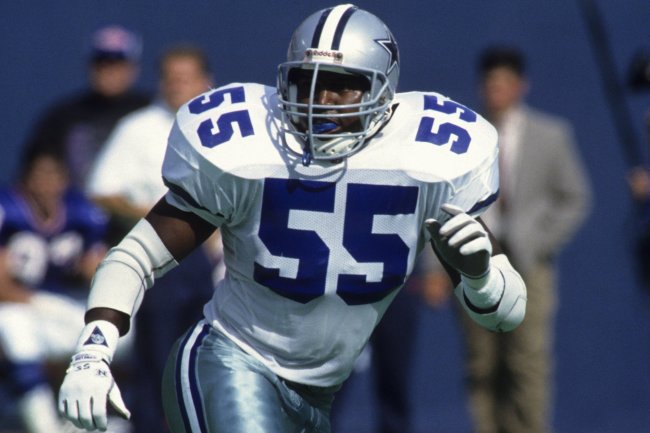 Tony Tomsic/Getty Images
Back in high school, Zay would visit college campuses with Robert and his older brother Cayleb, a Scout 5-star receiver recruit who wound up playing at Texas and Arizona. Zay would send those same coaches—Mack Brown, Kevin Sumlin, Gary Patterson—his own recruiting tape, and they almost uniformly told him the same thing: You've got talent, but you're not quite big enough or strong enough or fast enough.
He tried smaller schools such as UT-San Antonio and Houston. Nothing. All he wanted was to stay near his hometown of Austin to play football, and he couldn't do it. So he started buying T-shirts of every Texas school that spurned him, and he would wear them in the weight room and stare at their logos in the mirror and imagine what it would be like to prove them wrong.
"I took it personally back then," Jones said. "I'm older now, and I realize it wasn't about the school or the location of it. But I felt like I was really overlooked by those guys."
Eventually, Ruffin McNeill, then the coach at Robert Jones' alma mater, East Carolina, extended Jones an offer, one that paid off after Zay went through a growth spurt his senior year of high school.
"It wouldn't surprise me if he somehow willed himself to grow those three inches his senior year," McGeoghan said. "I can just see this kid sitting in his bed, saying, 'I want to grow every day.'"
Jones studied under Hardy, who's now with the Atlanta Falcons and who came back to Greenville last week to watch Jones break his record.
These days, McGeoghan likens Jones to a pair of NFL receivers he worked with while coaching for the Miami Dolphins—two-time Pro Bowler Greg Jennings and Brandon Gibson, who caught 51 passes with the Rams in 2012 before injuries derailed his career. They're both reliable and consistent, McGeoghan says, and they're both detailed route-runners who were willing to learn.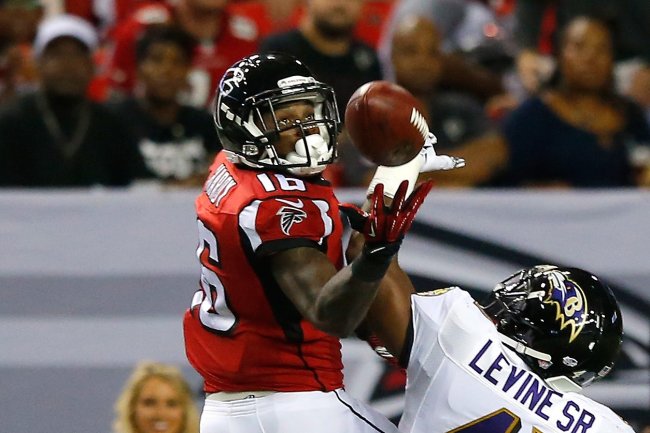 Kevin C. Cox/Getty Images
"I'm sure [NFL scouts] are going to want to see him run that 4.4 [40-yard dash] and maybe break more tackles," McGeoghan said. "But the thing with this guy is if you tell him he needs to do something, he'll do it."
At every practice this season, Jones says, he would ask himself if the rep he'd just run was up to an All-American level. But that work ethic went beyond football. His 3.56 GPA and his community involvement led him to be one of 10 finalists for the Senior Class Award, an NCAA honor that goes to the top senior athletes in the country.
He's bonded with patients at local hospitals (including, he says, a girl who also happens to be named Zay), and he's learned the first names of the custodians he comes across on campus.
According to McGeoghan, Jones also regularly meets with administrators on campus to discuss "big-boy issues," particularly about the racial climate on campus and across the country. A few weeks ago, in the midst of the madness of the 2016 election, he tweeted, only half-jokingly, "I might run for president."
"Why can't I run for president?" Jones said. "This election has made me interested in how everything works."
"He told me he wants to be president, and I thought, 'That's good because then as a coach I can really double-down on the morality stuff, telling him to stay out of trouble,'" McGeoghan said. "But I'd vote for him, and I imagine a lot of other people would too."
Michael Weinreb is a writer based in San Francisco and the author of Season of Saturdays: A History of College Football in 14 Games. You can find him on Twitter: @michaelweinreb.