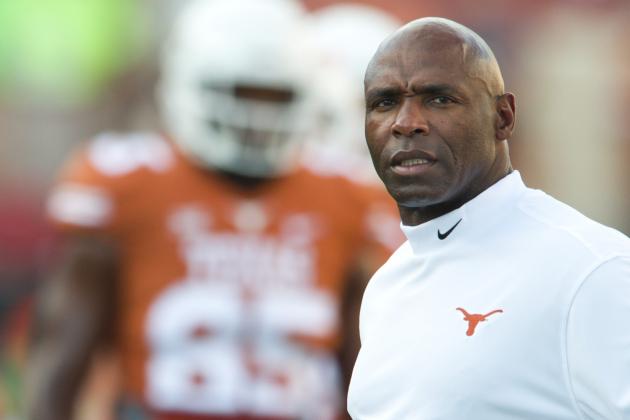 Cooper Neill/Getty Images
At his introductory press conference back in January 2014, wearing an apprehensive smile and a burnt orange tie, Charlie Strong eased his way into his Texas vision.
He took his time. Before he could sell the room on the future, he needed to say farewell.
That's how men of character do things. Having left Louisville for an opportunity he couldn't pass up, Strong went through all the good that took place during his tenure at his old job: graduation rates, the way the city rallied around the program and, of course, football success.
In saying his final goodbye—and shortly before he turned his attention to this exhilarating new challenge—Strong delivered one undeniable reality about his former situation.
"Whenever you leave a program," Strong told reporters, "you want to leave it in better condition than it was when you got there."
Such was the case at Louisville, which has since sent a multitude of players to the NFL and become a mighty obstacle in the ACC after thriving in the Big East. And such will be the case in Austin, when a program with Texas-sized expectations returns to its same dominant form.
Strong will not be there to see his vision through. After three seasons and an overall record of 16-21, Strong was fired Saturday. The school made it official in a press release, which included a statement from Texas athletic director Mike Perrin:
Coach Strong represented The University of Texas with class and dignity, and he demanded our student-athletes do the same by adhering to his system of core values. However, after thorough evaluation, the body of work over three seasons has not shown the improvement we were hoping for.
The decision had been considered plenty over the past calendar year. Some would argue such doubts crept into the equation far earlier than that.
The deathblow, however, was unquestionably Texas' 24-21 overtime loss to Kansas in Week 12—a program it had not fallen to since 1938. At Texas, you don't lose to Kansas, no matter the circumstances or the status of a rebuild. This can never happen. When it does, everything changes.
Even a convincing victory against the Jayhawks might not have altered the outcome. The loss merely expedited the inevitability of it all, making a change more palatable to those who were still hoping for one more year of Strong.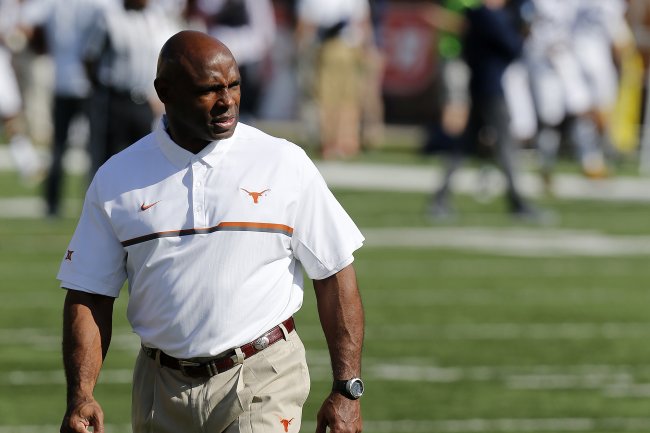 Chris Covatta/Getty Images
This loss was parlayed with the Longhorns' lifeless 31-9 home defeat to TCU in the team's finale on Friday. With reports and speculation of Strong's removal circulating throughout the week, this was the final piece if such a piece was necessary to prompt the decision.
Now, once again, Texas appears to be back where it was three years ago when it parted with Mack Brown. When you peel back the wins and losses and angst and look specifically at what Strong accomplished, though, it becomes apparent that the Longhorns are far better positioned than they were after Brown left.
While complimentary of what Brown left him, as men with character often are, Strong inherited disarray.
The roster had aged rapidly and was filled with holes. Struggles with recruiting and development demanded something more than adding a layer on top of a once-promising foundation.
So instead of implementing a quick fix, Strong tore the whole thing down. Right to the screws.
Between his arrival and the end of September 2014, Strong dismissed nine players from the program. To implement his vision, he felt such a purge was necessary to ensure the people within matched what he felt was necessary.
Texas' depth took an immediate, considerable blow. Out of necessity, young players received an opportunity to shine earlier than they were ready for. This wasn't merely about building for 2015, 2016 and beyond. There weren't many other options. Strong told reporters at the time:
We will continue to develop young men. We will continue to ask them to follow our core values, which all of them have been brought up on. They understand what the core values are. When you are asked to do something, then you're part of a team. When you don't [follow rules], you affect the whole team and you affect the program.
Along the way, there were breakthroughs—moments when this master plan seemed to be coming together.
There was the string of victories over Texas Tech, West Virginia and Oklahoma State in November 2014, which felt like the first of many long stretches.
There was the stunning upset of Oklahoma last fall, the Sooners' lone regular-season loss. Wearing his gold trophy hat, Strong's overpowering smile lit up the Cotton Bowl as he bounced around in celebration. For at least a moment, there was true happiness.
Then there was the thrilling double-overtime victory over Notre Dame to begin this season, which looked like a coming of age rather than a season highlight. Ultimately, that result delivered false hope for the weeks and months to come.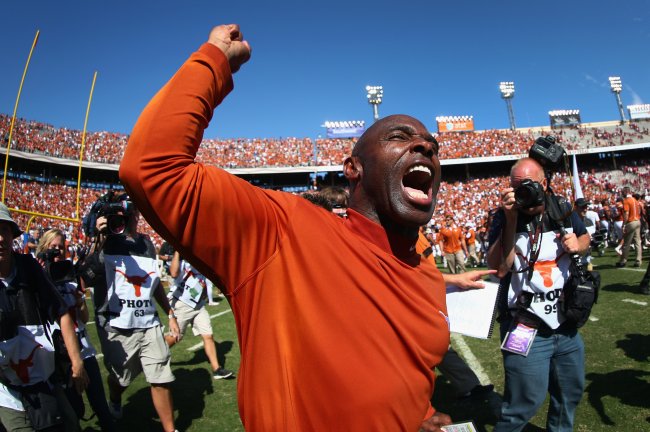 Tom Pennington/Getty Images
In the midst of these up-and-down box scores, the carousel of assistant coaching changes and the long line of unconvinced boosters, Strong sold others on his vision.
In dire need of talent, Texas recruited. Even with constant uncertainty circling, an overhaul took place.
With only a month to operate, Strong delivered the nation's No. 15 recruiting class in 2014. This included 3-star running back D'Onta Foreman, who just broke Earl Campbell's mark with his 12th consecutive 100-yard rushing performance.
In 2015, he landed the No. 7 recruiting class—headlined by 5-star linebacker Malik Jefferson, who became the fixture of the Texas rebuild. This year, with Strong's status even more unsettled, the Longhorns became the most popular destination on signing day. They closed with the nation's No. 3 class.
Included in this latest batch of additions was Shane Buechele, the promising and now-seasoned young quarterback who will now be gifted to someone else. Along with Buechele, this new coach, whoever that might be, will take over a roster rife with talent in many areas. All told, Strong added more than 40 players rated as 4-star prospects or higher.
The Longhorns have youth waiting to be developed. They will win soon—perhaps as soon as next year.
"The cake has been baked," Strong told reporters when asked about the football program following the loss to TCU. "All you have to do is put the icing on it and slice it."
There is a great deal of truth to this, even with so much uncertainty. There will be no need to tear it all down. Not anymore. The hardest part of a tremendous rebuild is over.
Strong did what had to be done at some point. He blew the whole thing up and started from scratch, knowing how unpopular such lean years would be received in a place hungry to win right away again.
And yes, at some point, he had to win bigger than he did. The lack of tangible successes to grasp onto rather than hope for cannot merely be glossed over. It had to be better than it was, even if it was building toward something more.
For as much good as has taken place—for all of the positive seeds that were planted and will blossom in time—the relationship between coach and school reached a level of toxicity that stood in the way of all that was being accomplished.
That does not mean the past three years were for nothing. There is no longer a need or pressure to start over. Quite the opposite, in fact. While the results were inadequate, this period should age quite well with time. Someone now needs to see it through and ice the cake.
In many ways, such will serve as Strong's complicated legacy with the program. Not the unacceptable defeats or his inability to turn the corner. Not the devastating loss to Kansas or the lackluster finale against TCU. Not everything he was unable to accomplish in his time in Austin.
Instead, his legacy will be his willingness to sacrifice himself for the good of a program's future—knowing full well that he might not have the luxury to see it through.
Such luxury will benefit the program moving forward. It will help ignite the next chapter of Texas football, something Strong will always be linked to in a strange way. It will give the man tasked with leading this program and his staff a foundation to build on.
The new coach will be thankful that, true to his word, Strong left the program in far better condition than when he first arrived.
Recruiting information courtesy of Scout.