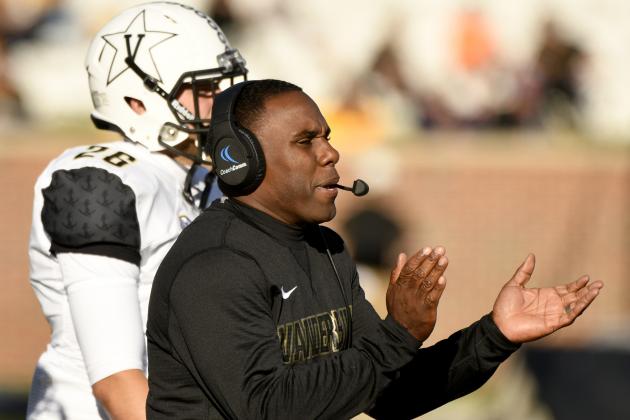 Ed Zurga/Getty Images
The Vanderbilt Commodores have been a work in progress ever since Derek Mason was hired as the team's head coach in Jan. 2014, but a 6-6 regular season punctuated by a couple of wins over SEC foes reportedly has the third-year boss primed for a raise.
Continue for updates.
---
Latest on Mason's Negotiations With Vanderbilt
Wednesday, Nov. 30
According to ESPN.com's Adam Rittenberg, the two sides "have started discussions about a revised contract that would include a raise and more years."
The Commodores started the season in inauspicious fashion after they lost four of their first six games, but back-to-back wins over the Georgia Bulldogs and Tennessee State Tigers propelled them back to 4-4 on the year.
And while a pair of losses to the Auburn Tigers and Missouri Tigers sunk Vanderbilt back below .500, the Commodores rebounded by closing out their regular season with a 38-17 win over the Ole Miss Rebels and 45-34 victory over the then-ranked Tennessee Volunteers.
Although the Commodores had already clinched a bowl berth prior to the Tennessee game by virtue of the team's Academic Progress Rate, Mason told reporters he was thrilled that his squad earned the bid with a sixth win.
"That's the way we wanted it," Mason said, per the Associated Press' Teresa M. Walker. "We wanted a victory. At the end of the day, we didn't want to sneak in the back door. We wanted to kick in the door and walk through the front door."
And considering Vandy won a combined seven games during Mason's first two years at the helm, it's logical that a six-win campaign featuring quality wins over conference competition would earn him an extended stay as the program's head coach.