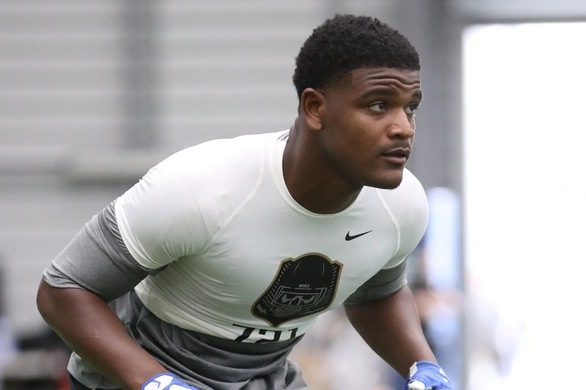 Credit: Scout
Alabama, Auburn, Florida, Georgia and Tennessee are the final five schools in the running for 5-star athlete Deangelo Gibbs.
The finish line is nearing in the recruitment of 5-star athlete Deangelo Gibbs.
The 6'2″, 204-pounder from Grayson High School in Georgia announced his five finalists and set a commit date of Jan. 1 via his Twitter account.
Alabama, Auburn, Florida, Georgia and Tennessee are the schools who are left remaining in the chase for the nation's No. 2 athlete and No. 13 player overall in the 2017 class.
Gibbs, who could play receiver or at multiple positions in the secondary at the next level, is set to enroll early at the school of his choice.
Which SEC program holds the edge heading into the final weeks of his recruitment?
Let's take a look at the odds on where Gibbs lands.
1.UGA
2.Alabama
3.Tennessee
4.Auburn
5.Florida
Thanks to everyone who recruited me but it's now narrowed down. Commitment 1/1/17 #Hercules

— Deangelo Gibbs (@TheHercules8) December 12, 2016
12-1: Auburn and Florida
The most recent official visit Gibbs took was to Auburn on the weekend of Dec. 3.
As Chad Simmons of Scout detailed, the visit to see the Tigers was taken in favor of a previously planned trip to Oklahoma.
Gibbs never officially visited the Gators, but he has visited Gainesville unofficially.
However, while both the Tigers and the Gators are officially in the mix, they seem to have the least momentum among his group of finalists.
Check out my highlight – https://t.co/AhmKROiX4q it's not over?

— Deangelo Gibbs (@TheHercules8) November 22, 2016
8-1: Tennessee
Tennessee is another program that has been heavily courting Gibbs for years.
The Volunteers have connections to Gibbs since his uncle is former Vols legend Dale Carter.
Also, the Vols signed his cousin, safety Nigel Warrior, in last year's class.
Gibbs has taken numerous trips to Knoxville over the years and is very familiar with the campus and head coach Butch Jones and his staff.
Still, given that the Vols were unable to secure an official visit, they appear to be fading with Gibbs down the stretch.
6-1: Alabama
One school that appears to making a serious push for Gibbs is Alabama.
In fact, Alabama head coach Nick Saban made news when he showed up on Grayson's campus last week in a helicopter to check in on Gibbs, according to Jeff Sentell of DawgNation.
Gibbs took his official to Alabama in October, and as BamaOnline detailed, the Crimson Tide have since put the full-court on Gibbs to emerge as a late threat to steal Gibbs out of the Peach State.
Saban has won his share of recruiting battles that have played out in similar fashion over the years—which means that they are never to be discounted in a situation like this one.
5-1: Georgia
The longtime favorite to land Gibbs has been in-state power Georgia.
After helping Grayson capture a state title on Saturday evening, Gibbs headed to Athens on Sunday on the final day before the dead period began, as noted by Rusty Mansell of Dawgs247.
As Simmons reported, Gibbs has been on Georgia's campus nearly 20 times this year alone. Still, it was a good sign that head coach Kirby Smart and his staff got the last visit from Gibbs before the dead period kicked in.
While Gibbs' recruitment still has a few weeks left to play out, the Bulldogs appear to be the squad with the best chance to land the electric Gibbs as things currently stand.
Sanjay Kirpalani is a National Recruiting Analyst for Bleacher Report. Unless otherwise noted, all quotes obtained firsthand and all recruiting information courtesy of Scout.com.