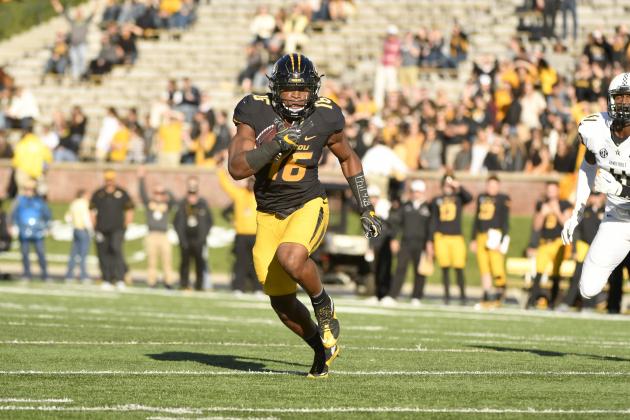 Ed Zurga/Getty Images
University of Missouri police arrested Tigers running back Damarea Crockett on Sunday morning, according to Mark Kim and Danielle Katz of KOMU 8 in Columbia, Missouri.
Crockett allegedly possessed 35 grams or less of marijuana. Kim shared a copy of his mugshot:
BREAKING: #Mizzou running back Damarea Crockett was arrested yesterday morning for possession of 35 grams or less of marijuana. pic.twitter.com/vdVN4fVsd1

— Mark Kim (@MarkJKim_) November 21, 2016
"We are aware of the incident and are handling it internally," a school spokesperson said, per Kim and Katz. Missouri head coach Barry Odom later told reporters Crockett won't play in Friday's game against Arkansas.
Crockett is Missouri's leading rusher with 1,062 yards and 10 touchdowns. According to the team's Twitter account, he set the freshman record for rushing yards, besting Brad Smith's 1,029 yards in 2002.
Crockett is coming off a massive performance in Missouri's 63-37 defeat to the Tennessee Volunteers. He carried the ball 24 times for 225 yards, the eighth-most in a single game by a Tigers player.
With a 3-8 record, Missouri has no chance of making a bowl game, so the team will end its 2016 season against the Razorbacks.