Aug 31, 2017 at 5:00p ET
Cristiano Ronaldo gives Portugal a very early lead in spectacular fashion.
Show Transcript
Hide Transcript
– There's the chance for [INAUDIBLE] to make his way forward. Ronaldo's [INAUDIBLE] got all the time in the world to pick out one of three in the middle. And Ronaldo scores just two minutes in. His first meaningful touch of the ball, and there's international goal number 76 inevitably. Marking his 100th competitive international with the goal. And that could be the first of many tonight.
– Kicked on the halfway line. 30 seconds previous, he gets himself up into the box, sets Portugal on their way. Too easy down the right hand side. A team that are playing five, four, one. [INAUDIBLE] managed to work a two V one in the wide areas. Crosses, these are the ones to the far post. Ronaldo. That's great for skill isn't it? Volleying past the goal keeper. Great start to the game for Portugal.
He said he'd be hunting for goals. He's off and running early.
More Soccer Videos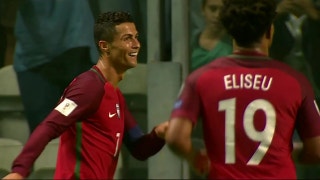 Watch Cristiano Ronaldo score a dazzling hat trick for Portugal | World Cup Qualifying Highlights
15 mins ago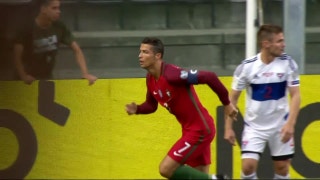 Watch Ronaldo's hat trick to pass Pele on the all-time international goal scoring list
2 hours ago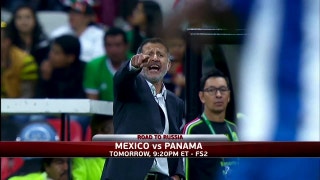 Breaking down Mexico's quest to secure a World Cup spot against Panama
3 hours ago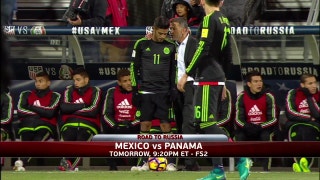 Mexico can secure a World Cup spot against Panama
4 hours ago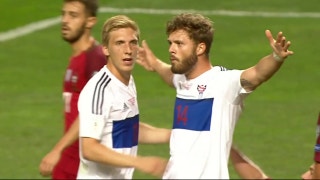 Baldvinsson scores for Faroe Islands vs. Portugal | 2017 UEFA World Cup Qualifying Highlights
5 hours ago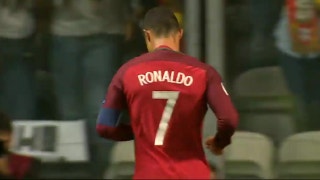 Cristiano Ronaldo scores hat trick in Portugal win over Faroe Islands
7 hours ago
More Soccer Videos
»