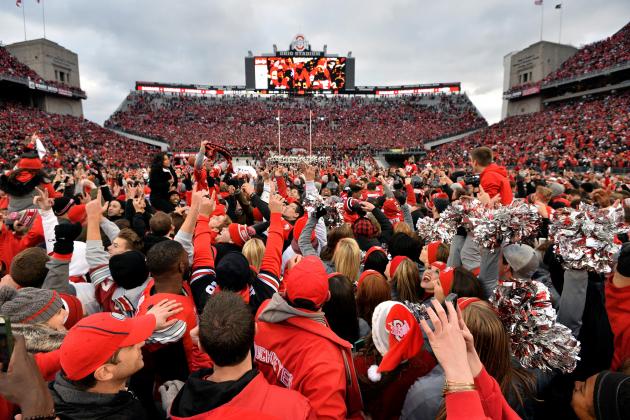 Jamie Sabau/Getty Images
It began with tears. Real, homegrown tears. The kind of tears that accumulate over 55 years of life and then pour out all at once.
Ed Orgeron stood smack-dab in the center of the biggest college football Saturday of the season, 967 miles from one of the greatest rivalries on Earth, free and clear of that dreaded interim tag. He wore a suit for the occasion, which looked odd on a man who is rarely outfitted for an event this significant.
As Ohio State-Michigan hit the second quarter, with booming punts being exchanged one after the next, Orgeron met the media for the first time since being named LSU's full-time head coach.
The weight of the moment was out in plain sight. Then, while thanking his mother and father, Orgeron couldn't speak. That unmistakable voice—a concoction of concrete and gumbo and football—fell silent. His eyes welled up. It was almost too real to be real.
"In Louisiana, everyone should have a hope and dream," Orgeron said. "I know Louisiana is happy today."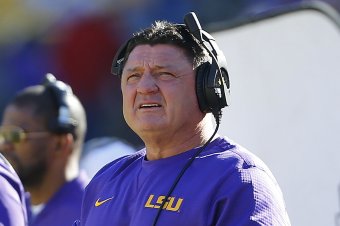 Jonathan Bachman/Getty Images
It was right then we should have known this particular Saturday would be different. And it was. Not a massive College Football Playoff shake-up. Not a collection of earth-shifting results.
But rather a full catalog of the sport: pure rivalry hatred, massive coaching decisions at famished programs, scoreboard-shattering scores, unforeseen Heisman intrigue and a splash of playoff clarity.
By the time Orgeron left the podium, off to celebrate deep into the Louisiana night, the full focus shifted to Columbus, Ohio, for those who weren't already there. A game with such grand anticipation somehow managed to match the hype that so often is not reached.
Ohio State's 30-27 double-overtime victory over Michigan was not a brilliantly played game by either team, which is precisely why it will be remembered for the masterpiece it was.
For a while, it was a game of punts. Then a game of turnovers. Then the offenses made an appearance. And finally, controversy wiggled its way into the contest at a key moment, which will be debated for years to come.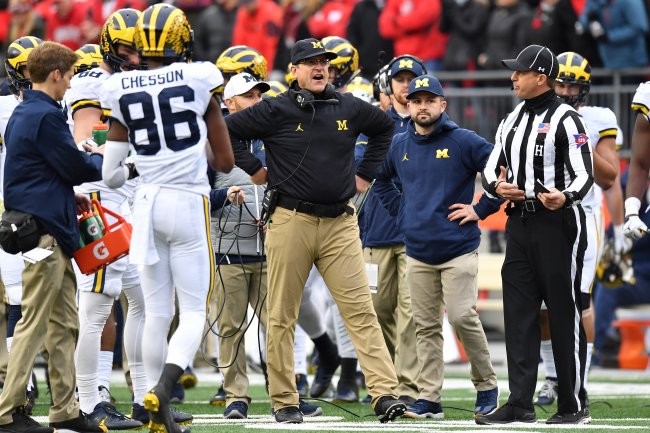 Jamie Sabau/Getty Images
In the second overtime, Buckeyes quarterback J.T. Barrett appeared to be stopped at (or to some, just short of) the first-down marker on fourth down. Michigan, having kicked a field goal, would have won had Barrett fallen short of the line.
The officials ruled in Ohio State's favor and gave the Buckeyes the first down; then Curtis Samuel scored the game-winning touchdown a play later.
"I thought there were some outrageous calls, including the one that would have ended the game," Michigan head coach Jim Harbaugh told reporters after the loss. "I was bitterly disappointed with the officiating."
Ohio State, sidelined for the Big Ten Championship Game, will spend next weekend on the couch, hoping the CFP selection committee has seen enough to warrant a golden ticket to the postseason. It provided one final spectacular impression, regardless of what happens next.
Such was not the case for Louisville quarterback Lamar Jackson, the colossal Heisman front-runner throughout the season. Early on against Kentucky, Jackson seemed on the verge of a runaway win. He even struck a Heisman pose after an early score.
Lamar Jackson hits the Heisman pose pic.twitter.com/RgKYM4yQEJ

— The Cauldron (ICYMI) (@CauldronICYMI) November 26, 2016
But then he turned the ball over four times. Perhaps more significantly, Louisville lost to rival Kentucky 41-38, the second consecutive loss for the Cardinals to close out the year. The last Heisman winner to lose his last two games was Notre Dame wideout Tim Brown in 1987.
While the Heisman remains Jackson's to lose, this is no longer a formality. A race that was over so many weeks ago is suddenly a conversation at the bare minimum.
Jackson was not the only player to strike a Heisman pose Saturday. Adoree' Jackson, USC's do-everything man, did the same after one of three scores. It wasn't just three touchdowns, though. Jackson returned a punt for a score, returned a kickoff for a TD and caught a touchdown pass. All three were over 50 yards.
Altogether, he touched the ball nine times for a ridiculous 291 yards. One of the nation's top cornerbacks on one of the nation's hottest teams, Jackson will give voters someone to consider.
But college football wasn't done. As the Heisman picture blurred and Alabama and Auburn kicked off in the Iron Bowl, another bombshell hit. This one was far, far away from what was taking place in a full stadium.
After negotiating deep into the night, Texas made its agreement with Tom Herman official less than eight hours after it fired Charlie Strong.
In a university press release spanning more than 2,500 words, with the regular season already a thing of the past, Texas president Gregory Fenves took a victory lap, saying:
In Tom Herman, Longhorn football is getting a proven competitor, terrific recruiter, and committed mentor of student-athletes who has shown his ability to succeed at all levels. Tom was the hottest young head coach in the country the past two seasons, and I am thrilled we are able to get him back to UT to lead Texas football.
Like that, a prized vacancy closed. No search committee. No further interviews. The future of one of the nation's most resource-rich programs was decided like that—right about the time Alabama pulled away from Auburn in a 30-12 win.
Two of the nation's most coveted jobs, in two talent-rich states, were filled without any drama. And it happened before championship weekend.
The spectacle continued, this time back on the field of play. It emerged in a game most didn't know was taking place. Out of sight, Pittsburgh and Syracuse decided it was time to break the scoreboard.
They tallied 137 points in a regulation football game, which is an FBS record.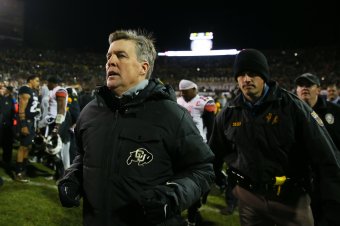 Justin Edmonds/Getty Images
Pittsburgh won 76-61 in a contest with a final score that isn't easy to type and probably even harder to read. The game included 1,312 yards of offense and 58 first downs. In a day and age when monumental scoring is almost anticipated, this was historic.
As was Colorado's win over Utah, which secured a visit to the Pac-12 Championship Game and a Pac-12 South title for the Buffaloes. After so many difficult years and losses, Colorado climbed a mountain in one calendar year.
This game was a showcase for other teams still searching for a program that has soul: Give the right coach enough time and he can transform you. Mike MacIntyre, who will soon enjoy a sizable bump in his checking account, showcased once again how far this team has traveled.
And yes, even those rivalry games without incredible playoff stakes did not go quietly. The day's original itinerary was not abandoned.
Oregon State rallied in the fourth quarter to beat Oregon 34-24—perhaps tossing the Ducks into a coaching quandary of their own.
Vanderbilt—yes, Vanderbilt—rallied to beat Tennessee 45-34 to secure its sixth win of the year. Head coach Derek Mason, knowing how much this upset meant, spent the final moments of the game dancing on the Commodore sideline.
Mason is a happy man. pic.twitter.com/DAR8kkPhFo

— Mark Ennis (@MarkEnnis) November 27, 2016
It was a full day. A different day. This was not simply a showcase of rivals playing one another for pride or a conference championship or even a playoff spot.
This was college football's full range. From Alabama's continued, assumed dominance to the announcement of two new coaches, this was a continuation for some and a new beginning for others.
It was the day that press releases and on-field results shared a crowded stage. The day when two teams posted a basketball score and one of the sport's brightest stars shined. It was the day, after all these days, the Heisman race tightened. It was the day Colorado fans will soak up for as long as they can.
In between, there was a press conference, controversy, jubilation and crushing disappointment. Just another day at the greatest office in the world.
It began with a man and his tears. It ended with man who felt like dancing.