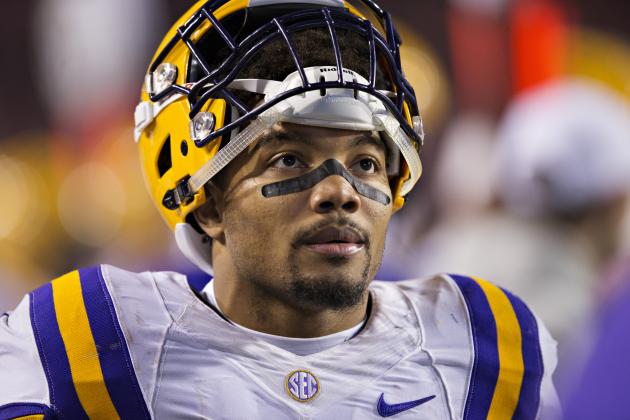 Wesley Hitt/Getty Images
Week 13 of the 2016 college football season helped determine conference championship matchups, but many of the top performers from the slate for Bleacher Report's All-Week team came from other locations.
Though a handful of players in those high-profile games made the cut, high-scoring shootouts and blowouts provided most of the standouts highlighted here.
All players from games involving at least one FBS program were considered. Statistical output, competition level, clutch moments and efficiency also factored into the decisions, but whether a player's team won or lost did not affect the choices.
Please add your favorite individual performer from Week 13 in the comments section.
First Team: Patrick Mahomes II, Texas Tech
Patrick Mahomes II looked at home in an NFL stadium. Soon, he might be taking a similar field on a regular basis.
The gunslinger led Texas Tech to a 54-35 victory over Baylor at AT&T Stadium in Arlington, Texas, throwing for 586 yards and six touchdowns. Mahomes tossed a pair of 80-yard scores in the first half.
Since the Red Raiders' season is over, Mahomes' focus will turn to deciding whether to declare for the 2017 draft.
Second Team: Zack Mahoney, Syracuse
Mahomes knows the feeling, but it's not often a team breaks 50 and loses. For Zack Mahoney and Syracuse, 61 wasn't enough to topple Pitt's 76. Nevertheless, the backup quarterback amassed 489 total yards, tossing five touchdowns and running for two more.
First Team: Derrius Guice, LSU
Leonard Fournette's absence didn't affect LSU. That's not an indictment on him; instead, it's a testament to Derrius Guice.
"This is a game of inches," Guice said after the Tigers' 54-39 victory at Texas A&M, according to James Bewers of The Advocate. "If you don't wrap up and secure your tackle, I'm going to get an extra inch."
Except Guice picked up several thousand inches. The sophomore gashed the Aggies for a school-record 285 yards and four scores.
First Team: Aaron Jones, UTEP
An under-the-radar Group of Five star, Aaron Jones put together a dominant game in his final outing of 2016.
The redshirt junior scampered for 301 yards, setting a single-season program record with 1,773 for the year. Jones also scored four times, lifting his total to 17—the third-highest mark at UTEP.
"He popped that first one, [and] you know Aaron's hot," UTEP head coach Sean Kugler said, per Brett Vito of the Denton Record-Chronicle. "He's in glide mode. He's unbelievable, really."
Second Team: James Butler, Nevada
The Fremont Cannon is headed back to Reno. James Butler propelled Nevada to a 45-10 beatdown of UNLV, registering 196 rushing yards and three scores while catching five passes for 48 yards and another trip to the end zone.
Second Team: Devin Singletary, Florida Atlantic
Florida Atlantic couldn't quite keep up with Middle Tennessee, but Devin Singletary helped the Owls stay within striking distance. He collected 235 yards and three touchdowns on the ground, adding five receptions for 60 yards in a 77-56 loss.
Brett Carlsen/Getty Images
First Team: Amba Etta-Tawo, Syracuse
Zack Mahoney's favorite target spent an afternoon in the end zone.
Amba Etta-Tawo obliterated Pitt's secondary for 13 receptions, 178 yards and five touchdowns during Syracuse's loss. He scored from five, seven, 12, 13 and 49 yards out.
The Orange ended their season at 4-8, and Etta-Tawo shattered school records with 94 catches and 1,482 yards.
First Team: Richie James, Middle Tennessee
Richie James is one of the best receivers outside of the national spotlight, but he did a whole lot of everything else Saturday.
A broken collarbone ended quarterback Brent Stockstill's season, and backup John Urzua left Middle Tennessee's game against Florida Atlantic in the first quarter. So, the Blue Raiders played the rest of the outing with James and others taking snaps.
James rushed for 203 yards, grabbed four receptions for 120 yards, completed 5-of-6 passes for 76 yards and accounted for four touchdowns in a ridiculous 77-56 victory.
Second Team: Anthony Miller, Memphis
Coaching rumors surrounded Tom Herman and Houston, but it's not Memphis' job to apologize. Anthony Miller reeled in 15 passes for 169 yards and two trips to the end zone, both of which were go-ahead scores. The second touchdown put the Tigers up 48-44 with 19 seconds remaining.
Second Team: Linell Bonner, Houston
On the other side of the shootout, Linell Bonner also nabbed a go-ahead touchdown. His team didn't win, but he still accumulated massive numbers. Bonner racked up a career-best 17 catches for 235 yards, the nation's highest marks in Week 13.
Rey Del Rio/Getty Images
First Team: Michael Roberts, Toledo
The national leader in touchdowns among tight ends, Michael Roberts padded his lead during a 55-35 loss at Western Michigan.
He snagged four passes for 61 yards and three trips to the end zone. That gave Roberts 15 for the season—both a school record and seven more than any other tight end in the Football Bowl Subdivision.
Second Team: Maaseiah Francis, South Alabama
In South Alabama's 38-31 loss against Idaho, Maaseiah Francis had a breakout game. The sophomore entered the contest with 10 career catches for 110 yards. Francis racked up seven receptions, 146 yards and two touchdowns on Saturday alone.
First Team: Middle Tennessee
Urzua only played two drives before exiting. In other words, Middle Tennessee scored 70 of its 77 points without a quarterback.
In addition to James' massive day, I'Tavius Mathers totaled 284 passing, rushing and receiving yards with three touchdowns. Dennis Andrews added 50 yards and three scores on the ground.
Overall, the Blue Raiders amassed 495 yards and nine rushing touchdowns thanks to a superb effort up front.
Second Team: New Mexico
Wyoming had already clinched a trip to the Mountain West Championship Game, but that might've been the motivation New Mexico needed to demolish the Pokes. Teriyon Gipson (217 yards), Lamar Jordan (176) and Richard McQuarley (121) combined for six rushing scores, and Jordan tossed one touchdown in a 56-35 win.
Brian Blanco/Getty Images
First Team: Harold Landry, Boston College
During the offseason, Boston College lost elite coordinator Don Brown to Michigan. Good thing Harold Landry was still around.
The edge-rusher played an integral role in the Eagles surging to a sixth win and bowl eligibility, tallying 4.5 tackles for loss with three sacks during a 17-14 triumph over Wake Forest.
Landry boosted his season sack total to 15, which is tied with Florida State's DeMarcus Walker for the national lead.
First Team: Taco Charlton, Michigan
Taco Charlton made himself some money Saturday afternoon. That doesn't seem as valuable right now after a gut-wrenching 30-27 loss at Ohio State, but his draft stock soared.
The 6'6″, 272-pound senior logged nine tackles with three stops behind the line of scrimmage, including 2.5 sacks. Charlton also pressured J.T. Barrett into a couple of other sacks, too.
Second Team: Marcell Frazier, Missouri
Few players had a better stretch run than Marcell Frazier, who notched 6.5 sacks over his final three games. Three of those came in Week 13 against Arkansas, and Frazier's final sack sealed Missouri's 28-24 comeback victory.
Second Team: Oshane Ximines, Old Dominion
Old Dominion's Oshane Ximines, Louisiana Tech's Jaylon Ferguson and Western Michigan's Keion Adams had nearly identical stat lines. Each guy posted at least two sacks, but Ximines recorded one more stop in the backfield than the other players did. He ended the 42-28 triumph over Florida Atlantic with six tackles (3.5 for loss) and two sacks.
Michael Hickey/Getty Images
First Team: Jake Replogle, Purdue
Jake Replogle's college career is over, but he provided one last superb performance for the struggling program.
The senior notched seven solo tackles, including three stops in the backfield. Replogle chipped in one sack and one quarterback hurry while Purdue allowed just 2.8 yards per carry to Indiana.
First Team: Trey Dishon, Kansas State
While head coach Bill Snyder recorded his 200th career win, Trey Dishon assembled the best game of his first college season.
The freshman registered his first-ever multi-sack day, tallying two in a 34-19 victory over rival Kansas. Dishon also forced a fumble on the Jayhawks' final possession.
Second Team: Tanzel Smart, Tulane
Tanzel Smart collected six total stops with two tackles for loss and one sack during a 38-13 win at Connecticut. Smart won't play any more games for Tulane, but the lineman's football days aren't over. His next appearance will be at the Senior Bowl.
Second Team: Kingsley Opara, Maryland
Maryland rattled off a 31-13 victory against a hapless Rutgers team to secure bowl eligibility. Kingsley Opara tallied a pair of stops behind the line of scrimmage, including one sack. He added a quarterback hurry while helping limit Rutgers to 4.4 yards per snap.
Jamie Sabau/Getty Images
First Team: Jerome Baker, Ohio State
Without the defense, Ohio State wouldn't have escaped a thrilling battle with Michigan celebrating a win.
Malik Hooker's pick-six provided the Buckeyes with their first points, and Jerome Baker's third-quarter interception set up the second touchdown. He accumulated 15 total tackles and one sack, too.
"We did our part," Baker said of the defense, per Tim May of the Columbus Dispatch. "We definitely did our part."
First Team: Trenton Greene, Bowling Green
In 2015, Bowling Green had one of its best seasons in program history. The 2016 campaign was one to forget, though Trenton Greene helped the Falcons end it on a reasonably high note.
Against Buffalo, Greene compiled eight stops with three tackles for loss, notching two sacks and one pass breakup. He also forced and recovered a fumble that led to a field goal during the 27-19 victory.
Second Team: Ben Boulware, Clemson
Clemson ended the regular season emphatically, blasting rival South Carolina 56-7. Ben Boulware paced the defense with seven tackles—including 2.5 for loss and two sacks—and forced a fumble. He'll lead the Tigers into the ACC Championship Game.
Second Team: Ty Summers, TCU
Not only was TCU's 31-9 triumph over Texas the final straw for Charlie Strong, but it also helped Gary Patterson's team guarantee a bowl invitation. Ty Summers headlined the Horned Frogs' defensive effort, registering a team-best 14 tackles with two for loss and one sack. Summers added one pass breakup.
William Mancebo/Getty Images
First Team: Frank Ginda, San Jose State
San Jose State was the worst kind of Thanksgiving guest. The defense partied in Fresno State's backfield and refused to leave.
Isaiah Irving notched 4.5 tackles for loss, while Frank Ginda tallied a team-high 14 stops with four tackles for loss and 1.5 sacks during the 16-14 win.
Head coach Ron Caragher said Ginda played a "stellar" game, according to Martin Gallegos of the Mercury News.
Second Team: Raekwon McMillan, Ohio State
Hooker waltzed into the end zone for his third defensive touchdown this season because of excellent pressure from McMillan. The linebacker hit Wilton Speight's arm as he threw, disrupting the trajectory. McMillan edged Baker with 16 total tackles.
First Team: Sojourn Shelton, Wisconsin
Wisconsin had already clinched the Big Ten West Division no matter the result, but the Badgers' College Football Playoff hopes would've ended with a loss to Minnesota. Sojourn Shelton didn't let it happen.
The senior cornerback grabbed a pair of interceptions, one of which led to a touchdown during Wisconsin's dominant finish.
"In the fourth quarter we just kind of just locked in," Shelton said, according to Genaro C. Armas of the Associated Press. "You know what, no more. The rest speaks for itself."
First Team: Aarion Penton, Missouri
Missouri recovered from a 24-7 deficit, but Arkansas had a go-ahead chance late in the game. Aarion Penton ended the threat.
On 4th-and-goal with just over four minutes remaining, Penton picked off an Austin Allen pass in the end zone. Frazier then wrapped up the victory with a sack on the final play.
Penton collected six tackles, two pass breakups and one hurry.
Second Team: Jalen Thompson, South Alabama
One week after his first career pick-six, Jalen Thompson remained a nuisance. The sophomore snatched two interceptions and had one pass breakup. Thompson's second pick led to a field goal that allowed South Alabama to cut the lead to seven in the fourth quarter.
Second Team: Heath Harding, Miami (Ohio)
Miami completed a fascinating turnaround with its 21-20 victory over Ball State. After starting the campaign 0-6, the Redhawks recorded six straight wins and even finished in a tie atop the MAC East Division. Heath Harding posted seven tackles, three pass breakups and one interception during the regular-season finale.
Justin Edmonds/Getty Images
First Team: Tedric Thompson, Colorado
Tedric Thompson has decided he wants to be a ballhawk. The senior safety grabbed two interceptions in a 27-22 victory over Utah to help Colorado reach the Pac-12 Championship Game.
The pair of picks lifted Thompson's season total to seven. He added four tackles and four pass breakups Saturday night.
As a team, Colorado allowed just 13 completions and 160 yards on 40 pass attempts during the win.
First Team: Mike Edwards, Kentucky
Mike Edwards and a motivated Wildcats defense managed to consistently frustrate Heisman Trophy favorite Lamar Jackson.
Despite allowing 561 yards, Kentucky forced four turnovers. Edwards accounted for two, intercepting one pass that led to a go-ahead touchdown and picking off another on the final play of the game.
Edwards tallied six tackles during the 41-38 upset of Louisville.
Second Team: Jah'Shawn Jackson, Texas Tech
It's always a pleasant surprise when the worst defense in the country provides a standout performer. Jah'Shawn Jackson gathered 10 tackles, notching one sack, one interception, one forced fumble and one recovery throughout the win over Baylor.
Second Team: Obi Melifonwu, UConn; Kevin Bourne, Kent State
For defenders, tackling is the name of the game. Nobody in Week 13 did it better than Obi Melifonwu and Kevin Bourne. Melifonwu collected 24 tackles in a 38-13 loss to Tulane, while Bourne amassed 21 total stops during a 31-21 shortcoming against Northern Illinois.
Brian Bahr/Getty Images
First Team: Matt Anderson, Cal
Cal didn't pull away from UCLA until the second half, but Matt Anderson made sure the team wasn't wasting scoring chances. The junior buried four field goals before halftime, including a pair of 40-plus-yard kicks. Anderson—who hit three extra points—added a fifth field goal late.
Second Team: Michael Badgley, Miami
Michael Badgley provided a similar impact for Miami, drilling three field goals with a long of 47 before the break. He then hammered a 43-yarder in the third quarter, accounting for a total of 16 points during the Hurricanes' 40-21 victory over Duke.
Peter G. Aiken/Getty Images
First Team: Michael Dickson, Texas
Strong's tenure is over, but Tom Herman will inherit many quality players on the Texas roster. Like Michael Dickson.
The sophomore blasted eight punts at an average of 48.1 yards, and the Longhorns did not allow a single yard on returns. Four of Dickson's kicks ended inside the 20-yard line, and his long was 74 yards.
Second Team: Kenny Allen, Michigan
In a hard-fought game, Kenny Allen was an underrated weapon. In addition to hitting two field goals and three extra points, Allen helped Michigan win the field-position battle. He averaged 47.4 yards over seven attempts, five of which were inside the 20.
First Team: Adoree' Jackson, USC
Whenever Notre Dame closed the gap, Adoree' Jackson stretched the lead. He returned a punt 55 yards for a touchdown to give USC a 10-point edge and ran a kickoff back 97 yards to provide the dagger. Jackson also had a 52-yard touchdown catch.
Second Team: Kylen Towner, Western Kentucky
Western Kentucky obliterated Marshall from the opening kickoff. Literally. Kylen Towner raced 93 yards to the house, sparking a 60-6 mangling of the Thundering Herd. Towner added a 32-yard punt return and chipped in four tackles.
All recruiting information via Scout. Stats from cfbstats.com or B/R research. Quotes obtained firsthand unless otherwise noted. Follow Bleacher Report CFB Writer David Kenyon on Twitter @Kenyon19_BR.