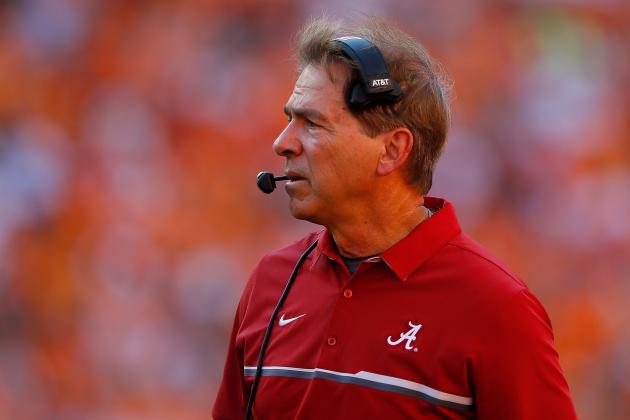 Kevin C. Cox/Getty Images
Penn State has earned praise for its unexpected turnaround and seven-game winning streak, but that's not the only place you'll find a late-season surge.
After falling to 78-93-3 picking against the spread, we've put together a 27-14 mark over the last two slates. Heading into Week 13, our season record stands at 105-105-3. Let's keep the hot streak going.
Rankings reflect the AP Top 25. The picks are broken down into midweek sections and then by Saturday kickoff times.
Please remember that the picks are for entertainment purposes only.
Wesley Hitt/Getty Images
No. 25 LSU (-5.5) vs. No. 22 Texas A&M
When: Thursday, 7:30 p.m. ET (ESPN)
Leonard Fournette and Myles Garrett could (should) be playing the final regular-season contest of their college careers on Thanksgiving night. Unfortunately for Garrett, his team is struggling without quarterback Trevor Knight. LSU will shut down the average attack and ride the running game to a double-digit victory.
The Pick: LSU (-5.5)
Otto Greule Jr/Getty Images
No. 18 Houston vs. Memphis
When: Friday, noon ET (ABC)
As of publish time, the American Athletic Conference clash did not have a spread. We will update this section. Especially after watching Houston obliterate Louisville, we're confident the Cougars will upend Memphis. Houston needs a victory to stay in the hunt for the Group of Five's berth to a New Year's Six bowl game.
The Pick: Houston*
No. 6 Washington (-5.5) vs. No. 23 Washington State
When: Friday, 3:30 p.m. ET (Fox Sports 1)
The Apple Cup will serve as a de facto Pac-12 championship semifinal. Washington State tends to perform better at home, but defense travels. Washington boasts an elite secondary behind a pesky pass rush. Led by Myles Gaskin, the Huskies will assert themselves on the ground and secure a critical win.
The Pick: Washington (-5.5)
No. 17 Nebraska vs. Iowa (-3)
When: Friday, 3:30 p.m. ET (ABC)
Nebraska needs a victory and some help to secure the Big Ten's West Division, but the status of quarterback Tommy Armstrong Jr. poses a significant problem. Without him, the Huskers will struggle on the road against an inspired Iowa club. But if Armstrong suits up, Nebraska will put the pressure on Wisconsin to survive Minnesota.
The Pick: Nebraska (+3)
No. 20 Boise State (-9.5) vs. Air Force
When: Friday, 3:30 p.m. ET (CBS Sports Network)
Boise State's pursuit of a New Year's Six berth took a couple of sizable hits in Week 12. Houston thrashed Louisville, and Wyoming upset San Diego State. Now, the Broncos need an early Christmas present from New Mexico, but it only matters if they dispatch Air Force. While this clash should be a high-scoring affair, Boise State will outlast the Falcons in a tight fourth quarter.
The Pick: Air Force (+9.5)
Toledo vs. No. 14 Western Michigan (-9)
When: Friday, 5 p.m. ET (ESPNU)
Another de facto conference semifinal, this showdown holds extra meaning for Western Michigan. The College Football Playoff committee has showed little respect to the Broncos' undefeated campaign, and a 9-2 Toledo team is better than any possible MAC Championship Game foe. P.J. Fleck's crew will secure the much-need triumph, but an explosive Rockets offense will stay within one score.
The Pick: Toledo (+9)
Andrew Weber/Getty Images
No. 3 Michigan vs. No. 2 Ohio State (-6.5)
When: Saturday, noon ET (ABC)
Michigan's defense will always give the team a chance. The offense, however, could be a mess if it's again without Wilton Speight, who John Harbaugh told reporters is "day-to-day." Perhaps on the bright side for the Wolverines, an inept Michigan State offense matched the Buckeyes in Week 12 thanks to misdirection. Michigan's coaching staff is full of creative minds, so the unit should have a few tricks. However, Ohio State's ability to run the ball on the edge will provide the difference.
The Pick: Ohio State (-6.5)
Kentucky vs. No. 11 Louisville (-23)
When: Saturday, noon ET (ESPN)
Louisville's CFP dreams are only a memory, so the question is whether Lamar Jackson and Co. will be motivated for the regular-season finale. We're not worried. Jackson should lock up the Heisman Trophy with a dazzling performance against a mediocre defense. The Cardinals will run all over Kentucky in a blowout victory.
The Pick: Louisville (-23)
Kevin C. Cox/Getty Images
No. 16 Auburn vs. No. 1 Alabama (-18)
When: Saturday, 3:30 p.m. ET (CBS)
Auburn's loss at Georgia meant the Iron Bowl would only be for pride, but that's still a massive prize in this rivalry. Although Alabama's lackluster performance against Chattanooga provided a wake-up call, the offense will need to rely on Jalen Hurts' arm because of a stout Tigers run defense. The Crimson Tide will complete an undefeated season, but Nick Saban won't be happy with the showing.
The Pick: Auburn (+18)
Minnesota vs. No. 5 Wisconsin (-14)
When: Saturday, 3:30 p.m. ET (Big Ten Network)
Lately, this matchup has been a rivalry by title only. Wisconsin has claimed 12 straight victories in the series. In 2016, the Badgers boast a dominant defense, while Minnesota's offense is "hope the running game works because Mitch Leidner can't save us." Last week, the senior threw his first touchdown since Oct. 1. This would be a classic "throw out the numbers" rivalry game, but the numbers suggest it won't be pretty for the Gophers.
The Pick: Wisconsin (-14)
Michigan State vs. No. 8 Penn State (-12)
When: Saturday, 3:30 p.m. ET (ESPN)
In Week 12, we mentioned Michigan State seemed to have an upset brewing but thought Ohio State would handle the Spartans. So, was that it, or was the one-point loss a precursor? Penn State hasn't lost at home in 2016, but James Franklin's team better be ready for a 60-minute slog with Michigan State.
The Pick: Michigan State (+12)
Notre Dame vs. No. 12 USC (-17)
When: Saturday, 3:30 p.m. ET (ABC)
Considering all the troubles 4-7 Notre Dame has encountered this season, it's only right for the Irish to give us a nonsensical fight at USC. The Trojans will head to the Pac-12 Championship Game if Colorado loses. While everyone in the program will say the right things, the time spent thinking about what-if scenarios will factor into a two-possession margin of victory.
The Pick: Notre Dame (+17)
No. 19 West Virginia (-7.5) vs. Iowa State
When: Saturday, 3:30 p.m. ET (Fox Sports 1)
After steady talk of how West Virginia's defense gave the team an important edge in the Big 12, the unit collapsed during the most important matchup of the season. Meanwhile, Iowa State pulverized a typically explosive Texas Tech offense. Matt Campbell has the Cyclones moving in the right direction, but West Virginia will rebound from its terrible outing and win by double digits.
The Pick: West Virginia (-7.5)
Dustin Bradford/Getty Images
South Carolina vs. No. 4 Clemson (-23.5)
When: Saturday, 7:30 p.m. ET (ESPN)
Dabo Swinney's squad has put together a strange trend in 2016: close game, tough win, blowout, repeat. If that sticks, Clemson will run away from South Carolina on the scoreboard. However, the Gamecocks have four multi-interception games this season, and Deshaun Watson hasn't avoided a pick in two straight contests all year. Although Clemson will win comfortably, it won't be a blowout.
The Pick: South Carolina (+23.5)
No. 21 Utah vs. No. 9 Colorado (-10)
When: Saturday, 7:30 p.m. ET (Fox)
Colorado is one victory away from grabbing the most unexpected division championship of 2016, and a pesky Utah team is the final obstacle. Unfortunately for the Buffs, the Utes are usually good for a one-possession margin; four of their last five games and seven of 11 this season were decided by seven points or fewer. Colorado will survive, but Utah will hang around until the final whistle.
The Pick: Utah (+10)
No. 24 Tennessee (-8) vs. Vanderbilt
When: Saturday, 7:30 p.m. ET (SEC Network)
Joshua Dobbs is riding a three-game streak with at least three touchdown passes, and the Vols have needed that explosion because the defense is a hobbled mess. And that creates a fascinating question for the in-state tilt. Last week, Vanderbilt topped 20 points against a power-conference opponent for the first time all season. Where did that come from? Can the Commodores do it again? We'll say no, but we're watching closely.
The Pick: Tennessee (-8)
No. 13 Florida vs. No. 15 Florida State (-7)
When: Saturday, 8 p.m. ET (ABC)
Two goal-line stands and a 98-yard touchdown helped Florida stun two-score favorite LSU. While impressive, that's not a sustainable way to win. Like 2015, the Gators are headed back to the SEC Championship Game. Like 2015, they'll be limping into the showdown with Alabama after getting throttled by Florida State.
The Pick: Florida State (-7)
All odds courtesy of Odds Shark. All historical spread info via TeamRankings.com. Stats from cfbstats.com or B/R research.
All recruiting information via Scout. Quotes obtained firsthand unless otherwise noted. Follow Bleacher Report CFB Writer David Kenyon on Twitter @Kenyon19_BR.